Khloé Kardashian Forced to Clarify Relationship with Tristan Thompson After Kylie Jenner's Birthday Party
Yeah, it's "complicated."
---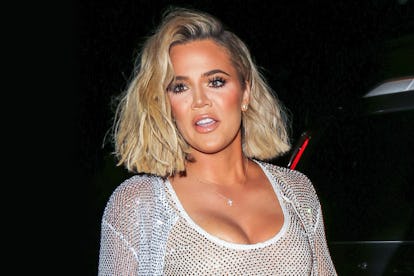 Composite. gotpap/Bauer-Griffin/Getty Images
A lot happened at Kylie Jenner's 21st birthday party. There were costume changes, karaoke, a giant ball pit, a pop-up mural of the extended Kardashian-Jenner family tree, Barbie dolls with broken limbs, uncomfortable encounters with exes, cops, and, inexplicably, a cameo from Dave Chappelle. So much happened, in fact, that you may have missed one crucial detail: an update in the Khloé Kardashian-Tristan Thompson saga, courtesy of a few pesky color-coded cups.
According to Cosmo, Jenner had the bright idea to bombard her already sensory-overloaded guests with three categories of cups, each color-coded to serve as a shorthand for the drinker's relationship status: pink for "taken," yellow for "single af," and green for "it's complicated." Then, probably because paying attention to the color of your cup in a strobe-lit venue is a weird if not Herculean feat, especially when there's alcohol involved, Khloé Kardashian drank from a green one—aka "it's complicated." Cue the screams.
But it didn't end there. After tabloids everywhere freaked out about the detail, Kardashian was forced to clarify things… in the comments section of a Kylie Jenner fan account. "People are reaching. I ordered a drink, it came in a cup, I drank it," she wrote, per Cosmo. "End of story. Not that deep lol. I'm sure I drank out of every colored cup that night."
Kylie seemingly forcing Khloé's hand by introducing an overly complicated game of semaphoric wits at her 21st birthday party probably didn't improve relations between the Kardashian sisters, who recently feuded both in real life and a Keeping Up With the Kardashians storyline. To recap, the in-universe Kim, Kourtney, and Khloé enrolled in "sisters therapy" after Kim called Kourtney "the least interesting to look at." Meanwhile, the IRL Kim, Kourtney, and Khloé got into a fight on Twitter dot com when Kourtney responded to the "least interesting to look at" comment by tweeting, "We all have our own priorities. Mine is being a mother."
Hopefully, Kylie's choice of drinkware gives them all something to bond over.
9 Times the Kardashians Wore Vintage Clothes, From Gucci to Versace
Kylie Jenner wore a shortened vintage Gucci dress for her 21st birthday party in Las Vegas in August 2018. The original Tom Ford for Gucci dress appeared on the spring/summer 2000 runway.

Photo by @kyliejenner.
At her family's annual holiday gathering in December 2017, Kim Kardashian wore a vintage Christian Dior dress, from the John Galliano for Dior Fall/Winter 1997 ready-to-wear collection.

@ryanseacrest/Getty Images
On a trip to Japan in March 2018, Kourtney Kardashian wore a vintage denim two-piece from the Alexander McQueen "The Eye" Spring/Summer 2000 collection.

Photo by @kourtneykardash.
Kim Kardashian wore a gold vintage Versace maxidress to the premiere of The Promise in April 2017.

Tara Ziemba
Kendall Jenner wore a vintage Chanel 1990s tweed suit during an appearance on The Tonight Show Starring Jimmy Fallon in February 2017.

Theo Wargo/Getty Images
In May 2018—just days after stunning in a vintage black Versace minidress for a 2018 Met Gala afterparty—Kim Kardashian wore another vintage gold Versace gown from the Spring 1995 collection to a dinner for Business of Fashion in New York.

Condé Nast Archives; Dimitrios Kambouris/Getty Images for the Business of Fashion
Kourtney Kardashian tossed on a vintage button-up Chanel blouse during her Italian summer getaway in 2018.

Photo by @kourtneykardash.
Kim Kardashian showed up to the 2010 White House Correspondents Dinner wearing a vintage Valentino gown that used to belong to her mother, Kris Jenner.

MANDEL NGAN/Getty Images
Kim Kardashian opted for a vintage gold (there's a pattern) Balmain dress with a matching Judith Leiber phone-shaped clutch in July 2018 at Pusha T's wedding.

Photo by @kimkardashian.