The Hottest Accessory at Kylie Jenner's Birthday Party? An Ex
Five Kardashian-Jenner women had to share space with a former partner.
---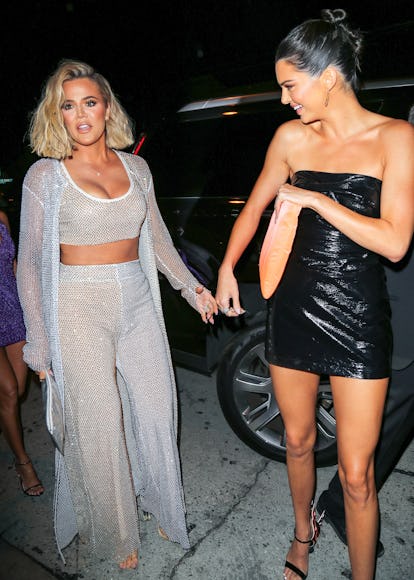 gotpap/Bauer-Griffin
Kylie Jenner's 21st birthday party, the West Coast Met Gala of 21st birthday celebrations, was such a hot ticket that Jenner's closest family members attended even though it meant they'd have to share the room with their exes. Indeed, five separate Kardashian-Jenner women had such run-ins during the event, and, no, it wasn't of the purposeful reunification sort like Bella Hadid and the Weeknd.
The most expected run-in was between Kylie's own parents, Kris Jenner and Caitlyn Jenner. Of course, exes who have kids together basically have to bury the hatchet during their children's milestone celebrations, so this isn't exactly shocking. However, Kris was accompanied by her rumored fiancé, Corey Gamble, while Caitlyn came with her frequent companion Sophia Hutchins—the first time the 21-year-old has been seen at an event in public with the wider Kardashian-Jenner clan. We suppose the meeting had to happen at some point.
What was particularly awkward, however, was that Caitlyn and Kris apparently came carrying similar Gucci purses (Hutchins showed off one of her own on Instagram as well…or maybe it was the one Caitlyn was also seen with). Gucci is a particularly hot brand at the moment, but this is a bit of ridiculous kismet. (Although, has anyone in fashion thought about contacting Caitlyn and Kris for a joint handbag campaign? Hmmm…)
While Khloé Kardashian's current partner, Tristan Thompson, wasn't at the affair (he was reportedly back in Cleveland coaching kids basketball), one of her exes was: The rapper French Montana's attendance was confirmed by his inclusion in a photo booth picture posted to Kendall Jenner's Instagram.
Kardashian and Montana dated between 2015 and 2016, but have stayed friends. Montana even publicly supported Kardashian during Thompson's cheating scandal. It's also not the first time he's been spotted hanging with various Kardashian-Jenner family members since the breakup.
Somewhat fresh off her own breakup, Kourtney Kardashian attended the party. She was spotted there with her ex and the father of her children, Scott Disick. Disick attended without his new girlfriend, Sofia Richie, and later Khloé Kardashian joked about her sister and Disick reuniting on Instagram, but that might have been more of a troll job than anything.
Caitlyn, Kris, Kourtney, and Khloé may not have been completely caught off guard by the presence of their exes, but Kendall Jenner reportedly was.
According to E!, Jenner's ex Blake Griffin was apparently having a quiet dinner at Craig's Restaurant in West Hollywood when the entire Kardashian-Jenner family, with Kendall accompanied by her new boyfriend, Ben Simmons, walked in for Kylie's celebratory dinner. "They didn't interact at all," says E!'s source. "It was awkward."
Hmmm, yes, so it would seem. At least she wasn't the only one.
Of course, this means the only Kardashian-Jenner women not in the presence of an ex at some point during the night were Kim and Kylie.