Kris Jenner Puts Crickets (and Foot) in Mouth While Discussing Engagement Rumors
Courtesy of that trickster James Corden.
---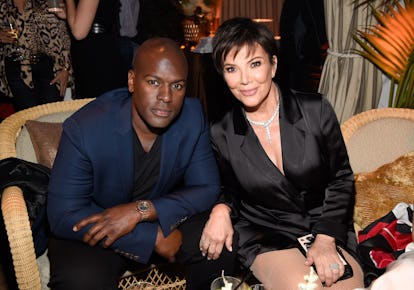 Kevin Mazur/Getty Images
For the last few weeks, rumors that America's reality tv matriarch Kris Jenner and her longtime boyfriend Corey Gamble had gotten engaged have been making their way through Calabasas and beyond, thanks to the massive diamond ring she's been wearing on her left hand since the end of July. Though the entire Kardashian-Jenner squad has stayed mum on the topic ever since, this week, James Corden may have pried a quasi-confirmation out of the famed momager herself.
The big moment came on Tuesday night's episode of The Late Late Show, during a game of "Spill Your Guts or Fill Your Guts," in which Corden and his guest take turns asking each other tough questions and, if their opponent opts not to answer, choosing to put an off-putting but technically edible item in their mouths. At the very end of the segment, Corden placed a bowl of crickets in front of Jenner and asked, "You've been spotted wearing a massive diamond ring on your wedding finger — are you and Corey Gamble engaged?" Facing down the tiny insects, Jenner let out a faint "no," then clarified that that wasn't her answer to the question, but rather her announcement that she wouldn't be answering it at all.
As the camera flashed to Gamble, watching it all go down from offstage, and Jenner appeared to be having some trouble building up the courage to eat one of the crickets, Corden kept pushing. "The ring's right there! It's a bit of a giveaway," he said, pointing at the diamond-encrusted band on Jenner's left hand. Unknowingly falling into the host's trap, a still-distraught Jenner replied, "This isn't the ring!" seemingly implying, as Corden was quick to point out, that that means there is apparently an engagement ring. Realizing she'd maybe put her foot in her mouth, Jenner downed a single cricket and would say no more. Fin.
The ring in question features an enormous rectangle-cut diamond set in a simple band, and would make sense as an engagement ring, since Jenner and Gamble have been dating for more than four years. That said, the 62-year-old has previously expressed her reluctance to walk down the aisle again. "You know, I've done that twice, and it didn't work out so well. So I don't know. You never know," Jenner, who was previously married to Robert Kardashian and Caitlyn Jenner, told Ellen DeGeneres in 2017. She went on to imply that she'd be happy to live with Gamble in unwedded bliss for the foreseeable future, saying, "I'm going to take a page out of Goldie and Kurt's book, or Kourtney's book. I just think as long as things are going so well, why ruffle it up?"
Related: Kris Jenner Dishes on a Whole Bunch of Recent Kardashian Drama, Then Freely Admits Most of What She Says Is Lies
The Savviest Celebrity Moms on Social Media, from Ms. Tina Knowles to Yolanda Hadid
Diana Ross may have once lost her fanny pack at a Marshall's in Los Angeles, but she's still a legend, and we have it on good authority that there isn't a better mom daughter Tracee Ellis Ross could ask for. Also, like Ms. Tina, you have to call her Ms. Ross. No exceptions.

Photo by @dianaross.
Honestly you guys? Busy Philipps is just a cool mom, and that's a fact. Plus, she's leaning so hard into her "mom who shares everything on social media" brand that she's now hosting her own talk show.

Photo by @busyphilipps.
Ms. Tina, the mother of Beyoncé and Solange Knowles, has over a million followers and loves to take glam selfies. Her daughters, however, find her account a little embarrassing. But we love it.
Jennifer Garner raises chickens, plays the saxophone, shares recipes of the meals she makes for her three kids, and narrates videos of ballerinas dancing on her Instagram, and if that's not living your best life then what is?

Photo by @jennifer.garner
Nancy Meyers, lover of turtlenecks and expensive kitchens, named The Parent Trap's dynamic duo played by Lindsay Lohan after her real-life daughters Hallie and Annie. Meyers also served as a producer on Hallie's directorial debut, Home Again. That's motherly love.

Photo by @nmeyers.
Kate Beckinsale gets straight up wacky on social media, but it doesn't embarrass her daughter, Lily Sheen, too much.

Photo by @katebeckinsale
Goldie Hawn, mother of Kate Hudson, Wyatt Russell, Oliver Hudson; and Melanie Griffith, mother of Dakota Johnson, Stella Banderas, and Alexander Bauer, are two of the most badass moms in Hollywood.
Kris Jenner, mother of Kim Kardashian, Kylie Jenner, Kendall Jenner, Khloé Kardashian, Kourtney Kardashian, Rob Kardashian, boasts over 17 million followers and is perhaps the most successful "momager" of all time.
Kathy Hilton, the mother of Paris and Nicky Hilton, has almost 200,000 followers and says that it was Kris Jenner who taught her how to take a selfie.
Maye Musk, the mother of tech billionaire Elon Musk, has 10 grandchildren and is also a model signed to IMG management.
The former model Yolanda Hadid helps manage the successful careers of her model children, Gigi, Bella, and now Anwar Hadid.
Pattie Mallette, the mother of Justin Bieber, took this photo last Mother's Day. The two don't have much of a relationship, but she still has over a million followers by association.
The artist Laurie Simmons is the mother of Lena and Grace Dunham. Here, she poses with Lena and Gloria Steinem.
Tish Cyrus is the mother of Miley, Noah, Braison, Brandi, and Trace Cyrus. She's a film producer, but her current full-time job is being her kids' BFF.
Sharon Osbourne, the mother of Kelly, Jack, and Aimee Osbourne, is currently one of five co-hosts of the daytime series "The Talk."