Kris Jenner Broke Chrissy Teigen's Coffee Table Because She Got Too Excited About the Super Bowl
To be fair, it was a busy day for the Jenner family.
---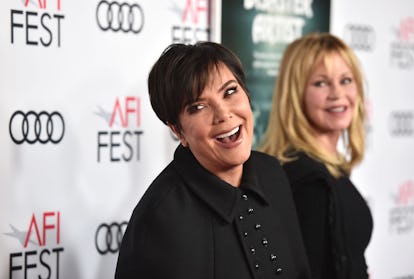 Alberto E. Rodriguez/Getty Images
Everyone gets excited on Super Bowl Sunday, sometimes even too excited to the point where little (not-so serious) accidents occur in front of all of our friends. On Sunday, in the midst of Super Bowl LII, Kris Jenner fumbled across the living room at a party, crashing into and breaking a coffee table before diving headfirst onto the couch. Of course her gracious host, Chrissy Teigen, documented the aftermath on Snapchat.
"If anyone is in the market for a slightly used table, the Kris Jenner actually just fell into it," Teigen narrated as a grinning Kris Jenner can be seen seated on the edge of the couch with a plastic bag full of ice cubes. It turns out that couch is also the very spot where Jenner "did a face plant" after tripping over and damaging Teigen's coffee table. No blood was shed, but a patch of makeup did rub off onto the fabric of the seat, which is what Jenner claims to make the couch just as "valuable" as the damaged table. The mark of the matriarch does prove that the value of both the table and the couch have likely increased, and if they were to ever sell the furniture online it might cost a pretty penny. With nary a bandage in sight, Jenner managed to stay in high spirits throughout the whole ordeal.
To be fair, even though the week has just begun it has been quite a busy one for the Kardashian-Jenner coven. After the announcement of the birth of Kylie Jenner's daughter eclipsed any excitement for the anticipated Super Bowl later that evening, it's a good thing Jenner was able to have a little bit of fun while she still can, because even momagers need to have a little fun now and then—especially when they have just pulled off one of the most impressive PR moves of 2018.
Related: Chicago West Makes Public Debut in Kylie Jenner's Pregnancy Announcement Video
Kanye West Just Wants to Bring Joy to the World