Kristen Stewart Compares Dating to Eating Grilled Cheese Sandwiches
"Some people know that they like grilled cheese and they'll eat it every day for the rest of their lives. I want to try everything."
---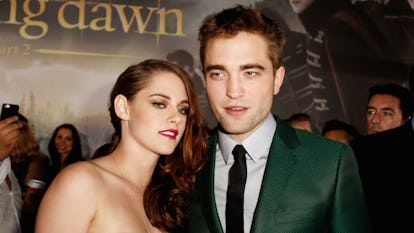 Jeff Vespa/WireImage/Getty Images
If you've grown up watching Kristen Stewart's career blossom before your eyes, you're probably well aware that the actress and muse has had her fair share of relationships. There was the early career defining ill-fated tryst with her Twilight costar Robert Pattinson. Then, there was a time when the tabloid kept referring to Stewart and her "gal pals." Then, there was her brief power couple status with art-house musician St. Vincent.
But if you think Stewart has been aimlessly wandering in the sexual spectrum unsure of what she wants with her relationships, she has a few choice words for the curious that underlines just how out of touch the media is with LGBTQ issues.
"I've been deeply in love with everyone I've dated," she explained in a new profile for Harper's Bazaar U.K. "Did you think I was faking it? I've always really embraced a duality. And really, truly, believed in it and never felt confused or struggling. I just didn't like getting made fun of."
While she can't say for sure what the future will bring with relationships, she did say she would absolutely be interested in dating men again. Allow her to explain, with a food metaphor: "Yeah, totally. Definitely…Some people aren't like that," Stewart said. "Some people know that they like grilled cheese and they'll eat it every day for the rest of their lives. I want to try everything. If I have grilled cheese once, I'm like, 'That was cool, what's next?'"
Just don't expect her to discuss those future relationships for the public or in the media: "There's this idea that you're beholden in some way, and I resent that. And it comes across like I'm ungrateful or something, but actually, I just find it weird to talk to the general public as a whole."
For what it's worth, Stewart seems to be having a great time with Victoria's Secret model Stella Maxwell at the moment, as evidenced by their recent public pursuits—they crashed a random wedding in Canada, and have also developed a penchant for taking death-defying Instagram photos in cars. Ah, young love!
Related: Meet the Celebrity Stylist Who Has Transformed Kristen Stewart Into a Fearless Fashion Darling See more Kristen Stewart below:
Kristen Stewart's Hair Evolution, from Gothic Glamour to Blonde Buzz-Cut
Kristen Stewart received critical acclaim for her role in "Into The Wild," and stellar marks for her beauty look at the premiere in 2007.

FilmMagic
Rocking tousled locks, rosy cheeks and a subtle smoky eye, Stewart looked fresh and youthful in 2008.

Getty Images
Attending the screening of the 'The Twilight Saga: Eclipse' in New York City, Stewart wire her golden brown locks in a tousled boho braid with a red smoky eye and a nude lip.

WireImage
At the "The Twilight Saga: Breaking Dawn – Part 2" premiere, Stewart was a vision of romance with big soft curls, a light golden eye and a red lip.

WireImage
Attending the Costume Institute Gala in New York City, Stewart let her bold purple eye makeup shine by pulling back her brown hair and keeping the rest of her makeup neutral.

FilmMagic
Stewart looked like a rockstar at the premiere of Still Alice in 2014 with an edgy haircut and frosted blue eyeshadow.

FilmMagic
A messy low ponytail perfectly complimented Stewart's dramatic black winged smoky eye at the premiere of American Ultra in 2015.

FilmMagic
At the New York Film Festival premiere of her latest film, Billy Lynn's Long Halftime Walk, Stewart wore her bleach blonde hair in a short cut that showed off her playful pink makeup.

Getty Images
Attending the Film Independent at LACMA screening of her new film Personal Shopper, Stewart paired her chic black eyewear with a dark smoky eye and red lip while keeping her brunette pixie slicked back. (2017)

Photo by Getty.
A daring new look for Stewart, the actress debuts her freshly buzzed platinum blonde hair at the IFC Films Personal Shopper premiere in Los Angeles in 2017.

Photo by Getty.
Just before the 2018 Oscars, Stewart debuted a mullet.

Getty Images
Kristen Stewart and her mini rattail attended a photocall at the 71st annual Cannes Film Festival at Palais des Festivals on May 8, 2018.

Getty Images
Kristen Stewart's take on a rockabilly quiff was front and center at a screening for *Knife + Heart (Un Couteau dans le Coeur) at the 71st Cannes Film Festival on May 17, 2018.

Getty Images
Kristen Stewart's dirty blonde coif was on display at the Chanel show as part of the Paris Fashion Week Womenswear Fall/Winter 2019/2020 on March 05, 2019 in Paris, France.

Getty Images
Kristen Stewart's fiery tips and bleached brows shocked the crowd at the 2019 Met Gala celebrating "Camp: Notes on Fashion" at The Metropolitan Museum of Art in New York City.

Getty Images
Kristen Stewart wore a slicked back pink pompadour fastened with black barrettes during the 45th Deauville American Film Festival on September 13, 2019 in Deauville, France.

Getty Images
Kristen Stewart is still growing out her formerly blonde pixie now that Charlie's Angels is in theaters.

Getty Images