Kristen Stewart Paired a Blonde Pixie Cut With a Sequin Sweater Dress at TIFF 2018
She wore a sweater dress with a pixie cut.
---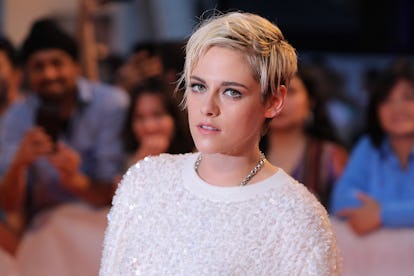 J. Countess
There are few celebrities who appear to stay as true to themselves on the red carpet as Kristen Stewart. Earlier this year, she not only wore a rat tail to Cannes, she also took her heels off, mid-pose for the cameras, and carried them up the festival's iconic staircase. Over the weekend at the Toronto International Film Festival, Stewart embraced her inner punk once again. This time, she played to the festival's dress code, while making no concessions for style over comfort.
Stewart looked as cozy as could be in a Chanel sequined sweater dress. She wore the white outfit to the premiere of her new film, Jeremiah Terminator LeRoy, where she also showed off a new hair style: a blonde pixie cut. While Stewart has been blonde off and on throughout the years, she was last publicly spotted with brunette hair the same month she wore the rat tail at Cannes, in May. Stewart has also gone shorter since then. It's possible the update to her do has something to do with her upcoming role as French New Wave icon Jean Seberg.
One thing that hasn't changed is her dark eye makeup. Stewart opted for the same heavy-handed black eyeliner at TIFF, which she paired with a white under-eye liner and a nude lip. It adheres to the same beauty philosophy she's approached the red carpet with for years, about which she said in 2014, "I like doing something cool on the red carpet. So many people go for pretty—and that's pretty boring." At the time, she also revealed her style icons: "Take Patti Smith and add in a little Brigitte Bardot to up the sex factor."
It will be interesting to see if Stewart applies that approach to her upcoming role in the Charlie's Angels reboot. The film, directed by Elizabeth Banks, costars Naomi Scott and Ella Balinska. "It's kind of like a woke version," Stewart said of the new rendition to Variety. "There's a kitsch nature to the last ones that was super fun, but nowadays, if you see a woman in combat, everything should be something completely and utterly well within their ability…it's still going to be fun and Charlie's Angels-y, but will be current and modern." Just like her TIFF look.
A Look Back at the Style of Jean Seberg, the American to First Master French Girl Fashion
Jean Seberg in In The French Style, 1963.

Courtesy Everett Collection
Jean Seberg in A Fine Madness, 1966.

Courtesy Everett Collection
Jean Seberg and Claude Rich in Diamonds Are Brittle, 1965.

Courtesy Everett Collection
Jean Seberg and Stephen Boyd in Kill, 1971.

Courtesy Everett Collection
Sean Garrison and Jean Seberg in Moment to Moment, 1965.

Courtesy Everett Collection
Jean Seberg in The Mouse That Roared, 1959.

Courtesy Everett Collection
Jean Seberg in Saint Joan, 1957.

Courtesy Everett Collection
Jean Seberg in Lilith, 1964.

Courtesy Everett Collection
Jean Seberg and Christian Marquand in Love Play, 1960.

Courtesy Everett Collection
Jean Seberg and George Peppard in Pendulum, 1969.

Courtesy Everett Collection
Jean-Paul Belmondo and Jean Seberg in Backfire, 1964.

Courtesy Everett Collection
Jean Seberg in Bonjour Tristesse, 1958.

Courtesy Everett Collection
Jean Seberg and Sean Connery in A Fine Madness, 1966.

Courtesy Everett Collection