Kristen Stewart Told Shia LaBeouf To Lean Into Art Therapy
By suggesting he take a pottery class, specifically.
---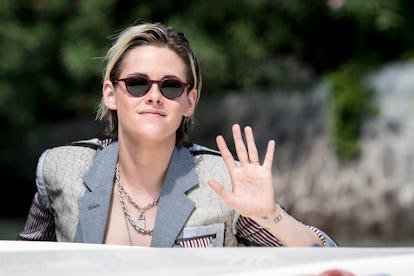 Alessandra Benedetti – Corbis/Getty Images
What would you expect a conversation between Kristen Stewart and Shia LaBeouf to look like?
Well, Variety's "Actors on Actors" series has the answer.
The pair's conversation touched on a plethora of topics—New Wave Cinema (Stewart recently starred as Jean Seberg in Seberg), being child actors, reality television (Stewart loves Naked and Afraid, which she considers to be "high-end programming"), and depression.
"I think I'm deeply dissatisfied with life," LaBeouf confessed to Stewart.
Her solution? "Take a pottery class."
Not since Demi Moore and Patrick Swayze threw sweet, sweet clay together to the tune of "Unchained Melody" in Ghost has such an endorsement for pottery been made. But that was in 1995, and as we approach a new decade a quarter of a century later, it suddenly does seem that everyone is a little obsessed with ceramics.
Or, at least, there seems to be a bit of online discourse percolating about the connection between ceramics and depression.
Forget woodworking or glassblowing or jewelry making. It is ceramics that has the millennials rapt!
The suggestion would also hint at the fact that Stewart herself is well-versed in the pottery class trend. (You can just hear the gears turning for everyone in Los Angeles on the verge of googling "Where does Kristen Stewart take pottery classes?")
In any case, LaBeouf replied to Stewart's art therapy edict with, "Maybe I will. I won't like pottery in life."
He continued though, with, "But I will love pottery on set. I don't like ice cream in life. But if you give me ice cream on a set, I fucking love ice cream. I think that's what this does for me. It makes me love things." By "this," he meant acting. So, maybe Stewart should try to convince LaBeouf to star in a biopic about a famous ceramicist?
Related: Kristen Stewart's Charlie's Angels Promo Tour Outfits Are Incredible