Kris Jenner Hacked Kylie Cosmetics's Instagram Page in Honor of Mother's Day Collaboration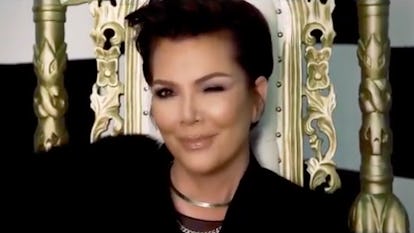 Kylie Cosmetics
Social media comes as naturally to the Kardashian-Jenners as contouring, which is why when Kylie Jenner's Instagram for Kylie Cosmetics got hacked, it wasn't random. Instead, it was Kris Jenner's handiwork, as she later revealed in a series of cryptic posts. The occasion? Jenner was celebrating her first collaboration with Kylie Cosmetics, timed to Mother's Day.
Because the Kardashian-Jenners don't do anything small, the matriarch went as far as to change the Instagram handle of @kyliecosmetics to @kriscosmetics. Her first post on the page was a static screen showing Kylie's name before flashing "hacking…" "Hi dolls," Jenner wrote in the caption, "Ready for me to takeover? guess who.. ?" Once the next video hit, though, it was immediately apparent who was behind it. Who else would step out of a Rolls-Royce, fur dragging on the floor, to walk up to a gold throne with a black-and-white checkerboard background (just like the floors in Jenner's home famously shown on Keeping Up With the Kardashians).
"Hey guys.. it's me! and oh, my collection drops on Mother's Day," reads the caption, in a stroke of the marketing savvy Jenner has become known for.
Fittingly, her collaboration for Kylie Cosmetics includes a "Momager" lip collection, which Jenner explained as "eight minis which are fabulous… Mattes, liquids, velvets!" She even swatched them, set to her son-in-law Kanye West's 2005 classic "Gold Digger"—perhaps reassuring the world that there's no lost love in the wake of his recent Twitter sprees. "My first time swatching," she commented in Instagram stories, sharing the color "Too Blessed." "I'm using Kylie's arm."
It's "Middle Finger," a bright red, however, that's Jenner's favorite, as she revealed.
It may be the eyeshadow palette, though, that has the best names. The metallic grouping includes shades like "I Love Myself," "Vodka Tonic," "Haters," "Payback's a B-tch," and "I'm Watching You." Not to mention that the case includes the words "I have one word for tonight: Vodka."
As if that wasn't extra enough, Jenner also created a face palette, which, of course, features her face emblazoned across it. The most Kris Jenner thing of all about the Momager collection has to be the quote she printed on the back of her face palette, a reference to a viral moment early on in Keeping Up With the Kardashians when, at Kim's Playboy shoot, she told her daughter, "You're doing amazing, sweetie." Is it any wonder Kylie recently quoted the Mean Girls line "I'm Not a Regular Mom, I'm a Cool Mom?" The apple doesn't fall far from the Jenner.