Kylie Jenner Had a Second Birthday Party in Las Vegas Over the Weekend
What happens in Vegas certainly does not stay there when you're a Kardashian.
---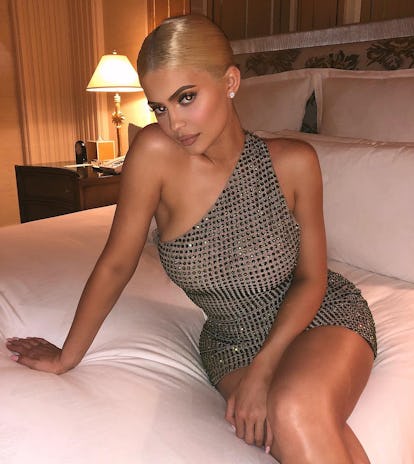 Photo by @kyliejenner.
It seems that Kylie Jenner planned her birthday celebrations this year by using the "one for me, one for them" model, which is to say, she organized a separate, smaller birthday party for herself and her close circle of friends after the official large, family friendly gathering held at home in California on August 10. Now that Kylie Jenner is of legal drinking age, she continued her birthday celebration the only way a newly 21-year-old can—by turning up in Las Vegas on Saturday night.
The shenanigans from the evening were shared on Instagram, of course, because what happens in Vegas definitely does not stay there when you are a Kardashian, but all appeared to be relatively tame compared to the over-the-top birthday party Jenner planned for the actual day of her birth. As it turns out, Jenner's second birthday bash also doubled as an excuse for the entrepreneur to travel to Nevada and watch from the VIP section as her boyfriend, Travis Scott, performed at a nightclub in Vegas in celebration of the release of his new album, Astroworld.
Jenner's friend Anastasia Karanikolaou (better known by her nickname, Stassi) and her assistant Victoria Villarroel captured the evening on social media, sharing videos of a small two-tiered birthday cake, complete with a print of this photo of Jenner holding her baby, Stormi Webster (who was presumably sleeping at home in Los Angeles while her parents partied in Vegas) on the top layer of the dessert.
Wearing vintage Gucci, Jenner also gave her Instagram followers a sneak peek at her new birthday collection of Kylie Cosmetics (which included liquid shadow, highlighter, lip liner, and blush) because would it really be a self-made billionaire's birthday celebration without some light self-promotion on the 'gram?
Related: All the Extravagant Gifts Kylie Jenner Got (and Gave) on Her 21st Birthday