All the Extravagant Gifts Kylie Jenner Got (and Gave) on Her 21st Birthday
A vintage Rolls-Royce, a Goyard case, and Louis Vuitton luggage are just the start.
---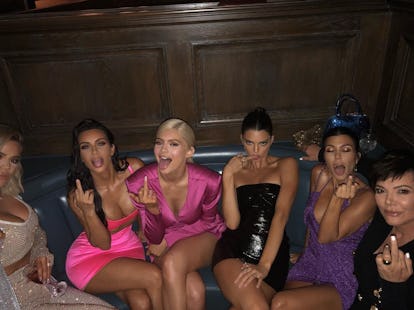 Photo by @kyliejenner.
In the Kardashian-Jenner family, birthdays celebrations start in advance of the day itself and continue to spill over the other side. Take, for example, Kylie Jenner's 21st birthday. She became of legal drinking age on Friday, August 10, but that didn't stop the updates from her Instagram, and that of her closest friends and family, from trickling in on Thursday afternoon. The Kardashians began to fill their feeds with updates as they prepared for the youngest sibling's party that evening; the fete itself raged on until the cops cut it short (it went past the nightclub Delilah's reported 2 a.m. curfew); and the following morning, Jenner continued to Snapchat and Instagram the gifts she received on her actual birthday.
Actually…Jenner's boyfriend, Travis Scott hosted a listening party of his new album, Astroworld, at a theme park earlier in the week, which, given that many of the attendees overlapped with Jenner's birthday party, could be construed as a kind of pre-party. In any case, it's been quite a week. To cap it off, here's a mostly complete summary of everything Kylie Jenner received for her 21st birthday—and what she gave away in return.
One (1) Rolls Royce
When Jenner woke up on her birthday, after her party, she opened the front door of her house to find the path leading up to it completely garlanded in red roses. And at the bottom of the path, in the driveway, there was a sparkling vintage white Rolls-Royce dating from the 1950s, a gift from Travis Scott. (The rapper also gave his girlfriend a rare shoutout on Instagram, captioning a photo of the two of them, "Happy bday wifey I love u mommy u my heart rib toes and all. May GOD continue to bless u and ur spirit. This mark in ur life is the start to more greatness.") Scott previously gifted her a black Ferrari, valued at $1.4 million, as a baby shower present.
Two (2) Louis Vuitton trunks
Also from Scott, a kind of mommy-and-me gift set of two Louis Vuitton cases appeared in Jenner's home on Friday.
One (1) Goyard trunk
Kardashian matriarch Kris Jenner acquired a custom Goyard trunk, adorned with Betty Boops, the number 21, and Kylie's name in block capitals, for her youngest daughter. Jenner posted a photo of the trunk to her Snapchat, captioned, "MOMMMYYY!!! You are crazy!!!!!" accompanied by a heart-eyes emoji.
Various branded #content
In addition to the gifts from her family, Jenner also received a couple of presents from various brands. There was a bottle of Don Julio customized with her name (which Scott featured on his Instagram Stories); a pink Ping-Pong table from the online retailer Boohoo; and a three-wheel motorbike printed with unicorns from Pretty Little Thing. (And these were just the things worthy of Snapchat and Instagram coverage. There's probably plenty more.)
On her birthday, Jenner also tweeted that she planned to donate "a portion of the proceeds from all sales today on kyliecosmetics.com" to Habitat for Humanity, "an amazing organization that helps provide housing for families in need around the world! Everyone deserves a place to call home!"
Birthdays are all about self, but she also sent gifts to her friends…on her own birthday.