Kylie Jenner Wants You to Know About Her and Travis Scott's Living Situation
She set the record state in her first-ever Vogue cover.
---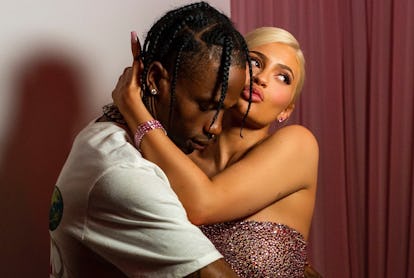 instagram.com/kyliejenner
Kylie Jenner and Travis Scott's relationship is still an enigma to most, considering how low-key and private they are. But in the latest issue of Vogue Australia, her first cover for any international Vogue, Jenner took the opportunity to set the record straight. Of course, she did so on her own terms—with her sister Kendall Jenner as her interviewer.
When asked about anything she wanted to bring up herself for the article, Jenner spoke about her status with Scott. "I'm actually scrolling through Instagram right now," she said, as one does in the middle of an interview, "and it says that me and Travis don't live together, and so I just want to say that we never miss a night with each other, we go back and forth from my Calabasas house and the city home that we actually got together. So just if you wanted to add that in."
Jenner also talked about his relationship with their first child, Stormi Webster, saying, "He's so good with her and she's really obsessed with him." It may be her, though, who has changed the most since becoming a parent. Jenner revealed that having to be a positive role model for someone else has inspired her to become more confident about her insecurities.
"I feel like having a daughter, and thinking about beauty in the future, has definitely changed me, and I feel like it has made me love myself more and accept everything about me," she says. "Even my ears, I always felt like they stuck out too far, and she [Stormi] has the same ears as me and so now I love my ears. It's just having a different outlook on life so I can pass that on to her. I want to be an example for her. What kind of example would I be if she said she didn't like her ears, and then I didn't like them either? I just want to teach her that. I'm trying to love myself more."
The most eyebrow-raising answer in the whole interview, though, is how Jenner's priorities have changed since becoming a mom. The 21-year-old, who just celebrated her birthday with a vintage Rolls Royce from Scott, Louis Vuitton and Goyard trunks, and a lavish party, is apparently no longer phased by material items. (Her birthday was seven days ago.) "I bought myself my dream car, the LaFerrari, and the excitement and the happiness lasted not that long," she tells her sister. "I have my dream house and the car I want, and I just realized early that those aren't the things that make me happy. It's a different kind of happiness. I just feel like some people get lost, and strive their whole life for materialistic things and then you realize that it's not everything. I want to appreciate and be comfortable in the place that I am, and just find happiness in my friends and my family." Okay, Kylie.