The L Word Generation Q Episode 6 Recap: Welcome Back, Mama T
Breaking down the reboot's latest episode, Alice-style.
---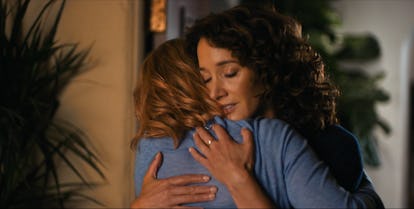 Showtime
Almost as immediately as news broke that a reboot of The L Word was finally, actually happening, it reignited the conversation about how the series could "atone for the sins" of its past. (Among them: its treatment of transgender and bisexual individuals, class, and race.) Thankfully, the cast of The L Word: Generation Q is devoid of cis actors playing characters who are trans. It's also notably more diverse, thanks to a whole crew of younger, fresh faces who've joined the familiar ones of Bette Porter (Jennifer Beals), Alice Pieszecki (Leisha Hailey) and Shane McCutcheon (Kate Moennig).
But there is still plenty of sex, and the show's interpersonal intimacies still drive it. Which is why these recaps will take the form of snippets of Alice's legendary OurChart, tracking how each of their storylines intersect. (And not just sexually—no offense, Alice.) Here are the relationships that defined episode 6.
Bette and Tina (!!)
After episode 5 ended with both Angie and Felicity's ex being thrown down a set of concrete steps, there's only one way episode 6 could begin: with an utterly distraught Bette's campaign team desperately attempting to do some damage control. Between Alice's accusations of betrayal and no one to escort Angie to her driving test, Bette comes to a decision: She has to drop out of the race. Dani, of course, isn't having it, but it turns out there's no need for her to intervene. Bette yanks open the door, mulishly determined to alert the press of her plans, only to discover her exit is blocked by none other than Tina. Rest assured: You're not alone if her sudden appearance made you scream. (Or if you're still getting used to seeing Laurel Holloman with strawberry blonde hair.)
Bette and Tina resume their usual activities—arguing, fretting over Angie, arguing, discussing art, arguing—almost immediately. While they seem to have the whole co-parenting thing under control, their own relationship is another matter: Bette still can't believe that Tina failed to attend Kit's funeral, which Tina insists would have been too "confusing" in the aftermath of their divorce. Instead of dropping out, Bette decides to finally speak out publicly about why she's running—because a "deeply broken system" led to her sister's death. "I never wanted to do anything that might exploit my family's pain. But this is bigger than me, this is bigger than my family," Bette tells the gaggle of reporters still gathered at her doorstep. "You're going to make a great mayor," Tina tells Bette. "If you need anything, I'm here. I am your family, you know? I love you." They embrace, and Bette tells Tina she loves her, too, then gets even more vulnerable: "Please don't go. Please." You can practically hear viewers screaming the exact same plea.
Angie and Jordie
The one upside to Bette's personal-political crisis is that it prompts Angie to call in Tina—not for herself, but for Mama B. More mature by the day, she then leaves them to it, meaning that it's Shane and Quiara who end up taking Angie to her drivers test. Upon hearing that she passed, Shane hands her the keys and tells her to take them anywhere she wants to go. They pull up at a house, which Shane immediately guesses is Jordie's. "How do you know if you love someone?," Angie asks unabashedly. Buoyed by Quiara and "Uncle Shane"—who illuminatingly reveal their own love story, and remind her that she's "Angie Porter Fucking Kennard"—Angie rings the doorbell and makes an adorably teenaged confession, which couldn't make Shane more adorably stressed. But she needn't have worried: Jordie confirms that she not only likes Angie, but loves her, too. Gen Q, meet Gen Z.
Sophie and Finley
Sophie and Dani might technically still be engaged, but their storylines diverge almost entirely in episode 6—to the point that you'd be forgiven for forgetting that Dani even exists. Fed up with her fiancée, Sophie arranges a "bro night" with Finley, who, just like last episode, embarks on a debaucherous romp around town that gets flirtier by the minute. Tess doesn't seem to mind that Sophie has replaced her; she has bigger things on her mind, like the fact that she's no longer sober. And as for Dani, well, she doesn't seem to have thought about Sophie in ages. Despite all the tension on the dance floor—where Tegan and Sara make a soundtrack comeback—nothing happens between Sophie and Finley, though Dani does come home to find them spooning on the couch. All too soon, Dani and Sophie are fighting again, though this time, there is some change in sight: Now that Shane's kicked her out, Finley will be living with Sophie, Dani, and Micah—and Sophie clearly couldn't be more thrilled.
Alice, Gigi, and Nat
The trio that is officially a throuple officially can't stop talking about the fact that they're a throuple, and it's already getting a bit tedious. Their storyline this episode centers almost entirely around Gigi briefly correcting a waiter who assumed they were all just friends. As always, Gigi and Alice see eye to eye, while Nat is more than happy to object—to the point that the pair accuse her of forcing them back into the closet. Nat insists she's just worried about how her and Gigi's kids will react, but it seems there's another reason, too: She can't stop crushing on Gigi. And neither can Alice. In fact, their affection for Gigi might be the only thing they have in common—aside from their habit of reassuring each other that their relationship is going just great.
Related: The L Word's Best Cameos, From Gloria Steinem to Snoop Dogg