The L Word Generation Q Episode 7 Recap: A Queer Sandbox to Play In
Breaking down the reboot's latest episode, Alice-style.
---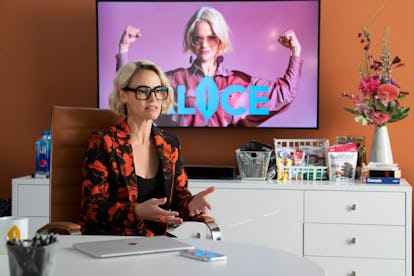 Almost as immediately as news broke that a reboot of The L Word was finally, actually happening, it reignited the conversation about how the series could "atone for the sins" of its past. (Among them: its treatment of transgender and bisexual individuals, class, and race.) Thankfully, the cast of The L Word: Generation Q is devoid of cis actors playing characters who are trans. It's also notably more diverse, thanks to a whole crew of younger, fresh faces who've joined the familiar ones of Bette Porter (Jennifer Beals), Alice Pieszecki (Leisha Hailey) and Shane McCutcheon (Kate Moennig).
But there is still plenty of sex, and the show's interpersonal intimacies still drive it. Which is why these recaps will take the form of snippets of Alice's legendary OurChart, tracking how each of their storylines intersect. (And not just sexually—no offense, Alice.) Here are the relationships that defined episode 6.
Bette and Tina
Bette and Tina reunite for drinks, cruelly bringing along a third wheel in the form of Shane. She spends much of their time together looking on in bemused silence—especially when Tina and Bette reminisce on when they first heard Angie's heartbeat. It sounded "like horses stampeding through mud," they cry out in unison, and Bette even reaches out to rest her hand atop Tina's hand. She quickly withdraws it, but Tina is clearly emboldened by the move. Ignoring Shane, she asks Bette directly if just the two of them can have dinner that night. They decide that she'll come over to Bette's for a home-cooked meal, and Shane looks less than thrilled. But for viewers, the possibilities seem endless—especially in the wake of the news that the series has been renewed for a season 2. Alas, reality steps in: Tina's phone starts buzzing, and she announces that it's from "Carrie" before leaving the table to take it.
Later that night, over red wine at Bette's, the pair is gushing about how nice it is for Tina to have more of a presence in Angie's life. Tina admits she's started looking for a place to stay nearby, and Bette naturally extends an invitation for her to stay there until she finds somewhere, sending Tina into a state of frenzy. "Um," she says after about a dozen starts and stops, "Carrie asked me to marry her. And I said yes." Almost immediately, Bette grabs for the wine. It's empty, providing a chance for her to attempt to pull herself together in the kitchen as she fetches more. Tina knows what's going on, but forges on, averting her eyes and asking how to move forward with the technicalities, like how to tell Angie. Bette keeps it together, but only just barely, inventing another excuse for herself to escape by fetching a bottle of champagne. We don't get to hear what's going on in her head just yet, but it's telling that she later ends up at Shane's.
Shane and Quiara
Somewhat shockingly, Shane accompanies Quiara for her first-ever listen to her (their?) baby's heartbeat. At first, she skulks in the corner, almost like a dog with its tail between her legs, but ultimately joins Quiara for the moment she knows is supposed to be life-altering. Of course, there's nothing life-altering about it for Shane, just as she feared. But years of feeling like a broken human have taught her better than to express as much. So, after some effort, she digs her only reference point for how to react: "It sounds like horses stampeding through mud." Unaware that Shane is simply repeating a line from her annoying brunch, Quiara is delighted, and readily agrees.
Ever since she finally showed up, Quiara has repeatedly insisted that she sees Shane. But it isn't until Shane ghosts her for dinner, then admits how she actually felt earlier, that it finally sees plausible. Quiara isn't mad; instead, she piles praise on Shane. Congratulating Shane on expressing her emotions could be condescending, but it isn't. Still, whether Shane will take it as a sign that she can open up to Quiara in the future remains to be seen.
Sophie and Finley
With her grandmother in the hospital, Sophie is barely holding it together. She finally escapes to the hallway to break down when typical childish, annoying Finley arrives with snacks. But for once, her interruption is more than welcome. And it continues to be. Finley knows when to get real, like pulling Sophie in for a hug, fetching her clothes, and even asking her to pray with her. (The latter move is so jarringly un-Finley-like that this writer, anyway, had to rewind because she assumed she said "play.") At the same time, she keeps up being herself, this time with some self awareness; she knows that her jokes about having "Funyuns all day" are the distraction that Sophie needs.
Once again, we barely see Dani and Sophie interact—and not in any sort of meaningful way. Much more poignant is the brief scene without Sophie, when Finley calls out Dani for not coming to the hospital and convinces her that Sophie needs her. Unsurprisingly, Dani gets a phone call and leaves almost immediately. Finley, on the other hand, hangs around, and for Sophie, this seems to seal the deal. She urges Finley to leave, then pulls her back in for a kiss. "What are you doing, buddy?" Finley asks, and the scene cuts with them all alone in the hospital hallway. Later on, Sophie fills her sister in. "I don't have to tell her, right?," she says about Dani. Upon glimpsing her sister's face, she adds, "Oh shit."
Alice, Gigi, and Nat
Generation Q has brought out the worst in Alice, reducing her to her most self-involved. But it's hard not take her side when, in the midst of everything she has going on at work, she finds out her show likely isn't going to be renewed—and when the only person who stands a chance at saving it is a man who earnestly uses phrases like "I'm trying to build you a queer sandbox to play in." To make matters worse, that day—of all days—is the one in which Nat and Gigi finally decide to reunite. (Does this season's longest sex scene to date really have to be between a couple who has no chemistry?)
Alice comes home to discover them in bed, doing their best to act as if two ex-wives passionately reuniting in solace is part of their threesome agreement. Sadly, it's under those circumstances in which we finally get some of the old fiery Alice back. At first, she's crushed, but by the time she acquiesces to getting brunch with Nat and Gigi, she's back to neatly channeling her rage—even when Nat and Gigi infuriatingly use their "baggage" as an excuse. Thankfully, Alice has fully realized—and called out—the ridiculousness of the situation, which perfectly crescendoes with the arrival of the exes' order of a single soup with two spoons.
Related: The L Word Generation Q Episode 6 Recap: Welcome Back, Mama T