Go Inside LACMA's Star-Studded Art+Film Gala, With Jared Leto, A$AP Rocky, and Lana Del Rey
Chuck Grant takes us inside the "Met Gala of the West Coast" in her exclusive video.
---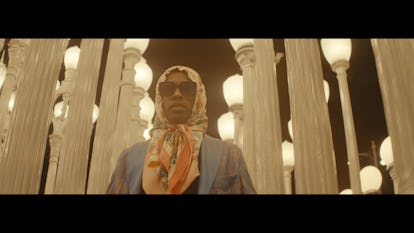 The LACMA Art+Film Gala is called the Met Gala of the West Coast for good reason: It's about as star-studded, and it's equally as hard to get into. This year, the gala was once again presented by Gucci, and brought out a staggering number of A-listers, including cohost Leonardo DiCaprio, honoree Guillermo del Toro, Lana Del Rey, Jared Leto, Dakota Johnson, Kim Kardashian, Will Ferrell, Miranda Kerr, Zoë Kravitz, and many, many more stars, most of whom were dressed in Gucci, of course. Also on the list: the artist Chuck Grant, Del Rey's younger sister, who made the most of the night, capturing the event in a sleek, one-minute film that showcases everything from the museum's ever-Instagrammable Urban Light sculpture by Chris Burden to Rocky's standout ensemble. Here, Grant talks behind the scenes of the big night, and shares her film exclusively with W.
What was your vision for capturing the event on film?
I wanted imagery of this event to evoke old Hollywood nostalgia, like Marilyn Monroe arriving to her own premiere. Nothing is more glamorous than Gucci gowns at LACMA, and I just wanted to celebrate the glamour of it all against the beautiful architecture in the center of Hollywood. At the same time, I needed candid moments, and for whomever was watching this video to feel like they were there with friends and family, so I included a lot of handycam footage. I shot the video with the insanely talented Alexis Zabe and my good friend Hunter Crowder, two legends with amazing style. It was important for me to go into this project with friends and family to treat it as a wonderful celebration with the people I love. I like our video because it's both formal and informal. I love to mix media and think of these images as ones you'd have in your scrapbook, while still honoring the integrity of the evening.
What are some of your earliest memories of LACMA?
Maybe on a date? It's kind of a cute date spot. I love KJAZZ night at LACMA.
What filmmakers or films are currently inspiring you?
I've been inspired by '70s horror movies lately. I love spooky movies and can't get enough of them. The style and creativity brings me to my happy place. I just saw The Exorcist at the Dome, a classic!
As far as filmmakers inspiring me right now, I really love Gia Coppola. I love her approach to film and how natural she is as both a director and person. She's got her finger on the pulse! I'm excited for her new project, Mainstream. Also, Lauren Greenfield. I can't get enough of her photographs and films, and love the way she gives voice to the same subcultures I'm interested in.
What artists and photographers are you currently inspired by?
My sister inspires me. She's very talented with constructing visuals and editing. I love Slim Aarons, Philip-Lorca diCorcia, and Sally Mann. Bailey Hunter is an artist working in L.A. who really inspires me; she's the mind behind TIGRA TIGRA. We work a lot together. Cassi Namoda, a very talented painter, and Moni Hayworth, a photographer, both from L.A., inspire me, too.