Lady Amelia Windsor, Now 23, Has Spent Her Summer Demonstrating That She's the Chillest Royal
Prince Harry's cousin has spent the summer Instagramming up a storm.
---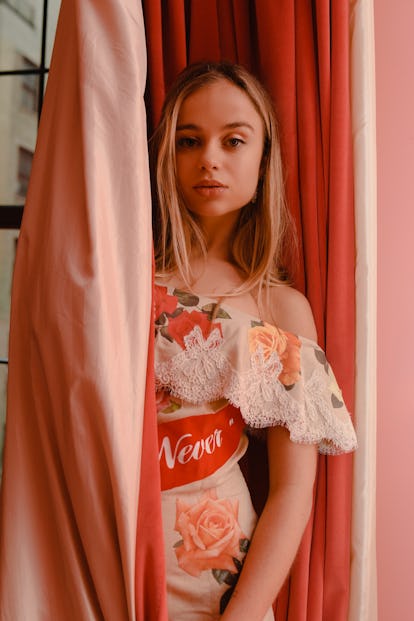 Ryan Lowry
Lady Amelia Windsor may be 38th in line for the British throne, but on Friday, her 23rd birthday, she made her strongest case yet that she's first in line when it comes to being the coolest British royal. She certainly appears to be the most tatted, anyway, as well as the most active on Instagram, where over the summer she's gotten increasingly candid, striking for someone who is Prince Harry and Prince William's cousin, and whose full name is, in fact, Lady Amelia Sophia Theodora Mary Margaret Windsor.
Indeed, she's been so devoted to spending time on the beach these past few months that she's actually made headlines for doing so—fair enough, since she just wrapped up another year of studying French and Italian at the University of Edinburgh, and reportedly didn't get an invite to the royal wedding this past May, which is when she began her summer of unabashed partying, kicking things off in Capri, Rome, and Lake Como.
It wasn't long before Windsor popped over to France to show face at Dior's over-the-top cruise show in Chantilly, as well as graciously accept some latte art featuring her likeness in Paris. Soon after she headed back to Italy, where she anointed herself the Loch Mel Monster, and, of course, to London, where she promptly did everything from silently march in memory of the victims of the Grenfell Tower fire to become likely the first royal ever to publish a selfie prominently featuring a royal middle finger. (While in public at the V&A, no less.)
Sticking with her newfound bad girl streak, just a few days later, she posted proof that she'd also gotten another tattoo on her forearm, courtesy of the same tattoo artist who's inked names like Skepta, which she showed off at the Dior couture show. (Lady Amelia is, by the way, the first British royal to ever show off her ink—which includes a tiger on her back, a troop of animals on her other forearm, and a bow shape on her underboob.) After making another requisite stop in Rome and the coast of Italy, this time to Anzio and Santa Marinella, she then caught eyes again in the U.K., where she documented herself wearing everything from a bikini to a pink bra, bright yellow overalls, and—gasp—a plastic cup. (Naturally, after breaking out the neon, the only next logical move was to head to Ibiza, where she again posted up on the beach.)
Then there was Spain, and then Tuscany, and then, more importantly, Winchester, home to the Boomtown festival, where she took in acts like the Gorillaz and reveled in more neon. Lady Amelia brought some festival style home with her too: She showed up to an event at Selfridge's in a pair of "muddy trainers," which she excused as a result of having just traipsed around Hyde Park.
All that brings us to the present, which, judging from posts a few days ago, is likely in Ibiza—though given Lady Amelia's track record of bouncing around, she really could have been celebrating her 23rd on any ol' beach. Wherever the festivities took place, they included eating melted marshmallows with chopsticks, picking up litter, taking delight in a species of bird named the bearded tit, and, quite naturally, diligently setting aside a few minutes to Instagram all of it.
Related: Lady Amelia Windsor on Her Journey to Fashion Royalty