Lady Gaga's "Joanne" Music Video Is an Emotional Ode to Her Late Aunt
A stripped-down stroll through the woods.
---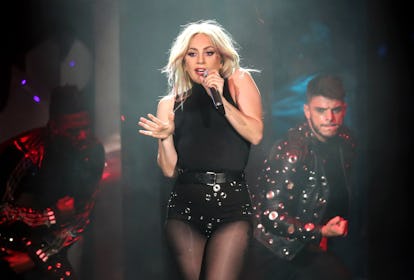 Getty Images
Most artists don't have the clout or the guts to drop a music video a year and three months after the song comes out, but most artists aren't Lady Gaga. On Friday, more than a year after she released her 2016 album, Joanne, the pop icon and incoming Vegas girl dropped the visuals for the piano version of her title track "Joanne." A far cry from the psychedelic grindhouse bacchanalia of "John Wayne," the music video for "Joanne" is a stripped-down, folksy walk through the woods.
As with the other Joanne music videos, this one picks up right where the last one left off. As you'll recall, "John Wayne" ends with Lady Gaga venturing into the woods with only her guitar for company. After a title card explains that "Joanne" is dedicated to her late aunt who died of lupus at the age of 19, when Gaga's father was only 15, the video opens with a series of close-ups on the singer. Since "Joanne" is a raw, emotional ballad, and the piano version of it even more so, the camera refuses to stray from the catharsis happening on Gaga's face.
From there, we accompany her on a prolonged frolic through the woods, stopping only to watch her rest on her guitar or howl the lyrics at the sky. She spends some time musing the train tracks, before playing some pool with a group of friends, whirling on a bridge, and taking a walk through the cities at night. The video ends with her running back into the woods, after which a title card gives Joanne's birth and death dates.
If you can handle a not-insignificant level of emotional turmoil this morning, watch the video for yourself below:
Related: So Lady Gaga Wore Madonna's Face on Her Versace Leotard
Lady Gaga's Style Evolution, From a Meat Dress to Custom Versace
A brunette Gaga performing at Lollapalooza, in a homemade disco bra.That DIY aesthetic was only a small taste of what was to come.

Getty Images
One of the earliest incarnations of the Lady Gaga persona: snood, sunglasses, David Bowie makeup, and platinum blonde hair.

Getty Images
Lady Gaga and her "hair bow" debut on Good Day New York in 2008. Most of her costumes at this time where largely handmade.

Getty Images
Lady Gaga at a Fashion Week event in 2008, complete with towering shoulder pads and signature snood.

Getty Images
Gaga at a concert event in Germany, wearing one of her crystal stalagmite encrusted dresses.

Getty Images
Sporting rainbow colored locks, leopard briefs, and thigh-high boots at a Tokyo airport.

Getty Images
Gaga on the VMAs red carpet, wearing the first of one of many VMA looks that will go down in fashion history.

Getty Images
Meeting the Queen of England in Edwardian-themed red latex gown and crystal encrusted eye makeup.

Getty Images
At the 52nd Grammy Awards wearing custom Armani Prive and a matching, hand-held sculpture.

Getty Images
Leaving her concert at the O2 Arena in Germany at the height of "Bad Romance" fever.

Getty Images
Wearing her infamous meat dress at the MTV Video Music Awards.

Frederick M. Brown/Getty Images
At the VMAs in an Alexander McQueen look, wearing the infamous Armadillo platform heels.

Getty Images
Leaving dinner in Paris dedecked in diamonds and blush pink silk.

Getty Images
Accepting the Grammy award for best pop vocal album wearing archive Mugler at the beginning of her "Born This Way" era.

Getty Images
A chic, fully monochromatic look ("teal blonde" hair included) at Narita Airport in Tokyo.

Getty Images
At the CFDA awards sporting a teal bob. She won the Fashion Icon Award that evening.

Getty Images
A radiant brunette Lady Gaga at Harrods for the launch of her fragrance, Fame.

Getty Images
Lady Gaga wearing archive Versace with the designer in Milan.

Getty Images
Fairytale princess Gaga in an Alexander McQueen gown.

Getty Images
Channeling a rave-disco incarnation of Botticelli's Venus at the VMAs.

Getty Images
Lady "Godiva" Gaga arriving on the American Music Awards red carpet atop a mechanical horse and wearing Atelier Versace.

Getty Images
At an event in Japan in promotion of her album Artpop.

Getty Images
A street style moment in London complete with "Botticelli babe" waves and prismatic eyeglasses.

Getty Images
Sporting ultra long white-blond locks and a pink fur coat leaving her apartment in New York.

Getty Images
Wearing a lavender Atelier Versace gown at the 86th Annual Academy Awards.

Getty Images
Wearing a star-spangled, custom white Valentino gown with diamante eyebrows to match at the Kennedy Center Honors.

Getty Images
Entering the era of polished, elegant, and jazz Gaga for her collaboration album with Tony Bennett.

Getty Images
Wearing a custom, glittering Azzedine Alaia gown to the 87th Annual Academy Awards.

Getty Images
Lady Gaga at the Songwriter's Hall of Fame induction, channeling John Lennon by way of Alexander Wang.

Getty Images
Full Bowie-glam in a custom Marc Jacobs look for the 58th Grammy Awards, where Gaga performed a tribute to the late performer.

Getty Images