Lady Gaga, Suffering From "Severe Physical Pain," Postpones European Tour
Just after canceling Rock in Rio.
---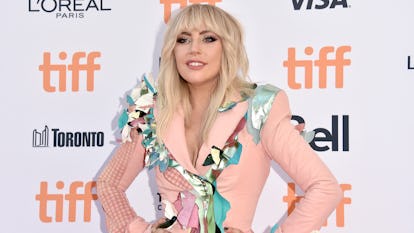 Alberto E. Rodriguez/Getty Images
Though Lady Gaga has been connecting with fans through her Five Foot Two documentary on Netflix, which details the past year of her life, Little Monsters will have to wait a bit longer to see the singer in the flesh. The singer has opted to postpone the European leg of her Joanne tour due to health concerns, which were also discussed in the film.
Live Nation posted a statement to their website explaining the cancellation. "Live Nation confirmed today the European leg of the Lady Gaga Joanne World Tour Concert has unfortunately been postponed until early 2018. The six-week European leg of the tour was scheduled to begin on September 21 in Barcelona, Spain and conclude on October 28 in Koln, Germany."
Just days ago, Lady Gaga revealed she suffered from "severe physical pain," which left her hospitalized and unable to perform at Rock in Rio. The singer posted a long explanation and apology on her social media accounts, including a photo of a tattoo on the back of her neck that says "Rio."
Live Nation also offered insight into Gaga's emotions via their statement. "Lady Gaga is suffering from severe physical pain that has impacted her ability to perform," it reads. "She remains under the care of expert medical professionals who recommended the postponement earlier today. Lady Gaga is devastated that she has to wait to perform for her European fans. She plans to spend the next seven weeks proactively working with her doctors to heal from this and past traumas that still affect her daily life, and result in severe physical pain in her body. She wants to give her fans the best version of the show she built for them when the tour resumes. Lady Gaga sends her love to all her fans across Europe and thanks them for their support and understanding."
As for Gaga, she took to Instagram once again to break the news to her fans, posting a picture of herself clutching rosary beads with a lengthy caption explaining her mental and physical state. She writes, "I have always been honest about my physical and mental health struggles. Searching for years to get to the bottom of them. It is complicated and difficult to explain, and we are trying to figure it out. As I get stronger and when I feel ready, I will tell my story in more depth, and plan to take this on strongly so I can not only raise awareness, but expand research for others who suffer as I do, so I can help make a difference. I use the word 'suffer' not for pity, or attention, and have been disappointed to see people online suggest that I'm being dramatic, making this up, or playing the victim to get out of touring."
However, the singer assures her fans that she certainly has no plans to cancel the European leg all together. Her post continues, "I'm a fighter. I use the word suffer not only because trauma and chronic pain have changed my life, but because they are keeping me from living a normal life. They are also keeping me from what I love the most in the world: performing for my fans. I am looking forward to touring again soon, but I have to be with my doctors right now so I can be strong and perform for you all for the next 60 years or more. I love you so much."
And let's be honest, a Lady Gaga performance in 2077 is something we all want to see. Read her full post, below:
Related: Lady Gaga Will Testify in Support of Kesha—No Doubt With an Army of Little Monsters at Her Back