Lady Gaga Rides a Zip Line Upside Down and Backwards in Costa Rica
Just call her Spider-Gaga.
---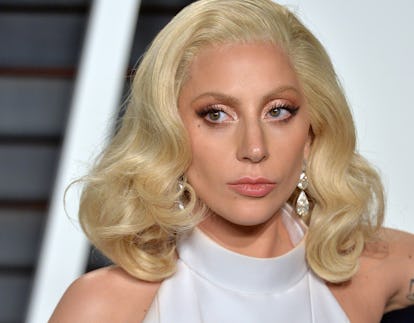 Anthony Harvey/Getty Images
Eleanor Roosevelt once suggested that you should "do one thing every day that scares you." Lady Gaga, for one, appears to be taking the former First Lady's advice to heart in 2018. While in Costa Rica this week, the pop star rode a zip line through the jungle, and upped the fear factor by flipping herself upside down and around for the ride.
Gaga's boyfriend, talent agent Christian Carino, shared a video of the exhilarating ride on Instagram on Thursday. In the clip, the Joanne singer wears a crop top, denim shorts, and a helmet as she glides along the rope toward Carino in her Spider-Man-esque pose. "Oh my God! The brakes scared the s— out of me!" she says at the end, as she comes to a stop. "The Super Bowl jump was only a warmup. Simply fearless," Carino captioned the video.
Carino has served as Lady Gaga's rock in other scary moments throughout their year-long relationship. During a performance at New York's Citi Field in September, Mother Monster professed her love for her dependable beau. "When I went backstage, Christian was by the stairs making sure I was okay," Gaga said at the time, according to Page Six. "The best part about being in love with someone is having them there to catch you if you fall."
Gaga and Carino's relationship was confirmed in early February 2017, shortly after they were seen cuddling at a Kings of Leon concert and getting cozy at the LI Super Bowl in Houston, where Gaga performed during the halftime show and, as Carino mentioned, leaped off the stage. Since then, despite staying pretty quiet about their love, Gaga, who broke off her engagement to actor Taylor Kinney in July 2016 after five years of dating, and Carino have posted several sweet photos of each other on Instagram, including one particularly PDA-filled shot posted on Gaga's Instagram and Snapchat stories in October that showed Carino holding her in his arms in front of a gorgeous sunset in Malibu. Although rumors began flying in early November that the duo had secretly gotten engaged over the summer, they have yet to confirm or deny the news.
Related: Lady Gaga Wore Heels and a Crop Top to Go Hiking
Miley Cyrus, Lady Gaga, and Nicki Minaj Truly As You've Never Seen Them Before
David LaChapelle, Do you want love or do you want fame (Lady Gaga), 2009.

© David LaChapelle Studio, courtesy of Taschen
David LaChapelle, Still I Rise (Tupac Shakur), 1996, California.

© David LaChapelle Studio, courtesy of Taschen
David LaChapelle, We Shine so Brightly, 2015.

© David LaChapelle Studio, courtesy of Taschen
David LaChapelle, Fallen friend on the walk of stars (Amy Winehouse), 2007.

© David LaChapelle Studio, courtesy of Taschen
David LaChapelle, Lost + Found. Part 1 cover, I Walk Out of My Prison (Miley Cyrus), 2017.

© David LaChapelle Studio, courtesy of Taschen
David LaChapelle, Superbass (Nicki Minaj), 2011.

© David LaChapelle Studio, courtesy of Taschen
David LaChapelle, We are Blessed, 2017, Hawaii.

© David LaChapelle Studio, courtesy of Taschen