Lais Ribeiro Refuses to Walk in Milan Fashion Week Anymore Due to Discrimination
"They're just like, 'Oh, we have enough black girls here.'"
---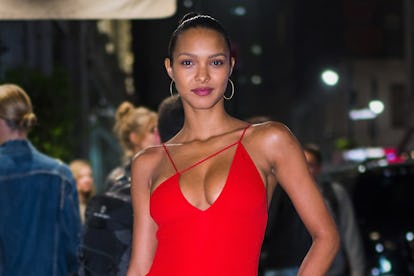 Gotham/Getty Images
While New York Fashion Week is reaching higher levels of diversity on the runway than ever before, many European fashion weeks lag behind and model Lais Ribeiro has had it. The Brazilian beauty keeps busy with her duties as a Victoria's Secret Angel now a days, but she's announced she's not even going to bother with one fashion in particular until it gets real about diveristy. She's refusing to audition for Milan Fashion Week going forward.
"Of course [representation] has to be better every year, but it still has a ways to go," Ribeiro explained in a new interview with Coveteur, noting how she's only one of two Victoria's Secret Angels at present who are black. "For example, I don't go to Milan anymore. I used to love Milan, and they're just like, 'Oh, we have enough black girls here, you don't need to come.' There were two times that they said that, and I was like, 'Is this for real?' It has to be better, but it's a little bit more open for us."
Although she wouldn't name specific designers, Ribeiro says she was notified a few times how a "quota" had been met for black models in certain shows, and because of that, she said she was preemptively told not to bother auditioning. (Milan Fashion Week, indeed, has been frequently criticized for a lack of diversity.) This apparent discrimination, sadly, didn't surprise her, but it's the inclusive people in the industry who keep her optimistic that the tides will soon change. "Edward Enninful was always a supporter since I started my career, so it's exciting to see him being so successful. I did Italian Vogue with all the black girls," Ribeiro said of the British Vogue editor in chief's casting her in an all-black issue. "I loved that editorial. It was really beautiful, and he was just so nice. I didn't speak English yet at that time, and there were a couple girls I already knew at the job speaking Spanish with me. I think Arlenis [Sosa] was there and Ajak [Deng], Iman. He's always trying to represent and to help push through because it's a little hard to be out there." Let's hope it only gets easier.