Lana Del Rey Spent the Weekend Defending Herself
Several Instagram essays, Stories, and comments later, the singer still had six minutes's worth of opinions on all the drama.
---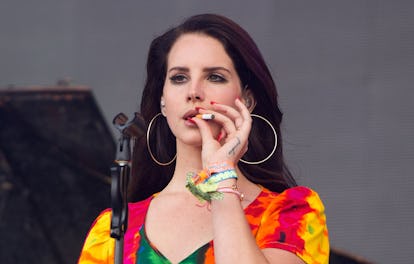 Samir Hussein/Getty Images
It says something about the degree of mess Lana Del Rey has gotten herself into that the announcement of her next album title—Chemtrails Over the Country Club—barely caused a stir. Last week, the singer posted an Instagram essay addressing the criticism that she glamorizes abuse, naming seven specific female pop stars in the process. Realizing that she'd effectively detonated Twitter, Del Rey posted four addendums to her post. (Apparently, when she said "there has to be a place in feminism for women who act and look like me," she did not mean white women; she meant "women who don't look strong or necessarily smart.")
With the drama still going strong two days later, Del Rey posted another mini essay. "A couple of final notes on my 'controversial post' that's not controversial at all," she began. Alas, they weren't final after all. Two days later, Del Rey shared plenty more opinions in a video captioned "nobody gets to tell your story" on Monday. "Hey, so I don't wanna beat a dead horse and I don't wanna go on and on about this post," the singer said, then proceeded to do exactly that for a full six minutes. ("I know it seems a bit much, right?," she remarked of the video about two minutes in.)
Stereogum laboriously transcribed the full audio, which you can read here. But here are the main takeaways about "the one and only personal declaration [she's] ever made."
For starters, her post was about "the need for fragility in the feminist movement," Del Rey said, thanking her readers "for being so warm and welcoming." As for how Doja Cat, Ariana Grande, Camila Cabello, Cardi B, Kehlani, Nicki Minaj, and Beyoncé ended up in her essay, it's because Del Rey considers herself to be in that same "echelon." "They are my friends and peers and contemporaries," she said. "The difference is when I get on the pole people call me a whore, but when [FKA] Twigs gets on the pole it's art."
Del Rey apologized for not adding "one Caucasian, one 100-percent Caucasian into the mix of women I admire." (Though in fact Grande, like Del Rey herself, is white.) She was "good intentioned." And she's also "not the enemy" and "definitely not racist." "I just want to say, the culture's super sick right now," she said on the topic of race. "And the fact that they want to turn my quotes, my advocacy for fragility into a race war? It's really bad. It's actually really bad."
Once again, Del Rey pointed to her promise to make "personal reparations" to the Navajo community. But this time, she cited an unexpected source: the wellness guru, former presidential candidate, and spiritual enigma Marianne Williamson. "…I believe in personal reparations because it's the right thing to do," Del Rey said. "And I think what's really sad is as a personal advocate, as a girl's girl, as somebody who wants the best for every culture—you know, what Marianne Williamson was talking about—reparations to the black community that never got done during the emancipation period. That was why I liked her because I always felt that way."
Are there more "final notes" to come? No doubt. But if you're patient enough to keep up with the controversy, you may have to wait until the releases of Del Rey's upcoming spoken-word album, the aforementioned Chemtrails Over the Country Club, or the two poetry books she promoted back in her very first post.
Related: The Best Twitter Reactions to the Lana Del Rey Drama