Larry David Did Not Want To Wear a Diaper On SNL
He's Larry David. He's not going to be in this dumb video.
---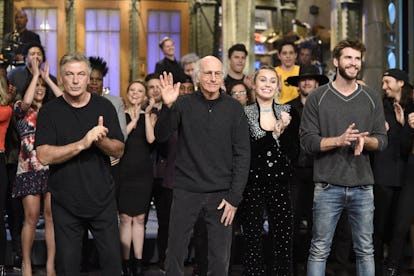 Will Heath/NBC/NBCU Photo Bank via Getty Images
Larry David and Saturday Night Live have a long, fun history. The now-legend got his start as a staff writer in the 80s, a gig he briefly quit by storming out of the building, only to return to work on Monday as if nothing had happened (which, yes, he later used as a storyline for Larry David avatar George Costanza on Seinfeld). Since then, he's returned to host the show, including a memorable episode in 2016 that introduced us to Kevin Roberts (David Pumpkins-esque) and, of course, Larry-as-Bernie.
On Saturday, David returned to the Studio 8H stage as Bernie and as a couple other character, but mostly, as Larry David. And Larry David was not about to put on an adult diaper and onesie to rap about a relationship taking baby steps, as we clearly see in "The Baby Step."
Obviously, it's actually a meta-sketch about how they can't get David to demean himself for the sake of comedy. David even goes so far as to grill the cast as to why they're putting up with this. He understands why newcomer Chris Redd (whom he calls Carl) needs the screen time, but hasn't Kenan Thompson been on for over a decade? Musical guest Miley Cyrus, meanwhile, is simply ashamed.
What isn't mentioned is the fact that David is sharing the stage with Pete Davidson, who is dating Larry's daughter Cazzie David. Props to Pete for wearing a diaper in front of his girlfriend's dad at his place of work. They also played teammates on The Price Is Right in a sketch, though David was in character as Sanders in that one.
So will we ever get a Cazzie-Larry-Pete triple cameo? Maybe once they've been going out for longer. After all, it's important to take baby steps. I'm sorry. I'm so sorry. That's terrible, I shouldn't have written that. I'm….I'm sorry.
Related: Miley Cyrus Was in a Good "Bad Mood" on Saturday Night Live
Exclusive: See Up-Close And Personal Images of Brad Pitt, Jared Leto, Amy Adams, And More From LACMA's Art + Film Gala
Brad Pitt and and Thomas Houseago attend LACMA's seventh annual Art+Film, hosted by Eva Chow and Leonardo DiCaprio, honoring artist Mark Bradford and filmmaker George Lucas. Photo by Josiah Green.

Josiah Green
Marco Prego and Zoe Saldana attend LACMA's seventh annual Art+Film, hosted by Eva Chow and Leonardo DiCaprio, honoring artist Mark Bradford and filmmaker George Lucas. Photo by Josiah Green.

Josiah Green
Gia Coppola, Soko, Hari Nef, and Rowan Blanchard attend LACMA's seventh annual Art+Film, hosted by Eva Chow and Leonardo DiCaprio, honoring artist Mark Bradford and filmmaker George Lucas. Photo by Josiah Green.

Josiah Green
Soko attends LACMA's seventh annual Art+Film, hosted by Eva Chow and Leonardo DiCaprio, honoring artist Mark Bradford and filmmaker George Lucas. Photo by Josiah Green.

Josiah Green
Jared Leto attends LACMA's seventh annual Art+Film, hosted by Eva Chow and Leonardo DiCaprio, honoring artist Mark Bradford and filmmaker George Lucas. Photo by Josiah Green.

Josiah Green
Armie Hammer and Timothee Chalamet attend LACMA's seventh annual Art+Film, hosted by Eva Chow and Leonardo DiCaprio, honoring artist Mark Bradford and filmmaker George Lucas. Photo by Josiah Green.

Josiah Green
Darren Le Gallo and Amy Adams attend LACMA's seventh annual Art+Film, hosted by Eva Chow and Leonardo DiCaprio, honoring artist Mark Bradford and filmmaker George Lucas. Photo by Josiah Green.

Josiah Green
Rosie Huntington-Whitely and Behati Prinsloo attend LACMA's seventh annual Art+Film, hosted by Eva Chow and Leonardo DiCaprio, honoring artist Mark Bradford and filmmaker George Lucas. Photo by Josiah Green.

Josiah Green
Petra Collins attends LACMA's seventh annual Art+Film, hosted by Eva Chow and Leonardo DiCaprio, honoring artist Mark Bradford and filmmaker George Lucas. Photo by Josiah Green.

Josiah Green
Kerry Washington attends LACMA's seventh annual Art+Film, hosted by Eva Chow and Leonardo DiCaprio, honoring artist Mark Bradford and filmmaker George Lucas. Photo by Josiah Green.

Josiah Green
Asia Chow, Inez van Lamsweerde, and Vinoodh Matadin attend LACMA's seventh annual Art+Film, hosted by Eva Chow and Leonardo DiCaprio, honoring artist Mark Bradford and filmmaker George Lucas. Photo by Josiah Green.

Josiah Green
Usher attends LACMA's seventh annual Art+Film, hosted by Eva Chow and Leonardo DiCaprio, honoring artist Mark Bradford and filmmaker George Lucas. Photo by Josiah Green.

Josiah Green
Jane Fonda attends LACMA's seventh annual Art+Film, hosted by Eva Chow and Leonardo DiCaprio, honoring artist Mark Bradford and filmmaker George Lucas. Photo by Josiah Green.

Josiah Green
George Lucas attends LACMA's seventh annual Art+Film, hosted by Eva Chow and Leonardo DiCaprio, honoring artist Mark Bradford and filmmaker George Lucas. Photo by Josiah Green.

Josiah Green
Asia Chow attends LACMA's seventh annual Art+Film, hosted by Eva Chow and Leonardo DiCaprio, honoring artist Mark Bradford and filmmaker George Lucas. Photo by Josiah Green.

Josiah Green
Rowan Blanchard and Hari Nef attend LACMA's seventh annual Art+Film, hosted by Eva Chow and Leonardo DiCaprio, honoring artist Mark Bradford and filmmaker George Lucas. Photo by Josiah Green.

Josiah Green
Salma Hayek and Francois-Henri Pinaultattend LACMA's seventh annual Art+Film, hosted by Eva Chow and Leonardo DiCaprio, honoring artist Mark Bradford and filmmaker George Lucas. Photo by Josiah Green.

Josiah Green