The Ferryman's Laura Donnelly Takes Broadway in the Role of a Lifetime
Best known as Jenny Fraser on Outlander, Laura Donnelly is taking over the New York stage.
---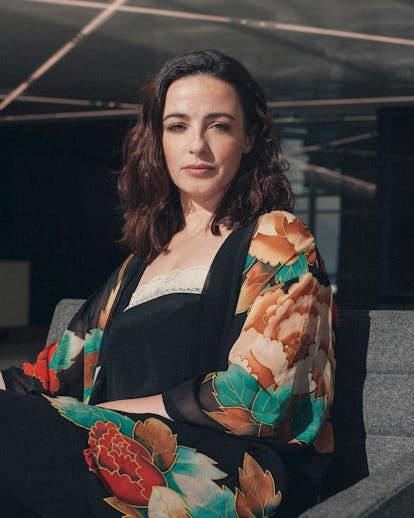 Laura Donnelly photographed by Marisa Chafetz for W Magazine.
This fall, the buzz on Broadway is, for once, not oriented around splashy brand-name musicals like Mean Girls or Spongebob: The Musical. It's all about a slew of dramatic plays with promise, and The Ferryman, a West End import, and its Irish star Laura Donnelly, might be the breakthrough of the season. The actress won an Olivier Award for Best Actress last year in London for her role as the firebrand single mother Caitlin Carney, whose husband, Seamus, left for work on New Year's Day, 1972, and never came home.
The Ferryman, which is directed by Skyfall's Sam Mendes, begins with his absence, depicting the 24 hours in the lives of the surviving Carney family after Seamus's body has been recovered from the bog, nearly a decade later. The detail is actually borrowed from Donnelly family history: The actress's own uncle, Eugene Simons, went missing on New Year's Day, 1981, one of at least 15 who were "disappeared" at the height of the Troubles in Northern Ireland. Like Donnelly's family, the Carneys have been taunted by rumored sightings of Seamus across the countryside, even though, somewhere, Caitlin knows he was never coming back.
"Just yesterday, my mum had texted me and just said she was so proud of to what extent this play had shone a light on her story and her family's story," Donnelly told me on a recent afternoon in Soho, New York, "and the story of many other people who went through a similar thing."
Donnelly grew up in the mid '80s, in the midst of the Troubles in Northern Ireland, but "nothing about my upbringing, politically, struck me as unusual," Donnelly recalled. Her experience was colored by where she grew up and what her parents did—some of her friends, she realized, may have been more aware that it was not normal. "We were born into it, so you don't know any different."
Despite the backdrop of the Troubles—it's insinuated that Seamus was abducted as restitution for his brother Quinn withdrawing from the IRA—the play is also about the ways that trauma is passed down between generations, about "how that is dealt with—or not dealt with," as Donnelly said. "What is forgotten or purposely not-talked about; the damage that that does."
The Ferryman opened last year in London's West End and migrated to Broadway this month. It took five years to get it to New York: It was conceived in 2013, when Donnelly and the playwright Jez Butterworth, her partner, were watching a documentary about the Troubles and a portrait of Donnelly's uncle appeared towards the end of the film. But it wasn't until Donnelly, having recently completed a less-than-fulfilling television job, got pregnant with their first child that Butterworth set out to actually write the long-incubating concept.
"I found out I was pregnant and went into a mild panic," she explained. "Even though it was something that I very much wanted, women can't take a year out in their thirties in this profession."
Donnelly's first job, at age 22, freshly graduated from the Royal Scottish Academy, was in the three-hander David Mamet play, Boston Marriage. She starred alongside two older actresses; the producers were women; and the director was also a woman. "I didn't go into this profession knowing that that was an unusual thing," Donnelly admitted. "I was just so concerned about my path and my future on it, I didn't really give much thought to the bigger picture of overall the kind of parts that women are offered. I just had blinkers on."
Throughout her twenties, she noticed how male actors are so often allowed to age into their roles, while women of the same age find their opportunities increasingly limited. Donnelly started to feel "like I was in this ticking time bomb," she said. She figured if she hadn't made it by thirty, she'd be finished. She had good head start, already: She'd starred in Butterworth's previous play, The River, opposite Dominic West in London and Hugh Jackman in New York; she had garnered a surprising amount of acclaim for an actor playing a murder victim in the crime procedural The Fall with Gillian Anderson and Jamie Dornan; and she had a recurring role on Outlander, the cult time travel-romance-historical drama with Caitriona Balfe and Sam Heughan, an old drama school friend.
The Ferryman was a job that would be waiting for her on the far side of maternity leave—and when it finally opened in London last year, Donnelly completed the run while pregnant with their second child. It was an instant hit, selling faster than any other play in the Royal Court Theatre's history—but it wasn't just that "it was commercially very successful," Donnelly explained. "It was the kind of art I had been wanting to create for my whole career.
"On the other side of this play, and on the other side, I think, of thirty, I just don't care so much," she continued. "There's definitely a sense of peace that comes with maturity. You just chill out a little bit." On stage, accepting her Olivier last December, Donnelly wore a Time's Up pin tacked to the bodice of a mint-green gown.
Donnelly isn't sure what comes after The Ferryman, which runs on Broadway through February 17, but it's probably not Outlander: While her character Jenny made no hard exit from the show's third season, Donnelly was unable to film the fourth season—she had The Ferryman, gave birth to her second child, then went back to The Ferryman—and her character doesn't play a part in the next two books on which the series is based. By the time she's back, in three novels' time, "she's old," Donnelly said, "so I think that's probably me out."
Though Jenny was an integral part of the series—a producer on the series once described Donnelly and Balfe's characters as "the Thelma and Louise of their time"—Donnelly said she never had to negotiate the avid Outlander fandom to quite the extent of her costars. "I try to stay out of that kind of stuff, because it doesn't help with the job," Donnelly said.
In between the play's London and New York runs, she also spent a couple days in Liverpool, filming Tolkien, the upcoming biopic about the Lord of the Rings writer starring Nicholas Hoult and Lily Collins.
"I'm very much at the point in my career where I only want to do the next thing because I really want to do it. So if that means taking a little bit of time just to hang out with my family, then brilliant," she said, standing up to leave. After the previous night's preview performance, the cast had been called in for notes before their Saturday matinee. Donnelly paused. "Or, if it's something that starts the next day that I'm massively enthusiastic about, then I'll do that."