Erika Henningsen Is Your New Cady Heron, and Probably Broadway's Nicest Mean Girl
The star of Broadway's 'Mean Girls' talks about taking on Lindsay Lohan's iconic role.
---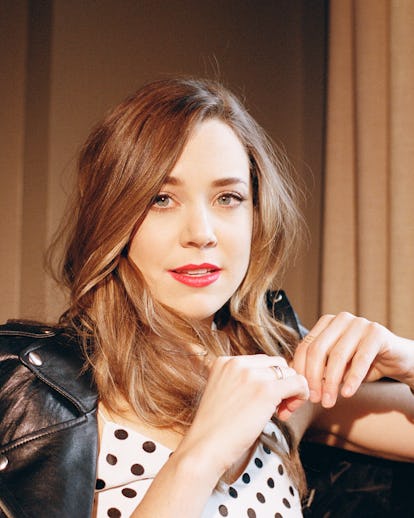 In 2018, the Plastics still wear pink on Wednesdays, joining the Mathletes is still social suicide, and "fetch" still hasn't happened. But 15 years after the cult teen comedy Mean Girls hit theaters, plenty has changed in the halls of North Shore High School—now the setting for Mean Girls the Broadway musical, which opened on Sunday night. For one, social media exists, and with it, plenty of viral and vicious Tweets that make the Burn Book look like child's play (though that's still kicking around as well). Aaron Samuels is now referred to as "bae," and there are more than a few allusions to a certain reality star turned President of the United States. And, perhaps most obviously, there is no Lindsay Lohan.
Instead, the 25-year-old Broadway star Erika Henningsen is taking on the role of Cady Heron. Like Lohan's screen character, the Cady in the musical was homeschooled in Africa and then dropped into the animal kingdom–esque landscape of a suburban America public school, only to find herself caught up in a popular girl clique, the Plastics. But the similarities end there.
"One of the first things they said was, 'You are not Lindsay Lohan. We do not expect you to be Lindsay Lohan,'" Henningsen said. "When you read the script, it's not the same Cady. Part of that is, in the movie, she acts as the lens through which we see everything. Seeing things through a character's eyes is easier to do in film. In a musical, the leading character really has to jump off the stage. She has to carry the story in a way that is more active. The Cady of this Mean Girls is a bit more active in her storytelling, and a bit more on the balls of her feet. The way she is written is so different. She's more eager to fit in. She's hungry for information."
Henningsen plays Cady with wide-eyed sincerity, more open and goofy than the movie's version. She's the affable straight woman to the cast of larger-than-life characters who buzz around her: a jazz hands–ing Damien; the cruel and aloof Regina George; the petulant Janice. And yet, in her subtlety (well, as much subtlety as Broadway will allow), Henningsen steals the show—she has, as the New York Times put it, "plenty of presence."
Born and raised in California, Henningsen, the youngest of three girls, was on stage at an early age. "My grandma showed me a bunch of musicals, and we'd watch Singing in the Rain all the time," she said. "Because I had two older sisters, I was very much just go with the flow, and my parents could tell that I liked talking and I liked being in front of people. But when you are the youngest sibling, your job is just to do what your older siblings say. My parents put me in theater school to have an outlet. Doing a high school musical, in the sense that it is set in high school, you are brought back to who you were at that time," she added. "It's very odd because people have asked, 'What were you like in high school?' And I was just the very blissfully unaware theater kid. I loved my friends in that, and it's where I felt very much at peace. And if it wasn't cool, then I just wasn't aware of it."
Upon graduating from the University of Michigan's theater program, Henningsen headed straight to New York to begin auditioning. "It was never a decision; I just knew I wanted to be here," she said. Among her first gigs were a concert production of Showboat at Lincoln Center with the New York Philharmonic, and the world premiere of Sheryl Crow's musical Diner at the Signature Theatre in Arlington, Virginia, which did not end up making it to Broadway.
"Constant rejection became a thing that was just inevitable," Henningsen said of the cycle of auditions. "It is inevitable in this business because there is so much job turnover. I think I got used to that much faster than I anticipated, because I realized that rejection has nothing to do with my identity or my sense of purpose; it just is for that one job. And the sooner you can get over it, the sooner you can move on."
But then came her first big Broadway moment—as Fantine in Les Misérables, a role she actually played in her last production as an undergraduate. "That's just creepy," she said. "That's weird!"
It was after her nine-month run on Les Mis, during another period in which Henningsen was looking for work, when Tina Fey began turning Mean Girls into a musical. Henningsen's agent thought she'd be perfect for the role of Cady. But things didn't go exactly as planned. "I had gone in for the lab, which is when they put it up in a studio space to show to producers, and didn't get it," she said. "The reason I say this is because when you think it's over, it's not over. I thought, 'Damn, I thought that was mine.' And you don't feel that way about auditions all the time. Not getting Mean Girls that first time around, I was really distraught."
Eventually she was brought back in, and the rest is soon-to-be Broadway history. In fact, it was practically written in the stars—or at least printed on an old Blockbuster receipt. "The movie came out in 2004, so I was almost 13 years old," she said. "My family had a rule about not being able to see PG-13 movies until we were 13, so I saw it on DVD. I was weirdly obsessed. It became the movie that when I got ready for school, I put it on my laptop. If somebody asked me, 'What was the movie of your youth?' I don't think I'd have an answer, but now that I think about it, that movie really defined a lot of that time. When I was putting on eyeliner and straightening my hair for high school, that's what was playing."
But just as Cady has evolved, so has the plot, thanks to Fey's hands-on involvement in the musical. "Somebody said, 'In Tina's writing, she says something in six words that would take people three sentences to say.' And that is so true. Her economy of language is unparalleled. That's how she is in her professional work too. She's really thoughtful with how she communicates with us," Henningsen said. "And the thing is, she's a total goof. You'll catch her in moments and you're like, 'Oh, that's the Tina Fey that was on SNL.' But the Tina Fey who is running a business is very clear, very focused. She doesn't overwhelm you. And she has no ego."
While Mean Girls the movie does end on a positive note, the musical injects even more heart into the story's third act, particularly in a final scene between Cady and Regina, post–bus accident. "It's exciting to see how they have taken the story and built into it the message of female sisterhood, and how we are stronger together and when you undermine one another you are only furthering a cycle," Henningsen said. "In the movie, it ends with an apology. Now Tina has created a story that ends with an apology, but an apology for undercutting somebody—not for being yourself."
Related: Reintroducing Lindsay Lohan: The Actress Has Found a Sense of Calm, and Is Now Ready to Launch a Beauty Brand
Lindsay Lohan Re-enacts Her 8 Favorite Mean Girls Quotes