Lee Pace Is Barnstorming Back to Broadway with the First Revival of Angels In America
Visiting the very private actor on his 110-acre farm upstate, where chickens and the ghost of Joe Pitt roam.
---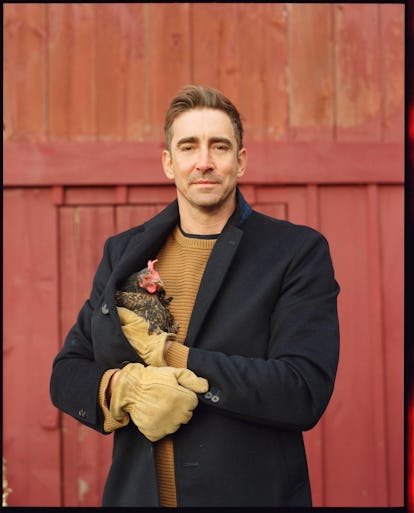 For a little while, Lee Pace lived in the house that YouTube built. Eight years ago, the actor, now 38, bought some land in upstate New York determined to build a home with his own hands. "I kind of found myself YouTubing, 'How do I build that soffit,' or, 'How do I take that measurement accurately,'" he said of his crash course in construction. "I learned a lot."
He finished the house but, no matter what all of the millennials in your life who have once unclogged a toilet will tell you, not every craft can truly be mastered via YouTube alone. "It was very kind of incomplete in a lot of ways," Pace said of his project. "So I bought my neighbor's house, it was a farm and much bigger. I still have the house that I built, but I have a much more comfortable house, so I switched."
That is how Pace wound up being the owner of a farm on a 110-acre patch upstate. (He wouldn't say exactly where, disappointing his superfans and real estate speculators alike.) But the farm played a very active part in Pace's preparation for his latest role, as Joe Pitt in the Tony Kushner masterpiece Angels in America, which is having its first Broadway revival since the original run opened a quarter century ago. Pace said that he kept a copy of the incredibly verbose, six-plus-hour play staged in two parts around the house; he would mull over passages as he went about his cooking, gardening, chopping wood, and the other niceties of country living.
Upstate, Pace lives alone, with only his cat Arctic Freeze, his dog Pete, his rooster Stew, three hens (as yet unnamed, but he's open to suggestions), and of course Joe Pitt, the closeted Mormon with a mentally-ill wife and a conservative boss, keeping him company. "There are times that I've been up there, very isolated, and thought, 'How is this your life? What are you doing? Why are you in this place? You're living like a retired person and you're 37, 38 years old. How did this turn into your life? How did this happen?'"
Most fans probably know Pace from his two seasons on the delightful TV cult classic Pushing Daisies, where he played a pie maker who could bring dead things back to life with a touch. Or perhaps from Peter Jackson's The Hobbit, where he played the flowing blond Elvenking, Thranduil. Or even from his four seasons on AMC's Halt and Catch Fire, a critically-adored but little-watched show that just wrapped its run in October. On Halt, Pace played Joe McMillan, a fictional bisexual genius during the beginning of the tech revolution.
Like Halt, Angels in America is set in the recent past, but it couldn't feel more relevant to the issues of today. "That's more than reason to do this again now," Pace said of the production, which earned raves when it first opened with Nathan Lane and Andrew Garfield at the National Theatre in London last year. (Lane and Garfield will also star in the Broadway production.) "Those dark politics of Roy Cohn; here we are with [Cohn's protégé] Donald Trump as President—that's the New York that Tony's writing about in '85. Gosh, you read the press about Donald Trump then, that was written at the time. It's the same city that I'm wandering around right now, the same place, but it's 30 years on now."
The last time Pace was on Broadway was in a revival of another classic gay play, Larry Kramer's The Normal Heart, which like Angels takes place at the onset of the AIDS crisis. "Our understanding of what it means to be gay is just so different," Pace said of the climate in 2018. "It's culturally different. It's just so much further down the road. It's an interesting thing for me to think about in this moment while working on this play."
Pace added that he feels it's important for gay actors to play the gay roles in both plays, but stopped short of labeling himself. He seemed a bit flustered and surprised by the question. "I've dated men. I've dated women," he explained. "I don't know why anyone would care. I'm an actor and I play roles. To be honest, I don't know what to say—I find your question intrusive."
His place upstate, fortunately, has been a refuge from the prying questions and the difficult emotions of a play as grueling as Angels. "Something about being on the farm that feels like, 'Oh, you could just be in nature and look at the wildlife, and kind of pay attention to what this little piece of land is doing, and how it changes from season to season and year to year," Pace said. "That's the most truthful thing."
Last year, with the help of his neighbor Doug, who does most of the actual farming, he raised a crop of sunflowers. "I would watch the green buds face the house in the east and then move by the end of the day with the sun," Pace says. "When the field was full it was one of the most amazing things I'd ever seen. The number of bees and bugs that were there working on the field was just wild. You get the chance to not think about anything but about what the sunflowers are doing."