Leighton Meester Debuts Platinum Blonde Lob
Blair Waldorf would be shocked.
---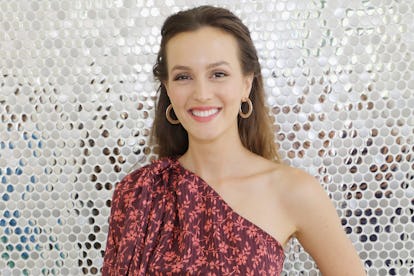 Alexander Tamargo/Getty Images
Hold onto your headbands, Gossip Girl fans, because Leighton Meester just made a major hair change that's more befitting of Serena van der Woodsen. The actress shared a photo of the transformation on Instagram on Tuesday, revealing that she'd shed her long, chestnut-colored locks for a choppy, platinum lob. "Having a blonde moment Thank you to my hair saviors: @auracolorist and Keraphix protein treatment," she captioned the selfie.
After giving her followers a hint about the change by posting a photo of a bowl of purple-y blond dye with the caption "Guess what?" on her Instagram Story on Monday, Meester uploaded a few more photos from the previous day's process to her Story on Tuesday. In one, her colorist, Aura Friedman, washes dye out of Meester's now-bleached locks. In another, taken post–blow dry, the Making History star poses with Friedman, who also posted a few photos from the day's process, including an inspiration photo of Jayne Mansfield, a close-up of Meester's freshly dyed hair, and a candid shot of Meester sporting her platinum 'do, plaid pants, and a black turtleneck while walking down the sidewalk. "I had the best time taking @itsmeleighton from brunette to a vintage Hollywood #platinum," Friedman captioned the latter shot.
In an interview with PeopleStyle shortly after undergoing the seven-hour dye job, Meester said she was thrilled about the drastic change. "I don't even feel comfortable saying that I just went blonde. It is a totally different color of hair! But I love it!" the 31-year-old mom of one said. "I've had long, natural hair for a long time. The length it got to felt like the exact opposite of what I wanted to go for. I really felt like something that was a stark difference would be invigorating and fun," Meester continued. "I like to try different things and experiment. So when I wanted to change my hair, I just thought, 'I should just completely go for it!'"
Related: 8 Fashion Lessons We Learned from Blair Waldorf, Former W Intern and Gossip Girl's True Arbiter of Style
In the Mood for… Short Hair
Photograph by Richard Burbridge for W Magazine, November 2014.
Photograph by Craig McDean for W Magazine, August 2014.
Photograph by Mert & Marcus for W Magazine, September 2012.
Photograph by Mario Sorrenti for W Magazine, April 2012.
Photograph by Steven Meisel for W Magazine, March 2011.
Photograph by Erik Madigan Heck for W Magazine, May 2014.
Photograph by Santiago & Mauricio for W Magazine, November 2013.
Photograph by Mert & Marcus for W Magazine, September2012.
Photograph by Juergen Teller for W Magazine, February 2014.
Photograph by Juergen Teller for W Magazine, February 2008.

Teller Juergen
Photograph by Patrick Demarchelier for W Magazine, February 2014.

Patrick Demarchelier
Photograph by Alasdair McLellan for W Magazine, March 2016.

MCLELLAN ALASDAIR
Photograph by David Sims for W Magazine, March 2008.

Sims David
Photograph by Andreas Laszlo Konrath for W Magazine, June 2011.

Andreas Laszlo Konrath
Photograph by Alasdair McLellan for W Magazine, March 2016.

MCLELLAN ALASDAIR
Photograph by Michael Thompson for W Magazine, April 2008.

Michael Thompson
Penelope Cruz photographed by Mert and Marcus for W Magazine, August 2008.

Mert Alas and Marcus Piggott
Photograph by Matthias Vriens McGrath for W Magazine, December 2015.

MATTHIAS VRIENS MCGRATH