Sounds Like Lena Dunham's Dog Lamby Is Having a Better Time Right Now Than Lena Dunham
The rescue dog is "living a great life," according to his new owner.
---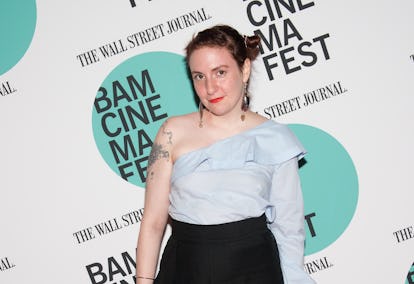 Noam Galai/Getty Images
Another day, another player enters the micro-scandal of the moment.
Last week, Lena Dunham endured the vitriol of a surprisingly venomous Brooklyn dog shelter employee, whose refutations of Dunham's claims that her beloved rescue dog Lamby's history of abuse and aggression forced her to re-home him via an upscale L.A. dog facility led to a controversy Dunham said so far "hurts most" of all the accusations she's weathered.
"It's just hard to believe the dog was nasty when she took Lamby to every green room with her when Girls was still a thing four years ago," Robert Vazquez of BARC, the Brooklyn shelter where Dunham originally adopted Lamby from, told Yahoo, adding that when Dunham adopted Lamby, the dog "wasn't crazy" and had no signs on his records that "multiple owners" had abused him, as Dunham had said.
Dunham, understandably, again took to Instagram to stand by her version of the story, around the same time Matt Beisner, the owner of The Zen Dog, the facility that re-homed Lamby, posted his own message of support of her decision to place Lamby with Dani Shay, a Zen Dog employee whom Dunham has said is an "awesome person," who's "educated in a rescue dog's specific trauma." And, of course, since this feud just keeps escalating, it's now Shay's turn to enter the spotlight. On Tuesday, she opened up to the Daily Dot about how, despite Lamby's "evident behavioral challenges," by taking it slow the pair have in fact been able to make it work.
"Lamby is living a great life and has shown tremendous progress," she said.
"He still needs gentle reminders but has become increasingly receptive to direction. He is happy and well, which is what's really important," she continued. "It genuinely hurts my feelings to see what people are saying about Lena, not knowing all that she has done and continues to do for Lamby. She loves him so much and is still in touch, wanting to be sure he's doing well."
Beisner also elaborated in the story that Lamby does not react well to stress, adrenaline, or excitement "on a chemical plane." That, paired with Dunham's demanding schedule, eventually made him suggest to Dunham that she consider re-homing Lamby to somewhere more suited for him. Dunham, who "really want[ing] to do the right thing for her dog," eventually agreed.
In the meantime, Shay said she "would not be able to do it without" Dunham, who's still financially supporting Lamby and providing "excellent food" and "healthcare." Dunham has been keeping busy lately by raising thousands of dollars for Planned Parenthood, auctioning off 169 pieces of her wardrobe to benefit the beleaguered group—ones she chose as her two new toy poodles, Susan and Karen, kept her company by napping close by.
Related: Somehow, This Feud Between Lena Dunham and a Brooklyn Dog Shelter Employee Is Escalating
Adam Driver on How He Hates Halloween, But Loves His Dog More than Anything: