Fenty Beauty Model Leomie Anderson Shares What Rihanna Taught Her About Makeup
The Rihanna-approved model shares her daily beauty routine.
---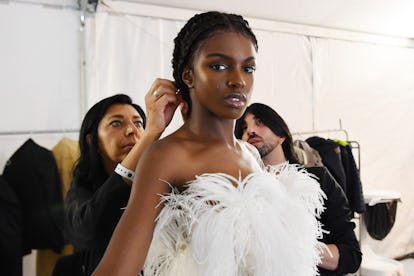 Gareth B. Cattermole/FFR
When it comes to the intersection of pop culture and fashion, Leomie Anderson just may be the go-to model. In the past few years, the model has walked in three consecutive Victoria's Secret fashion shows, appeared in Kanye West's Yeezy Season 5 spectacle, and even has been appointed an official "squad" member of Khloe Kardashian's Good American denim company. But all that pales in comparison to the truth seal of ultimate superstar-meets-fashion approval: being personally selected by Rihanna to appear as the face of Fenty Beauty. And not only does Anderson model in the singer's beauty brand campaigns, she's also walked in her fashion shows and modeled her brand new Savage x Fenty lingerie line. Can you get a better sign-off than that? Here, the model breaks down her beauty habits, and shares the one piece of advice Rihanna has given her.
What are your favorite go-to beauty products?
My go-to products have to be Kiehl's Ultra Facial Moisturizer, 111 Skin Anti Blemish toner, and Estée Lauder Night Repair Serum. They all keep my skin soft and hydrated.
When you wake up in the morning, what is the first thing you do, beautywise?
The first thing I do in the morning is wash my face using Fresh Soy Face Cleanser or Biore Baking Soda facial scrub. I like to use the scrub as an exfoliator two or three times a week.
What is your nightly bedtime beauty routine?
It depends on how lazy I'm feeling. I use Simple Facial Wipes and the, Estée Lauder Night Repair Serum. I'm also testing out a lash growth serum called, Babe Lash, so I'll let you know how that goes in six weeks!
Who is your beauty icon?
I don't really have one beauty icon, I take inspiration from so many different eras of beauty. From the barefaced '90s to the girls killing it on YouTube, I'm into all of it!
What is the best bit of beauty advice you've ever received and who was it from?
The best beauty advice I've received came from my mum, who has amazing skin. She uses the sauna regularly to remove toxins from the body and drinks plenty of water.
What is the best beauty trick you have picked up on set?
I learned how to do a good smoky eye.
Best pieces of beauty advice from Rihanna?
To have fun with makeup, which is evident from her Fenty Beauty line.
What is your favorite shade of lipstick?
To be honest, I'm more of a gloss girl.
What is one beauty item you recommend everyone buy?
I think all my brown girls should get the Gold Deposit Highlighter from MAC. It has such a warm undertone!
What is your go-to beauty look for a night out?
I'm pretty simple. I love a light highlight and a cat eye.
What is your ideal spa day, and where?
A massage at the Corinthia Hotel in London.
What is the biggest skincare rule you abide by?
Making sure that I drink plenty of water!
What is one treatment you're afraid to try?
I'm afraid to try anything that involves powerful chemicals. Even if the results seem beneficial, I don't want to expose my skin to anything too abrasive.
What is your biggest beauty splurge?
Does the fact that I lose my lip gloss every other day count?
Favorite form of self-care?
Online shopping.
Worst beauty trend that you've participated in?
Using a powder that wasn't the right shade for my skin tone.
Related: Pose Breakout Star Indya Moore Debunks Myths About Normative Beauty and Body Hair