Your Guide To The Ultimate At-Home Facial Experience, Courtesy of Karlie Kloss's Facialist
Celebrity facialist Georgia Louise breaks down how to achieve the ultimate at home facial.
---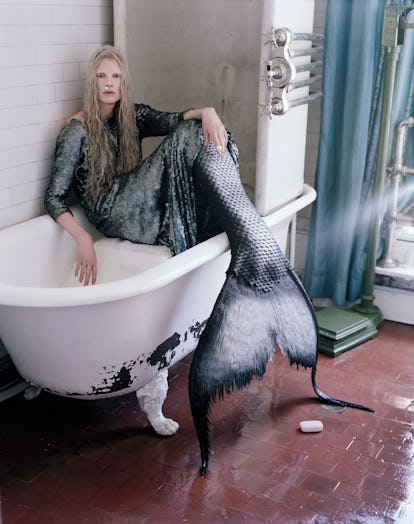 Photographer: Tim Walker Styled: Jacob K
In times of stressed out and fatigued skin that has you running to your nearest esthetician, learning how to properly care for your skin at home is a vital skill to have. And now, thanks to celebrity facialist Georgia Louise, who treats the skin of models Karlie Kloss, Bella Hadid and Martha Hunt, just to name a few, creating your own facial routine at home is not as complicated as it seems. From her skincare essentials to her favorite at home gadgets, here, Louise shares her thorough self-care guide for the ultimate at home spa experience.
What is a daily skincare routine you recommend?
The most basic skincare routine would be to cleanse, tone, moisturize, and SPF. Adding a serum before moisturizing is also ideal. Different seasons treat the skin differently, so we most definitely have to switch up the products. First and foremost, always drink more water and start upping your cod liver oil and omega intake. Undernourished skin shows, and we need more healthy fats in our diets to keep our skin glowing in the winter months. So many of my NYC clients are on strict diets and detoxes, but this completely dries out their skin. What you take in will always reflect on the outside, so hydrate and nourish from within first. In the winter months, you should add more nourishing serums, and soothing, calming creams to combat the dryness, and sloth redness from the colder days. I always have my clients start on a higher dose nightly retinol program starting in November to brighten and repair from summer aggressions. In the summer months, switch to a high dose of antioxidants serums and anti-pollution actives, lighter creams and a stronger SPF. Think hyaluronic serums, like my Hydra Repair Serum, Dr. Barbara Strum Anti- Pollution drops, and fluid creams like Fresh Rose day fluid.
Can you explain the order in which you apply your products and why?
Think of product application like layering your clothes: the lightest goes on first and the heaviest goes last. For skincare, with so many serums to choose from, apply water based first which are usually the more liquid, free flowing and build up waiting 1 minute between each application. For example, my favorites, in order, are Biologique Recherche Placenta, Georgia Louise Hydra Repair, Medki8 CE-Thione, Environ C-Quence Serum 4, Dr. Barbara Strum Mc1 Cream, and Georgia Louise Finishing Serum. My hero products are Georgia Louise pH Cleansing Wash, the cleanser is made for everyone and doesn't strip your skin so you leave with that clean feeling. Biologique Recherche P50, this cult classic will not only balance the pH of your skin, but also exfoliate the skin to always have the glow. Georgia Louise Vitamin A Serum is going to help combat the signs of aging and build the integrity of the skin. Medki8 CE-Thione, Vitamin C lightens, brightens, and tightens. Biologique Recherche Masque Vivant, a purifying masque, is going to make your skin great especially if there is congestion. You just have to get past the smell!
How do you keep skin healthy in-between facial appointments?
Daily massage for five minutes of drainage and lifting during your shower. Drink one liter of water a day if you can deal with running to the bathroom every hour. Double cleanse at night with an oil then a cream to hydrate and nourish to prevent skin from drying out and to loosen oil and trapped skin in the pores. It's for all skin types. Then use an LED mask, if you can afford it—totally worth it!
How often do your recommend using masks and what kind of masks do you recommend based on skin types?
I love for Korean sheet masks. Bio cellulose masks are so easy to apply and super effective. Apply a mask two times per week, mid-week and weekends. If you have problem skin, you might need to have apply every other night.
What are some in spa facial practices we can emulate at home?
LED Mask, NuFACE Microcurrent, and Butterfly stone facial massage. Take the time for yourself and follow your facial protocol given to you by your facialist.
How often do you recommend using at-home facial tools and gadgets?
LED mask 3-4 times a week for 20 minutes and NuFACE Microcurrent for ten minutes a day, every day.
How do you treat stressed or problematic skin at-home?
Don't touch your face! Inexperienced picking will create scars. Think about how many different things you touch and transferring bacteria; don't put that on your face. I always see breakouts by one side of face where phones spend a majority of there time. Wipe your phone daily! It's all about proper cleansing and using good products. Often people mistake breakouts with excess oil, but most of the time these people actually have dry skin and their bodies are just producing more sebum to combat the dryness. Don't strip your skin with alcohol or abrasive scrubs. Your skin should feel refreshed, not tight. Alternate between an intensive retinol and a face oil before bed, and exfoliate three times a week with a gentle AHA of PHA enzyme. Too strong of an enzyme or peel causes sensitives and inflammation which can create a breakout.
Why is it so important to care for your skin?
It's important to take care for yourself. Great skin always makes us feel better about ourselves. Let's be honest, many of us go to bed with our phones and waste time on that right before bed. Why not invest that time for your skin instead? When we sleep, we rebuild and repair our bodies. Guess what? Your skin is the biggest organ, you need to give it all the food it needs to do its job.
What is the skincare golden rule you live by?
Hydrate, hydrate, hydrate. Daily face yoga. And my sleeping beauty oil.
Where Ashley Graham, Stella Maxwell and More Supermodels Get Their Beauty Fix
Model Stella Maxwell has her favorites: "Mauricio Bermudez at Suite Caroline in SoHo for my hair appointment and Hung Vanngo for a makeup."

@stellamaxwel
Model Sara Sampaio relies on one woman, and one woman only. "My favorite stylist is Danielle Priano—she is the only person I let cut my hair!"

@sarasampaio
For model Karlie Kloss, it's all about an epic manicure. Nails by Mei is her go to. "Her nail art is out of this world," she says.

@karliekloss
Victoria's Secret Angel Josephine Skriver is looking to up her skincare routine. "Mudras Massage is introducing a new facial that I'm dying to try which is supposed to activate the facial muscle and make it look like a natural lift," she says.

@josephineskriver
Model Jasmine Sanders has her favorite spots: "I get my hair done by Lisa Zogalis and my makeup by Chrissy Zogalis at Luxelab in Beverly Hills. I get my brows shaped and cleaned up by Erin Bryant at SEV Laser."

@golden_barbie
Revlon model Ashley Graham recommends a spa day at Carasoin Day Spa & Skin Clinic in West Hollywood.

@theashleygraham
Swedish beauty Elsa Hosk is looking to try new things in her spare time. "I've been wanting to go to this nail art salon down the street from me called Paintbox to do something cool, but I can never seem to find time to do something with my nails, and for work they need to be natural," she says.

@hoskelsa