Black Panther's Letitia Wright Is Also a Talented Freestyle Rapper, Of Course
Princess Shuri has a sharp wit and an even sharper tongue when she takes over the mic as MC Underbite.
---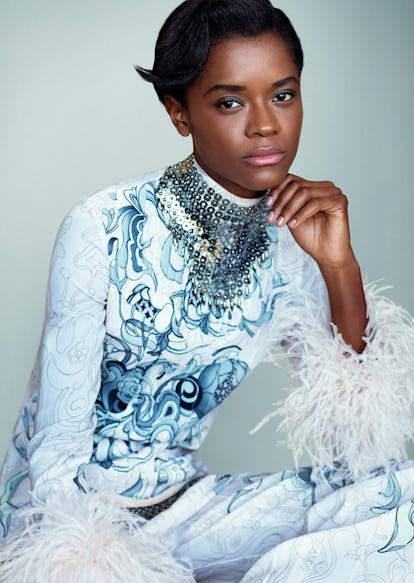 Photograph by Thomas Whiteside; Styled by Deborah Afshani; Hair by Ramsell Martinez for R+Co. at Lowe & Co; Makeup by Lottie for CHANEL at Lowe & Co; Manicure by Marisa Carmichael for CHANEL at Lowe & Co
As Black Panther's Princess Shuri, Letitia Wright is the high tech brainiac who saves the day more than once, with a sharp wit and an even sharper tongue. Not only does Wright take on the task of delivering some of the film's most searing burns and delightfully witty one liners, but T'Challa's baby sister can also spit bars.
If you thought Lupita Nyong'o forcing Michael B. Jordan to do on call pushups whenever she asks was indicative of the type of on-set shenanigans the Black Panther cast must have been up to while filming, footage of Letitia Wright's freestyle skills will have you wishing you were part of the Black Panther family for the duration of the production of the film. Black Panther teaches viewers about the origin story of Wakanda, the fictional African Nation over which T'Challa (played by Chadwick Boseman) rules, but as for where Wright's freestyle skills came from, all you have to do is look at Lupita Nyong'o's Twitter for the origins of Wright's hip hop persona.
Back on February 16, Wright's Black Panther co-star tweeted a video showcasing both of their freestyle skills from the backseat of a car on the way to the film's premiere. "Oh boy, I feel some bars coming," Nyong'o starts, before passing the imaginary mic to Wright. It should come as no surprise that someone as talented as the two co-stars could also be so adroit at improvising some Black Panther rhymes on the spot, with no preparation whatsoever. Both actors rapped about the film's director Ryan Coogler and the extremely rare Wakandan metal known as Vibranium over a Robyn Hood beat, referring to herself as Troublemaker and introducing Wright as MC Underbite.
While Nyong'o's tweet may have been our introduction to MC Underbite, it certainly wasn't Wright's first freestyle gig. On Friday afternoon, Nyong'o shared some more behind-the-scenes footage of "the birth of MC Baby Underbite," where Wright leads a Wakandan cypher with the rest of the Black Panther cast in a tent on set, clad in their royal robes and makeup. The whole production is a family affair, too—not only does she garner the support of Angela Bassett and Danai Gurira, but even Winston Duke lends his voice to the beats.
In the words of MC Underbite, Wakanda Forever.
Related: Black Panther Director Ryan Coogler Wrote a Moving Letter About the Film's Success