"Life Size 2" Has Started Filming With a Lead Who Isn't Lindsay Lohan
"Grown-ish" star Francia Raisa will star alongside Tyra Banks.
---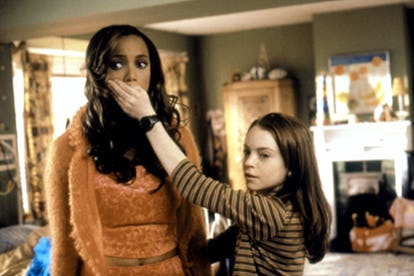 ©Walt Disney Co./Courtesy Everett Collection
In a post on Twitter, Tyra Banks announced that Life-Size 2 has officially started filming. But, as some on social media have pointed out, there appears to be one major cast member missing from the film — Lindsay Lohan.
The Disney Channel Original movie, which premiered back in 2000, starred Banks as a doll named Eve that came to life thanks to a spell by her owner Casey Stuart, played by Lohan. News of a possible sequel for the film started back in 2012, and in 2017, Deadline confirmed that Freeform would be airing the movie in 2018.
It's still unclear what, if any role, Lohan may have in the movie, but social media has some questions after today's photo featured Banks posing alongside costar Francia Raisa. "Now filming: LIFE SIZE 2," Banks wrote on Twitter. "It's time y'all! You've waited long enough. Could not find one single woman more perfect to co-star with Eve than the magnificently fierce @franciaraisa. See you on @FreeformTV this holiday season! #LifeSize2 #ShineBrightShineFar."
Raisa, who currently stars in Grown-ish, will play a character named Grace Manning, who is "the confident and funny CEO of Marathon Toys, a huge toy company started by her mother that is most famous for manufacturing the iconic Eve doll," according to Freeform.
In response to Banks's tweet, fans have started asking "Okay but like…. where is @lindsaylohan???" and "Does this mean no @lindsaylohan ?" "Sooo Lindsay Lohan is not even in Life-Size 2.. So bye," one user tweeted. Another fan was still hopeful about the movie, writing, "I wish Lindsay was in it but I'm still watching the sequel and give it a chance."
Leading up to the social media announcement, Banks had said that Lohan would be part of the movie. In an August 2017 interview, the model confirmed her interest, saying, "Lindsay and I have been slipping into each other's DMs a lot lately. I think she's very interested in returning. It's about figuring out what that role is. I'd like it to be kind of robust. I'm not looking for a Lindsay cameo, I'm looking for her to have something pretty meaty in Life-Size 2, so we shall see what our writer comes up with."
Banks hasn't yet responded to any tweets questioning Lindsay's possible role, but according to Freeform, the movie will premiere during the channel's 25 Days of Christmas special.
Related: Francia Raísa Looks Back on Her Wild Year, Which Started By Donating a Kidney to Selena Gomez and Ended with a Starring Role on the Hit TV Series Grown-Ish