Lila Moss Made Her Runway Debut at Miu Miu
Kate Moss's 18-year-old daughter made a surprise appearance on the last day of Paris Fashion Week.
---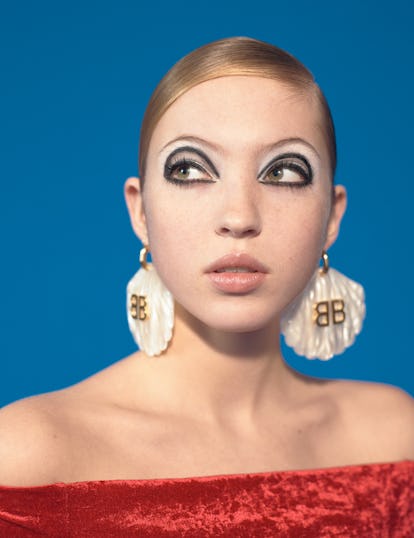 Photographed by Willy Vanderperre; styled by Katie Grand.
The final day of Paris Fashion Week, which typically plays host to the Chanel, Louis Vuitton, and Miu Miu runway shows, always delivers a surprise or two. And while the spring 2021 season marked a Paris Fashion Week like no other, Tuesday's finale still came through. The model who opened and closed Miu Miu was none other than Lila Moss, marking the 18-year-old's runway debut.
Moss, who is of course the daughter of Kate Moss (and magazine editor Jefferson Hack), first followed in her mother's footsteps in 2016, when Mario Sorrenti photographed the pair for a Vogue Italia cover. From there, it wasn't hard for Lila to continue down her newfound career path; she soon signed with Kate Moss Agency, and booked the cover of her father's magazine, Dazed & Confused. The then 14-year-old even still had braces when she booked her first ad campaign, alongside her longtime friend and fellow scion Stella Jones.
Moss's mom was understandably reluctant to let her join the industry at such a young age. But in 2018, just days after her 16th birthday, the supermodel made an exception, permitting Moss to become the face of Marc Jacobs Beauty. "Lila was coming of that age when Kate was allowing her to do something, and Kate felt that she wanted it to be with me," Jacobs told W this summer, when debuting the Moss-fronted Perfect fragrance campaign. "Kate wasn't allowing Lila to do just anything in the same way that Cindy [Crawford] wasn't allowing Kaia [Gerber] to do just anything. I have a history with these women and with their families." (He and Kate are lifelong friends.)
But Tuesday's Miu Miu show was arguably Moss's biggest career milestone yet. Unlike the rest of her employers to date, Miuccia Prada isn't among her mother's family or close friends. Kate has, of course, worked with Mrs. Prada over the years, but she and Mrs. Prada appear to have more of a working relationship. And that just might be why Moss jumped at the chance to walk one of her runways, just like joining more than 40 other models in the Perfect campaign. "I had this experience even with Miley in the last show where Miley didn't want to be Miley Cyrus," Jacobs recalled. "She wanted to be one of the models in the show. And Lila was one of the models in the cast."