Lily Allen Opened Up About the Time Gwyneth Paltrow and Chris Martin Saved Her at a Halloween Party
In her new memoir, the British pop star details her struggles with overcoming addiction.
---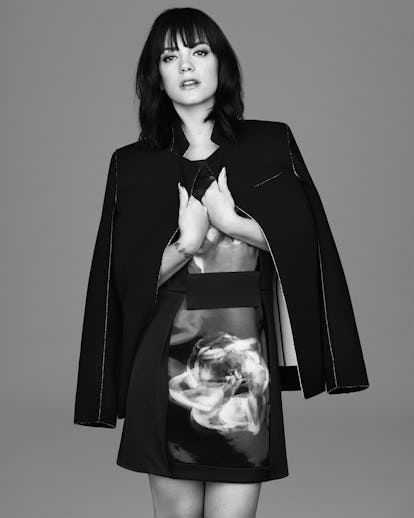 Photographer: Ward Ivan Rafik Stylist: Hanna Kelifa
Lily Allen was a fixture of the tabloids in the U.K. for the press cycles of her first three hit albums, during her most successful and most dangerous years. Now, she has embarked on a tour for her fourth studio album, aptly titled No Shame, and written a candid new memoir, called My Thoughts Exactly, wherein she opens up about her whirlwind past few years.
From raising her two young children to divorcing her ex-husband and struggling with alcoholism, Allen opened up about the struggles she experienced under the spotlight to E! News in advance of the release of her book.
One section of the book outlines Allen's experiences with addiction, and the singer explained a particular incident in which she became unconscious at Kate Hudson's Halloween party. She received help from none other than Chris Martin and Gwyneth Paltrow, who were in attendance at the holiday function, and saw her get hurt. "I was very, very drunk and I head-butted something behind Orlando Bloom and knocked myself out," she explained. "Then Chris Martin, who is a friend of mine, and Gwyneth, who is a close friend of my mom, drove me home. He [Chris] left a Post-it note on my fridge just saying, 'Give me a call tomorrow.' I did," the singer went on.
"We went for lunch and he said, 'I don't think you're in a great place right now, Lily, are you? Here's the number of someone that can help.' They [Chris and Gwyneth] are great people," Allen told E! The singer further explained that she has not spoken to Martin or Paltrow about the intervention they staged for her after she knocked herself unconscious at Hudson's Halloween party since the release of the memoir, but insisted, "I'm very grateful for them to have been so thoughtful."
My Thoughts Exactly also covers the topic of sexual assault in the music industry, and Allen explained to E! that while she initially named the record executive she believes to have assaulted her, her lawyers encouraged her to remove his name from the book. "I'm a big advocate for talking about things, but I guess the fact that I can't name him here in this conversation is indicative of the fact we are oppressed in some way," she revealed. "I can't talk about my experiences without thinking I might get sued. It's a pretty crazy world to live in."
Related: Lily Allen's Game of Thrones