Lily-Rose Depp Stuns in a Chanel Little Black Dress to Honor Karl Lagerfeld
"Lily-Rose is a young girl from a new generation with all the qualities of a star."
---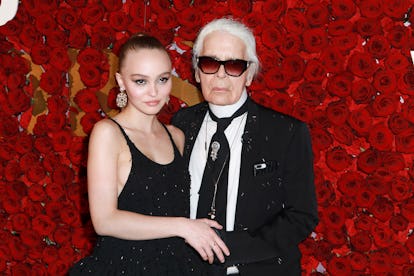 Gonzalo Marroquin/Patrick McMullan via Getty Images
When most people encounter Chanel for the first time, in the flesh, they have an appreciation of the iconic brand's history and quality. When Lily-Rose Depp encountered the luxury brand for the first time, though, she was barely even stringing sentences together. The model, and daughter of the famous actor from whom her last name hails and longtime Chanel muse Vanessa Paradis, was just a baby when she experimented with Chanel, as she revealed at the WWD Honors event where the brand's creative head Karl Lagerfeld was being honored. "My first memory of wearing Chanel was probably when I was still in diapers, going into my mom's closet and picking out her Chanel heels and her dresses and stuff, even though I was swimming in them," she told WWD.
It wasn't long after that when she came face to face with the designer for the first time. "I met Karl when I was eight and I had horrible side bangs – like a Donald Trump comb-over," she told Vogue UK Lagerfeld has also reflected on their early relationship, years before she would become a model for Chanel. "She used to come to the Chanel studio with her mother," he said. "She was a very sweet child, but who would have thought she would have such a strong and defined personality this early on? The good thing is that she doesn't look like her father or her mother. With her fragile physique, the mix is surprising and it creates something that is completely different. Lily-Rose is a young girl from a new generation with all the qualities of a star."
That much is certainly true. To date, she's amassed 3.3 million followers on Instagram alone — in part thanks to her unique style. Rose put that on display at the even where Lagerfeld was being honored, the second one this week following his being serenaded by Mariah Carey. She wore a loose-fitting, tiered Chanel dress shimmering with the same beading Lagerfeld wore on his blazer. She also wore earrings similar to the embellishment Lagerfeld often wears on his black tie. Lily-Rose isn't just one of the few — if not only — who's worn Chanel while still in diapers. She also might be the only person in the world Lagerfeld allows himself to twin with.
Related: Lily-Rose Depp Ever So Subtly Shades Donald Trump
Pharrell, Lily Collins and More Read Coco Chanel's Seven Most Inspiring Quotes: