Lily-Rose Depp, Muse of Karl Lagerfeld, Is One of the First to Wear Chanel Spring 2019
And she left the Chanel cruise show in Bangkok in a different look than she showed up in.
---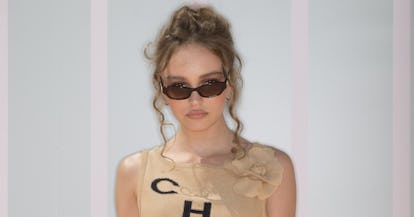 Brent Lewin/Getty Images For Chanel
By the age of 19, Lily-Rose Depp has more than mastered the role of muse. The daughter of Johnny Depp and Vanessa Paradis confirmed that once again when she made an appearance at Chanel's 2019 cruise replica show at Sermsuk Warehouse Pepsi Pier, in Bangkok, Thailand.
The model, who hit the red carpet alongside Tilda Swinton, wore a look out of the creative head Karl Lagerfeld's recent spring 2019 collection—in other words, months before anyone else will be able to. For the occasion, she picked out one of the most eye-catching ensembles from the collection: a tan two-piece set with the word "Chanel" abstractly splattered across the top and skirt. Depp matched her '90s-indebted beauty look to the ensemble, with brown lipstick and eyeshadow, wearing her hair in ringlet curls that fell around her face from an updo.
She left the event in a different look too. For the afterparty, she wore a black dress with black heels. She also switched up her makeup and hair, wearing a smoky eye and her hair down in loose waves.
If Depp looks like a natural in Chanel—which she does—it's because she's been wearing pieces by the iconic brand literally since she began walking. "My first memory of wearing Chanel was probably when I was still in diapers, going into my mom's closet and picking out her Chanel heels and her dresses and stuff, even though I was swimming in them," she told WWD last year. "I would put on all her Chanel stuff and carry around her bags and everything, so it was probably my first dress up memory as well.… I've known [Karl] since I was eight—he's definitely somebody who has been in my life since I was little. I definitely have a lot of Chanel memories growing up."
More recently, she reflected on her past four years working with the brand, telling her friend Kristen Stewart, "I did my first campaign for [Chanel] when I was 15, which was crazy." "I remember when they told me, I thought I was dreaming," she said in a V cover story. "For a 15-year-old girl to be told that, I was just so excited and just couldn't believe that they wanted me. Karl and I actually met when I was like eight, with my mom. He's so sweet. It really is rare to find someone like that who is such an icon in so many ways, and has been for so long, but who is just such a genuinely sweet and welcoming person."