Inside the Palatial Paris Apartment of the Woman Who Designs the Private Fantasies of Presidents and Princes
Linda Pinto is carrying the torch for her brother, the late interior designer Alberto Pinto, for whom opulence was always in style.
---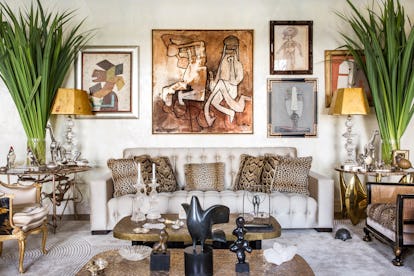 Jacques Pepion
Linda Pinto does not mince words when comparing herself to her brother, Alberto, whose interior design studio she has led since his death, in 2012. "What's the difference between us?" she asks. "He was a genius. I am not." A polyglot and bon vivant, beloved by sultans and society snobs, Alberto Pinto rose to prominence with a maximalist style that came in many flavors: baroque, Second Empire, contemporary, oriental.
Linda had an almost ­telepathic connection with her older brother and she, along with her "family" of eight designers handpicked by Alberto, has continued his work, designing everything from the salons of the French president's residence, the Elysée Palace, to superyachts for Formula One tycoons to the interiors of privately owned jumbo jets. Some of Pinto's wealthiest clients are so intensely private that they don't allow their homes (or planes or yachts) to be photographed—"not even for our records," Linda notes.
One of the company's rare public projects was the reported $120 million renovation of the Lanesborough hotel, in London—which Alberto began and Linda finished in 2015, transforming the staid and somber Regency-era building into a fantasia of gilt, stucco, and marble. Now the Lanesborough looks like what it is: one of London's most expensive hotels.
More than 300 artisans worked on that project, including cabinetmakers, bronzers, and embroiderers. At any given time, Pinto's firm employs as many as a thousand craftspeople—a rejoinder, perhaps, to those who claim that the studio's work only benefits the .00001 percent. "Our artisans really need us," Linda says. "There are not that many places left that do it the way we do: sur mesure. We can decorate a giant hôtel particulier or a tiny apartment, but we have to do it all the way, down to every little detail, like a jewel box."
Among Pinto's longest-running and most controversial projects is the revamp of Paris's Hôtel Lambert, a historic mansion on the Île Saint-Louis where both Voltaire and Chopin are said to have conducted love affairs. Previously owned by Baron Guy de Rothschild, the Lambert was purchased in 2007 by the Emir of Qatar's brother for a reported $88 million, and he has likely spent at least that much renovating and decorating it, especially after a devastating fire in 2013. "It destroyed all the walls, ceilings, and floors," Pinto recalls. "I still have goose bumps when I talk about it."
Even before the fire, the project, which will be completed this year, was beset by criticism, some of it probably couched in racism, about whether a flashy Arab prince could be trusted with an important piece of French patrimony. Pinto reacts with fury to such talk. "It's very easy to say, 'Oh, they don't have taste, they just have money.' It's not true at all! And, if we didn't have people who cared to invest in France and its history, the Hôtel Lambert would never return to its former glory. Who would pay to renovate it? Nobody, especially not a French person, that I can tell you for sure."
Linda and Alberto were born in Casablanca; their father was from Argentina, their mother was Moroccan. "Morocco made us open-minded and generous," Linda says. "To go to the market and buy extra, to take chances. The colors, the smells, the warmth of the country—I think it had a big effect on both of us."
When Alberto came down with a pulmonary illness, Linda stayed with him in his palatial apartment overlooking the Seine. Once it became clear he would not recover, he asked her to take the apartment after he was gone. "He told me, 'This way, we can stay together.' " Linda accepted the offer, but told Alberto she would have to make some changes to the decor.
Whereas her brother's apartment looked like that of a Roman emperor, Linda's remodel is comparatively sedate, with creamy walls and livable furniture—ideal for her six grandchildren to climb on. Of course, there are Pinto-esque flourishes: Claude Lalanne and Philippe Hiquily tables, Japanese lacquer chests. In the entryway is an enormous bronze sculpture by Manolo Valdés depicting one of the meninas from Diego Velázquez's famous painting. (Pinto tends to palm it on the rear end as she walks by.)
While Alberto amassed an Ozymandian collection of objets d'art and fine furniture, he wasn't particularly covetous of his possessions, and neither is Linda. Many of the rare items he owned at his death—including a treasure trove of Lalannes and at least one work from the collection of Alberto's close friend Hélène Rochas—will be up for sale at Christie's Paris in September. "The thing you have to understand about Alberto is he was a buyer—he bought every day, constantly," Linda explains. When they were children, Alberto would spend his days at the souk in Casablanca, scouring handicrafts; he once hocked his bicycle to raise capital for his next acquisition.
"You see this apartment?" Linda asks. "For me it's completely full. But Alberto could put two more chairs in the living room, three more vases on the coffee table, twice the amount of paintings, pieces of furniture on top of each other. He wanted more, and more, and more," she says, smiling fondly. "Me, no. I know how to stop."
How Alberto and Lindo Pinto Lived
Linda and Alberto Pinto with his dog Betty, 2002.

Courtesy of the Pinto family
Alberto Pinto's New York apartment, 1967.

Jacques Primois
Alberto Pinto's New York apartment, 1967.

Jacques Primois
The living room of Alberto's Paris apartment on Quai d'Orsay, 1990.

Giorgio Baroni
An indoor sitting area on the 255-foot yacht Madsummer, designed by Cabinet Alberto Pinto in 2008.

Jacques Pepion
A deck view from the 269-foot Alfa Nero, 
2007.

Pamela Jones
George Condo paintings adorn the walls of Linda's apartment in 
Paris, which had belonged to her brother.

Jacques Pepion
The living room of the apartment.

Jacques Pepion
Watch W's most popular videos here: