Logan Browning on Race and Dear White People, Television's Most Necessary Show
The soon-to-be-major star opens up about being at the center of a heated conversation about race and cultural appropriation the Netflix series has unleashed.
---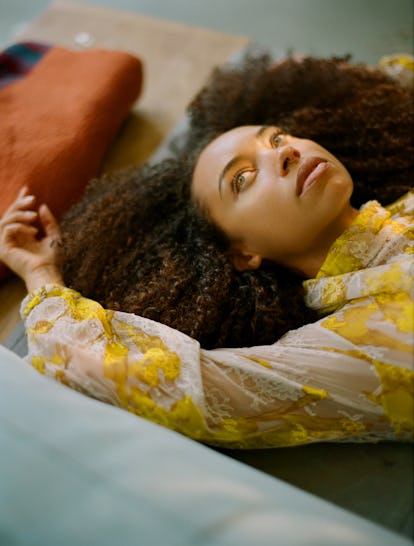 Browning wears a Blumarine top, price upon request, blumarine.com; her own jewelry. Photo by Chad Moore, styled by Caroline Grosso. Photo Editor: Alex Hodor-Lee; Hair by Lucky Smyler; Makeup by Naivasha Johnson for Exclusive Artists using PhytoSpecific and T3 Tools. Photography assistant: Diego Garcia.
At a time when viewers tend to digest new shows in a single, gluttonous sitting, there can be one downside to appearing in a Netflix original series.
"I want to know what it feels like to have that Netflix feeling where you see a new show come up and hear that it's something you should binge and then you do," said Logan Browning, the star of the stream service's Dear White People, which dropped recently. "I'm a little jealous that I don't get that experience."
It seems a small price to pay for the 27-year-old Atlanta native. When the date announcement and accompanying teaser for Dear White People premiered in February, it broke the record for those of any Netflix videos, garnering a million views a day (and its share of controversy). The ten episodes certainly lived up to the positive hype. Based on the 2014 satirical film of the same name by Justin Simien, who is also the show's creator, Dear White People follows a group of black students at the predominantly white, Ivy League-inspired fictional Winchester University who are grappling with the deeply embedded and sometimes unconscious racism within their tony, liberal academic environment.
When a group of their classmates participate in a black face party, it sets off a firestorm of reactions, protests and dialogues that probe issues of race, class, police brutality and cultural appropriation.
The show's title Dear White People comes from the opening address of a radio program by Browning's character Samantha White in which she instructs, both teasingly and sincerely, her white classmates in what is and is not an acceptable way of interacting with the black student body and African-American culture as a whole.
A film studies major and activist, Samantha is the center point around which the episodes' actions revolve. And much like the series' tone—witty, biting, but still poignant in its aims—Samantha is not easy to pin down: a biracial young woman with a white boyfriend and a prominent campus presence, her mouthpiece seems employed as much in service of her cause and as it is for her own insecurities.
"I think Sam's makeup has a lot to do with her persona on campus. She's literally half made up of over 200 years of guilt and half made up of over 200 years of rage. And as a light-skinned black woman she's had to decide—society unfortunately makes you decide it—are you going to hang out with mostly white people and assimilate into European culture and standards? Or are you going to try and fit into a mostly black group?" said Browning.
"Sam is a black woman. She does have black woman experiences in terms of racism and oppression and just general bias. But she doesn't know what it's like to be a dark-skinned black woman. And I think Sam does feel really stuck and she makes up for that by being so loud."
Indeed, the protests that Sam encourages and the pot of discontent she vigorously stirs is called out as unproductive later in the series, prompting the question of what is the best way to deal with injustice. Is it through loud voices? Or open ears? Sam herself doesn't have the answer.
"Just because you've had a good intention doesn't mean it always materializes into something positive. And that is part of activism. And that is part of the Millennial movements," explained Browning. "Everyone wants to have a voice and speak up and be a part of change. But it can be a slippery slope when Twitter fingers turn to trigger fingers. Sometimes you just have to stop and think."
It's advice that those reacting negatively to the show's date announcement might have heeded. Back in February, the series' provocative title and teaser video incited a backlash response from those deeming the show racist against white people and calling for a boycott against Netflix. Browning, while not thrown by such opinions—"I wasn't surprised that there are racists in the world," she noted, wryly—was taken aback by their numbers.
"We live in a world where you say 'black,' you say 'white,' you say anything and people get mad. We're in a very hyper sensitive place. And I don't know why people don't just stop and think, 'This is art. This is an art form. Let me see what this is actually about before I become defensive.' Pause," she said, adding of her reaction, "It was an 'Aha' moment of 'Wow, this show really is necessary.'"
Born and raised in Atlanta, Georgia, Browning was always drawn to acting. Her mother put her in a performing school and while at a convention at Los Angeles, an agent spotted her and suggested she move there. Her parents, trusting their then 14-year-old daughter, agreed. "I don't think they would have sent me to L.A. as a young teenager if they thought I was going to be doing crack," she said, laughing.
Browning's first gig was a guest role on the WB show Summerland and others soon followed. She attended Vanderbilt University—"Vandy" as she calls it—for a year before moving back out to Los Angeles and landed leads in Tyler Perry's Meet the Browns and the VH1 show Hit the Floor.
Dear White People depicts the struggles African-Americans face in breaking free from stereotypes and race-determined identities and this is certainly something Browning has grappled with professionally: the idea that a black actor can play a fully fleshed-out, developed character instead of a token, ancillary part.
"It wasn't until probably 2007 when I started to be a part of roles [where] I felt like I really got to have a character and truthfully, those were black shows…The times are changing. It's kind of a polarizing change, which some of my fellow white actress friends are bewildered by," says Browning. "They comment on how everything is broken down as looking for ethnic and diverse. And I'm honestly okay with it because it's been like that for everyone else for a really long time. I do hope there is a time when everyone can go into a room and the breakdown is just person, characteristics. Not based on your race or your looks or your height or your whatever. But it does take some navigating to get to that point."
In the meantime, Browning has felt the increased power of her voice, professionally and socially. As someone who has always spoken out on issues of injustice that anger her, she is keenly aware that the more than half a million followers she has amassed on Instagram are affected by her message choices. And leading the cast of Dear White People has only added to the sense of responsibility she feels to represent those who feel marginalized.
"You can't be on a show like Dear White People and not be conscious and aware of the things going on," Browning said. "It's almost not as satisfying, I think, as a viewer to see the people on the show if they weren't a part of the movement."
Watch: David Bowie Homage: Willow Smith, Zendaya, and Kiernan Shipka's Heartfelt Rendition of "Changes"
Why 17-Year-Old Yara Shahidi Is Already a Fashion Favorite
Actress Yara Shahidi attends the 2012 'Dream Halloween' presented by Keep A Child Alive at Barker Hangar on October 27, 2012 in Santa Monica, California, wearing a pretty, blush-colored tulle dress with white sneakers and a flower in her hair.

Imeh Akpanudosen
The teen actress wore a masterful printed dress with black-and-white heels to the Hollywood Foreign Press Association and InStyle's celebration of the 2015 Golden Globe award season November 20, 2014 in West Hollywood, California.

Jason LaVeris/Getty Images
Shahidi looked casual in a white crop top and high-waisted skinny jeans at the Wayke Up fundraiser at Sofitel Hotel on December 14, 2014 in West Hollywood, California.

Jason LaVeris/Getty Images
Actress Yara Shahidi paired a plaid dress with black high-top sneakers at the premiere of "Jurassic World" at Dolby Theatre on June 9, 2015 in Hollywood, California.

Jason LaVeris/Getty Images
The actress and model wore a matching, printed jacket and skirt set, with strappy black sandals and an embellished necklace, to the 2015 BET Awards at the Microsoft Theater on June 28, 2015 in Los Angeles, California.

Jason LaVeris/Getty Images
At Kari Feinstein's Style Lounge at Sunset Marquis Hotel & Villas on September 17, 2015, Shahidi looked chic and casual in a plain white button down, white sneakers, a-line skirt and playful hat.

Rebecca Sapp/Getty Images
At the premiere of Disney-Pixar's 'The Good Dinosaur' on November 17, 2015 in Hollywood, California, Shahidi wore a long dress, leather jacket, and a pair of oversized glasses.

Jerod Harris/Getty Images
Yara Shahidi stood out at InStyle and Warner Bros.'s 73rd Annual Golden Globe awards post-party at the Beverly Hilton Hotel on January 10, 2016 wearing a bright, printed suit with strappy sandals.

Lester Cohen/Getty Images
Yara Shahidi masterfully balanced her loud, fitted dress with a pair of sleek white pumps and delicate jewelry at the ESSENCE 7th annual Black Women In Music event at Avalon Hollywood on February 11, 2016 in Los Angeles, California.

Jason LaVeris/Getty Images
Actess Yara Shahidi looked sleek in a blue jumpsuit with coordinating jacket at the 33rd Annual PaleyFest Los Angeles featuring "Black-ish" at the Dolby Theatre on March 13, 2016 in Hollywood, California.

Paul Archuleta/Getty Images
Actress Yara Shahidi attends BET Black Girls Rock! 2016 at New Jersey Performing Arts Center on April 1, 2016 in Newark, New Jersey, wearing a bright white jumpsuit, with a bold red jacket and matching sandals.

Gilbert Carrasquillo/Getty Images
Shahidi attended the Television Academy's 9th Annual 'Honors Awards' at Montage Hotel on June 8, 2016 in Beverly Hills, California, wearing a black-and-white strapless dress with delicate, high-heeled sandals.

Emma McIntyre/Getty Images
Yara Shahidi wore a multi-colored striped dress with neutral accessories at the 2016 BET awards at Microsoft Theater on June 26, 2016 in Los Angeles, California.

Prince Williams/Getty Images
Boho chic. Yara Shahidi paired a maxi dress with high-heeled sandals and a neutral bag at the Just One Eye x Creatures of the Wind Collaboration Dinner at Just One Eye on August 18, 2016 in Los Angeles, California.

Stefanie Keenan/Getty Images
In one of her most daring looks yet, Yara Shahidi embraced head-to-toe red at the Television Academy Reception for Emmy-Nominated Performers at Pacific Design Center on September 16, 2016 in West Hollywood, California.

Rodin Eckenroth/Getty Images
Yara Shahidi looked ladylike in a flowy, ethereal gown at the BBC America BAFTA Los Angeles TV Tea Party at The London Hotel on September 17, 2016 in West Hollywood, California.

JB Lacroix/Getty Images
Yara Shahidi wore an angelic white gown to the 68th Annual Primetime Emmy Awards at Microsoft Theater on September 18, 2016 in Los Angeles, California.

Steve Granitz/Getty Images
In a distressed mini-skirt and embellished, satin bomber jacket, Yara Shahidi looked playful and age-appropriate at the Teen Vogue Young Hollywood 14th Annual Young Hollywood Issue at Reel Inn on September 23, 2016 in Malibu, California.

Araya Diaz/Getty Images
Yara Shahidi looked sleek in a fitted skirt, black top, and cross-body bag at the premiere of Amazon Studios' "An American Girl Story – Melody 1963: Love Has To Win" on October 10, 2016 in Los Angeles, California.

Rodin Eckenroth/Getty Images
Wearing the perfect summer look, Yara Shahidi hit the red carpet at NYLON Nights Los Angeles on October 13, 2016 in West Hollywood, California.

Chris Weeks/Getty Images
Shahidi wore a digital-printed ensemble with her hair in long pigtails to the 23rd Annual ELLE Women In Hollywood Awards on October 24, 2016 in Los Angeles, California.

Stefanie Keenan/Getty Images
Actress Yara Shahidi wore a bold, printed, metallic minidress with coordinating strappy sandals to the Glamour Women of the Year 2016 on November 14, 2016 in Los Angeles, California.

Axelle/Bauer-Griffin/Getty Images
In an off-the-shoulder printed dress, Shahidi looked easy and breezy at the 1st annual Marie Claire Young Women's Honors on November 19, 2016 in Marina del Rey, California.

Matt Winkelmeyer/Getty Images
In a black-and-white lace dress with Victorian details, Shahidi embraced a high-fashion look at 102.7 KIIS FM's Jingle Ball 2016 at Staples Center on December 2, 2016 in Los Angeles, California.

Jon Kopaloff/Getty Images
In a ladylike pink jumpsuit and strappy black sandals, Yara Shahidi looked playful and ladylike at W Magazine's It Girl luncheon on January 7, 2017 in Los Angeles, California.

Stefanie Keenan/Getty Images
Yara Shahidi looked ready for a night of dancing at the 2017 InStyle and Warner Bros. 73rd Annual Golden Globe Awards post-party on January 8, 2017 in Beverly Hills, California.

C Flanigan/Getty Images
Yara Shahidi looked elegant in a long, white dress at the 2017 Annual Artios Awards on January 19, 2017 in Beverly Hills, California.

Araya Diaz/Getty Images
Allen Berezovsky/Getty Images
In a sheer, floral gown, Shahidi looked elegant at Harper's BAZAAR celebration of the 150 Most Fashionable Women on January 27, 2017 in West Hollywood, California.

Rachel Murray/Getty Images
Actress Yara Shahidi wore a matching top and pants to Entertainment Weekly Celebration of SAG Award Nominees on January 28, 2017 in Los Angeles, California.

Rachel Murray/Getty Images