Sonia Rykiel's Granddaughter Wore a Jumpsuit to Her Wedding, Like True Fashion Royalty
What does Sonia Rykiel's granddaughter wear to be wed? A jumpsuit and sequins, naturellement. Get the full story here.
---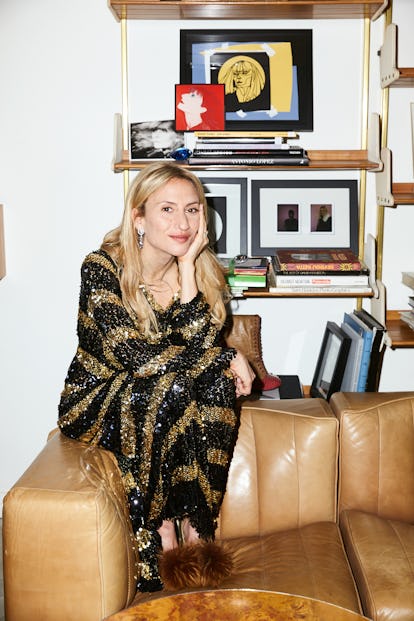 Photographs by Hughes Laurent, styled by Mari David.
Lola Rykiel's engagement to Jérémie Kanza last year did not have an auspicious beginning. It was August, and the couple, who have known each other since they were 13-year-old students in Paris, thought they were headed on holiday to Greece. Only Rykiel, fresh from a family trip to Ibiza, couldn't find her passport. After a huge fight, as Rykiel recalled, "I was crying, Jérémie ran after me, and he took me to the Luxembourg Gardens, and we calmed down on a bench. After, he was like, 'I'm so upset because I wanted to propose to you in Greece.' And then he proposed to me."
There was, however, a silver lining: Since the couple was stuck in Paris, Rykiel had the opportunity to introduce her fiancé—whom she had only been dating for a few months—to her grandmother, the renowned fashion designer Sonia Rykiel, who was suffering from Parkinson's disease and would pass away only weeks later.
"To imagine my grandmother is not going to be there for my wedding…it's just crazy," said Rykiel on a spring evening in New York, ahead of her July nuptials, her white- and canary-diamond toi et moi engagement ring delicately twinkling at every word. "I always talked about that day with her."
Indeed, it was an occasion that Sonia looked forward to as much as her granddaughter. Lola recalled her asking repeatedly, "When am I going to get to do your dress?" In light of Sonia's passing, Rykiel turned to Julie de Libran, the artistic director of Sonia Rykiel since 2014. For the civil ceremony, which was held at the town hall for the 6th arrondissement and followed by a champagne celebration at, appropriately enough, a buvette in the nearby Luxembourg Gardens, de Libran created a sleeveless white crepe sateen jumpsuit with a matching jacket trimmed in marabou and ostrich feathers. Madame Rykiel platform shoes adorned with fox pom-poms completed the look.
As a child, Lola used to chide her grandmother for sending her brides down the runway in sweatpants, high heels, and a veil reading RYKIEL. "I was so girly I was hoping the bride would have a huge dress," said the 31-year-old, who runs the public relations and consulting firm Le Chocolat Noir (Sonia Rykiel is one of her clients). "I never saw myself in a jumpsuit, but I tried it, and it was so original, and I thought my grandmother would have approved."
She would have undoubtedly also loved the wedding gown de Libran designed for the religious ceremony, held the next day in a "bohemian eccentric" space in the Parc des Buttes-Chaumont, in the 19th arrondissement. Lola had brought de Libran one of her favorite party dresses—the one she was wearing when she and Kanza had their first kiss. De Libran reimagined the off-the-shoulder sequined T-shirt style as a proper gown in iridescent white–and–pale pink stripes—a Rykiel signature motif—accessorized with satin flats trimmed with feathers. ("Like a home slipper!" said de Libran.) The short veil came from Lola's good friend the milliner Gigi Burris. Marie-Hélène de Taillac provided the diamond choker.
"It feels wedding, but it could be a great party dress too," said de Libran—an appropriate assessment, given that the celebratory festivities included dancing to a hip-hop soundtrack from Kanza's DJ friend, and food stalls brimming with French cuisine. (Kanza owns a pair of restaurants in the city called Balls, where the focus is meatballs.) "The dress is quite beautiful in the attitude and movement," de Libran added. "It's important for the bride to feel like nothing is in her way." Indeed, Rykiel hoped to convince Kanza to "go to the party with our suitcases and just go on the honeymoon the next morning."
And where were the newlyweds headed?
"I think to Greece," said Rykiel, with a smile.
The Most Photogenic, Over-the-Top, And Globe-Spanning Weddings of the Year
Hannah Bronfman and Brendan Fallis during their wedding at La Mamounia resort in Marrakech, Morocco, May 2017.

@brendanfallis
Brendan Fallis and Hannah Bronfman celebrate their first day as a married couple in the best way possible—crystal blue pool water and a bright green inflatable lime.

@hannahbronfman
Tommy Hilfiger's wife Dee Ocleppo captured the wedding of her stepdaughter Ally Hilfiger and longtime boyfriend Steve Hash, with whom she already has a daughter, Harley.

@mrshilfiger
An intimate shot of Ally Hilfiger and Steve Hash before their wedding on the private island Mustique.

@allyhilfiger
And for the ceremony itself—she captioned this one "OUI OUI OUI"—Courtin-Clarins opted for a straight-off-the-runway Jacquemus tunic and straw hat, quite the fashion-forward alternative to the classic white wedding dress.

@clairecourtin
Beauty scion Claire Courtin-Clarins celebrated her wedding in Mykonos, Greece, last month.

@clairecourtin
Pippa Middleton and James Matthews after their wedding at St. Mark's Church in Englefield, England, May 2017.

WPA Pool/Getty Images
Kate Middleton, Duchess of Cambridge, leads the pack of children at the ceremony in Englefield, England, May 2017.

Samir Hussein/Getty Images
Tracee Ellis Ross attended the wedding of her 29-year-old brother Ross Naess, June 2017.

@traceeellisross
Ross Naess married girlfriend of 11 years Kimberly Ryan, with whom he was then expecting his second child, at a camping-themed, "shoes optional" ceremony in the woods last month.

Kimberly Ryan / Instagram
Zac Posen designed Arden Wohl's ethereal, antique-looking wedding dress for her wedding to art star Jonah Freedman in Williamsburg, New York, June 2017.

@zacposen
Director Tara Subkoff was also in attendance at Arden Wohl and Jonah Freedman's Williamsburg wedding—and she made sure to document the ceremony.

@tarasubkoff
Domino Kirke poses with sisters Jemima and Lola, both actresses, at her civil ceremony wedding to Penn Badgely in Brooklyn, New York, February 2017.

@lolakirke
Victoria Swarovski, the Austrian singer and heiress to the crystal fortune, married mogul Werner Mürz in Portopiccolo, Italy, wearing a dress designed by Dubai-based designer Michael Cinco, featuring 500,000 Swarovski crystals and a five-meter train.

@victoriaswarovski
Victoria Swarovski at a fitting for her Michael Cinco-designed dress for her wedding to Werner Mürz, June 2017.

@michael5inco
Lucilla Bonaccorsi at her wedding to Filippo Richeri in Sicily, Italy, June 2017.

@lucillabonaccorsi
Actress Fiammetta Cicogna and guests at the wedding of Lucilla Bonaccorsi and Filippo Richeri in Sicily, Italy, June 2017.

@fiammettacicogna
Lucilla Bonaccorsi and Filippo Richeri at their wedding in Sicily, Italy, June 2017.

Filippo Richeri/Instagram
Lucilla Bonaccorsi and Filippo Richeri, newlyweds, ride off into the sunset after their wedding in Sicily, Italy, June 2017.

Filippo Richeri/Instagram
Nina Dobrev and Maude Hirst attend Julianne Hough's wedding to Brooks Laich, the "most fun wedding I've ever been to," according to Dobrev, in Coeur D'Alene, Idaho, July 2017.

@nina
Actress Maude Hirst with newlyweds Julianne Hough and Brooks Laich in Coeur D'Alene, Idaho, July 2017.

@maudehirst
Julianne Hough and Brooks Laich wed in Coeur D'Alene, Idaho, July 2017.

@juleshough
Miranda Kerr with Maria Grazia Chiuri of Christian Dior, who designed her custom couture gown for her wedding to Snapchat CEO Evan Spiegel.

@mirandakerr
Model Miranda Kerr and Snapchat CEO Evan Spiegel on their wedding day—Kerr in a custom Dior couture gownand Spiegel also in Dior.

@mirandakerr
Sarah Staudinger of Staud at the wedding of former DJ Cassie Coane in upstate New York, with fellow bridesmaids Mary-Kate and Ashley Olsen and Harley Viera-Newton, July 2017.

@staud
In another outtake from the same group portrait, Harley Viera-Newton captioned, "We all got married!!!!"

@harleyvnewton
"When your wedding vision is George Harrison finding God in India," Lily Waronker captioned her Instagram from Coane's wedding.

@lilywaronker
Naomi Campbell in Hussein Bazaza for the wedding of Carol Sabbagha in Beirut, Lebanon, July 2017.

@husseinbazaza
Naomi Campbell in Ralph & Russo at the wedding party of Carol Sabbagha in Beirut, Lebanon, July 2017.

@merhebmandy
Sophie Lasry's wedding to Alex Swieca may have been the only one this summer to feature two Clintons, J.Lo, and a real housewife, despite its quotidian location at Cipriani Wall Street.

@selasry
Watch: Sofia Coppola Does a Studio Visit with Sonia Rykiel's Julie de Libran