A Bombing Hit the London Underground, and All Trump Can Think About is His Travel Ban
An explosion in the London Underground Friday morning is being investigated as an act of terror.
---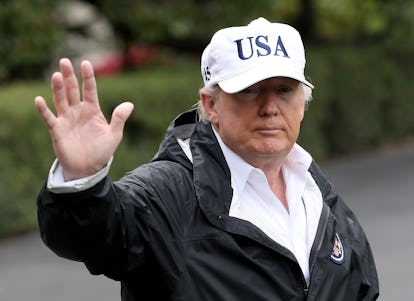 Win McNamee/Getty Images
The London Underground became the site of the city's fifth terror attack this year when an improvised explosive device partially detonated Friday during morning commute hours as the train rolled out of the Parsons Green station. Unlike the previous four attacks, there were no deaths as the result of the bombing; 19 people were transported from the site to three different hospitals, while an additional four individuals volunteered to go to the hospital, but none were described to have life-threatening injuries. Images passengers posted to social media in the immediate aftermath seem to depict a white bucket, still smoldering with flames, that may have been the makeshift explosive.
The bombing, which is being investigated as a terrorist incident, cast a pall over the first day of London Fashion Week. Earlier in the summer, the British Fashion Council had already begun increasing security measures around the men's shows in the wake of the June attacks on central London.
Donald Trump, the former reality television star now best-known as the president of the United States, offered his unsolicited perspective (on Twitter, naturally, his preferred medium), echoing many of the points he has made in the wake of previous attacks—and even as far back as during his presidential campaign nearly two years ago: "Another attack in London by a loser terrorist. These are sick and demented people who were in the sights of Scotland Yard. Must be proactive!" he wrote.
As the New York Times pointed out, it's not entirely clear what "in the sights of Scotland Yard" means, though there had previously been some concern terrorists would target the Tube, which had been the site of a devastating attack in 2005 that killed 52.
It certainly wouldn't be the first time Trump has criticized London's response to terrorist threats: Earlier in the summer, Trump had taken to Twitter to criticize London mayor Sadiq Khan's response to the attack in central London that killed seven. "At least 7 dead and 48 wounded in terror attack and Mayor of London says there is 'no reason to be alarmed!'" he wrote at the time, taking Khan's comments out of context (he had said Londoners had "no reason to be alarmed" by the increased police presence around the city) and implying that Khan might be empathizing with the terrorists because he is Muslim. "He has more important things to do than respond to Donald Trump's ill-informed tweet," a spokesperson for Khan responded.
Similarly, London-based CNN correspondent Charles Riley retweeted Trump's Scotland Yard tweet, commenting, "London's Metropolitan Police have described this tweet as 'pure speculation' and 'unhelpful.'" Score one for Scotland Yard.
"Loser terrorists must be dealt with in a much tougher manner. The internet is their main recruitment tool which we must cut off & use better!" Trump continued. On the campaign trail in 2015, Trump had also proposed cutting off children's access to the internet, even telling a crowd at a rally in South Carolina he had plans to meet with Bill Gates to discuss "closing it up"—never mind, of course, such pesky concerns as freedom of speech and the fact that Bill Gates doesn't really have much domain over the internet.
There can be value in using outbreaks of violence as rallying points for political ends. Think, for example, of the families of the children killed at Sandy Hook Elementary School, some of whom became outspoken advocates of increased gun control, or of the protests that gripped many cities in the wake of the white nationalist attack in Charlottesville just last month. (These efforts, of course, risk supporters growing apathetic as the specific incident becomes a fainter memory.) But these are examples of mobilizing outrage against violence, xenophobia and intolerance. Trump is doing precisely the opposite: using an attack on a city in another continent to promote paranoia and isolationism.
In ensuing tweets, Trump quickly turned to the matter of his "travel ban," skipping the usual condolences offered to victims of the attack or promises of American assistance and instead touting his own (unconstitutional) policy. "The travel ban into the United States should be far larger, tougher and more specific-but stupidly, that would not be politically correct!" he wrote. (It was a rare use of the tweet-reply, rather than Trump's usual ellipsis indicating there was more to come.) "We have made more progress in the last nine months against ISIS than the Obama Administration has made in 8 years. Must be proactive & nasty!" (No reply that time; you were so close, Mr. President.)
This is probably not true, though as with most remarks Trump airs on Twitter, facts are less important than winners and losers. And anyways, he had other matters to attend to on Twitter, like continuing to berate ESPN.
Meet the women who made history as the organizers of the Women's March on Washington: