An Exhaustive List of All the Things Louis Tomlinson Doesn't Have Going for Him, According to Louis Tomlinson
Nevertheless, he persists.
---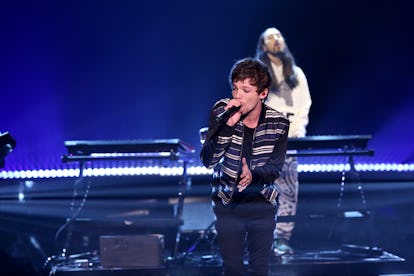 NBC/Getty Images
The first image in the photo spread featured alongside a new profile of Louis Tomlinson, the former One Direction member, in The Guardian kind of says it all: Tomlinson, looking off into the distance, sipping from a glass bottle of milk. ("Louis Tomlinson in this season's sportswear," the title reads—a dose of calcium an essential for any sporty look.) Tomlinson, certainly no Harry Styles or Zayn Malik, was, by his own admission, "forgettable, to a certain degree" as one of the peripheral members of the band, he says. Nevertheless, he's preparing for the release of his solo album after venturing into management starting his own label, and he opens up about his (self-professed) underdog status in this new profile.
"This Brutally Honest Profile of One Direction's Louis Tomlinson Will Make You Want to Give Him a Hug," wrote New York magazine's The Cut. "Louis Tomlinson confesses to crippling insecurity," added the Daily Mail. Among the blows he's suffered over the past seven years since One Direction formed during their run on the music competition show X Factor in 2010, he lists:
His smoking. "It's not so great," he says of his new habit. (He chain-smokes throughout the interview.) "It helps me get ready to go again."
The demise of One D. "In the last year of One Direction, I was probably the most confident I ever was. And then it was: 'Okay, hiatus!'" (Tomlinson, for the record, was against the split.)
His second-tier role in the band. "I didn't sing a single solo on the X Factor," he says, adding this often left him wondering, "What have I really done to contribute here? Sing a lower harmony that you can't really hear in the mix?"
His solo career—because it seems, if it were up to him and not the industry demanding new material from the former boy-bander, he'd be working behind the scenes. "If you'd asked me a year or 18 months ago: 'Are you going to do anything as a solo artist?' I'd have said absolutely not."
The struggle to get famous collaborators into the studio. (He now counts DJ Steve Aoki and the musician Bebe Rexha among his collaborators.) "Harry won't struggle with any of that."
Interactions with fans—who remain utterly, stunningly devoted to him, but sometimes with misbegotten consequences. "It's hard for a lot of people who are fanatical to believe that you are a real entity and a person."
The death of his mother, who pushed him to just go for it. ""Sometimes my reservation, or my confidence, might have prevented me from doing something," he says. "I've needed a mum in the past to kick me up the arse and go: 'You're doing it.'"
Recent months have seen profiles and think-pieces heralding the emergence, with varying degrees of success, of each member of the now-splintered boy band as a solo artist. Harry Styles landed himself a Rolling Stone cover; Zayn Malik, who had begun establishing himself as a solo artist even before the band went on hiatus, has appeared in magazines like Interview and The Fader, and designed a capsule collection for Versus Versace; and Niall Horan covered the June issue of Billboard magazine. Liam Payne recently appeared on the British magazines Rollacoaster and Attitude. And then there's Tomlinson.
Harry Styles' Fashion Style Evolution: See 32 of the Pop Star's Best Looks
Harry Styles attends the "DUNKIRK" premiere in New York City.

Getty
Harry Styles attends "Dunkirk" Premiere at Ocine on July 16, 2017 in Dunkerque, France.

Getty
Harry Styles attends the 'Dunkirk' World Premiere at Odeon Leicester Square on July 13, 2017 in London, England.

Getty
Promoting his new album, Styles wears a red plaid suit out in London.

Getty
Styles stays committed to Gucci in a logo sweatshirt while out in Paris in 2017.

Getty
Styles performs on NBC's "Today" at Rockefeller Plaza wearing a shocking pink suit.

Getty
Harry Styles performs "Sign of the Times" in a Gucci suit on Saturday Night Live.

Getty
Styles shows off his dramatic haircut, but keeps it classic in his fashion choices with a perfect fitting black suit and crisp white shirt.

Getty
For the BBC Music Awards, Styles wore black and white vertical striped pants and a black shirt. Here he is on the red carpet with his bandmates from One Direction.

Getty
Not ever afraid to take a risk on the red carpet, Styles wears a floral Gucci suit with wide-legged trousers.

Getty
Styles greets his adoring fans in a navy spring coat and gray jeans on his way into BBC Radio 2.

Getty
Fearlessly wearing a Gucci geometric print two-piece suit and black leather boots, Styles attended an event in London.

Getty
Styles wears a bold Saint Laurent bomber jacket to perform One Direction's latest single as part of Good Morning America's summer concert series.

Getty
Attending the Capital FM Summertime Ball with One Direction, Styles wears a chevron-printed shirt with a skinny scarf.

Getty
Styles attends the Glam Rock Christmas Party in London in a revealing black shirt and long, striped trousers.

Getty
Taking a major fashion risk on the red carpet, Styles wears a Lanvin striped suit and black boots.

Getty
Performing with One Direction at the 2014 American Music Awards, Styles wears a gold embellished jacket and low-rise jeans.

Getty
Styles, along with the other boys of One Direction, attend the Royal Variety Performance with the Royal family. Styles wears an animal print jacket over a black low-cut shirt.

Getty
Styles goes full rock-and-roll at LAX in all black jeans and t-shirt, accessorized with a blue scarf, wide-brimmed hat, and sunglasses.

Getty
At the launch for One Direction's fragrance, Styles wears a oversized plaid shirt, unbuttoned in his usual manner, tight jeans, and a large hat.

Getty
Seen out with friends (Hi, Ed Sheeran), Styles wears a Calvin Klein sweatshirt and a head scarf wrapped around his famous locks.

Getty
For the 2013 British Fashion Awards, the London megastar shows up in a sheer black shirt, blazer, and a scarf.

Getty
Styles wears a dark wool coat over an animal print shirt and black jeans at the Burberry Spring/Summer 2014 show.

Getty
For the World Premiere of One Direction This is Us, Styles wears a heart print Burberry shirt under a black suit.

Getty
Styles, showing off his tattoos in an unbuttoned shirt, and Miley Cyrus pose together backstage at the 2013 Teen Choice Awards.

Getty
Seen in Miami Beach to film a One Direction music video, Styles steps out in unbuttoned plaid shirt and a tan hat.

Getty
Styles gets buttoned up in a double-breasted suit and patterned shirt at a dinner in London.

Getty
Harry Styles' fashion for a 2012 taping of the Late Show With David Letterman with his band One Direction featured a monochromatic ensemble completed by leather moto boots.

Getty
True to the trends, Styles wears a blazer with pushed up sleeves over a gray shirt at BBC Radio 1 Teen Awards.

Getty
Styles goes casual with black jeans, a gray t-shirt and Converse while hanging out with Nick Grimshaw at the Shoreditch House in London.

Getty
At one point, Tomlinson launches into an appraisal of his bandmates: "The others have always been… Like Niall, for example. He's the most lovely guy in the world. Happy-go-lucky Irish, no sense of arrogance. And he's fearless. There are times I've thought: 'I'd have a bit of that.' Zayn, back in the day. He could relate to me on a nerves level. In the first year we were both the least confident. But Zayn has a fantastic voice and for him it was always about owning that. Liam always had a good stage presence, same as Harry, they've both got that ownership. Harry comes across very cool. Liam's all about getting the crowd going, doing a bit of dancing…" And then there's you, the interviewer suggests. "And then there's me," Tomlinson agrees.
But hey, for all that Tomlinson seems to be One D's resident sad puppy, he doesn't sound too down about it. "I don't like people feeling sorry for me," he says. So there.
Charlize Theron still feels bad about the time she punched Teri Hatcher in the face: