Would Jackie O Tag Her Designer Clothes on Instagram? Louise Linton Thinks So
Louise Linton cited Jackie Kennedy as one of her style icons in a new interview, but clearly wasn't all that informed about the former first lady's wardrobe.
---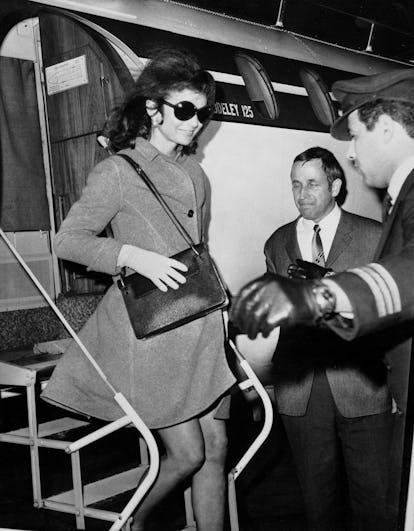 Louise Linton is an actress with a few credits to her name, but the public at large might remember her best as the wife of Secretary of the Treasury Steven Mnuchin who had an Instagram meltdown in August 2017 after posting an image of herself stepping off an Air Force jet in designer clothes and tagging the brands behind each. (Hermès and Valentino were amongst the mix.) To say the least, it was an awkward choice for someone associated with an administration which has promised to put the American common man first. When a commenter criticized the post, Linton let loose. "Have you given more to the economy than me and my husband? Either as an individual earner in taxes OR in self sacrifice to your country?" she wrote, in part.
In a matter of hours, she went from the young, blonde wife of one of Trump's lower key cabinet member, to the administration's very own Marie Antoinette.
Well, Linton is attempting something of an image rehab, and recently sat for an interview with Elle magazine in which she explains how the Instagram came to be.
"I was tagging things [on Instagram] because I thought I had seen other actresses doing that, and I was like, I should do that, too," she told the magazine, apparently unaware that many stars tag brands on Instagram only when they're actually paid to do so, something that many of the brands Linton had tagged publicly stated they had not done.
"I should be more fashionable. I need to play that role; I need to be more elegant; I need to be more stylish," Linton continued. "I look at amazing fashion icons like Jackie O and I'm like, Why can't I wear gloves?"
Yes, of course, Kennedy is still remembered as one of the most stylish first ladies of all time, and a standard bearer of ideal political fashion. Though, she too was often criticized for her choice in clothing.
During John F. Kennedy's campaign, Jackie often wore garments from her favorite European houses like Chanel, Dior and Givenchy, a habit that was labeled "un-American" by Kennedy friends and foes alike. Indeed, according to NPR, it was the head of International Ladies Garment Workers Union, a man who was a Kennedy donor, who undertook a campaign to convince Kennedy to only wear American clothes (and drafted famed editor Diana Vreeland to help). The result? Kennedy hired American designer Oleg Cassini has her official designer. Though, she still had a taste for European fashion, and ultimately resorted to buying authorized copies of European designs that were constructed in America (such was the case with her famed Chanel but not-quite-Chanel pink suit).
After Kennedy, the idea of first ladies favoring American designers was cemented as tradition… well at least until Melania Trump.
In any event, Linton is correct about Jackie O being a fashion icon, but she certainly wouldn't have drawn attention to the fact she was wearing foreign brands. And it seems fair to assume she wouldn't have gotten into fights in the Instagram comments section, either.
Related: Louise Linton Really Wants You to Know That She's Wearing Hermès and Valentino