Lourdes Leon's New Jean Paul Gaultier Campaign Is Sadly Sans Cone Bras
Madonna's 22-year-old daughter seems to prefer Supreme.
---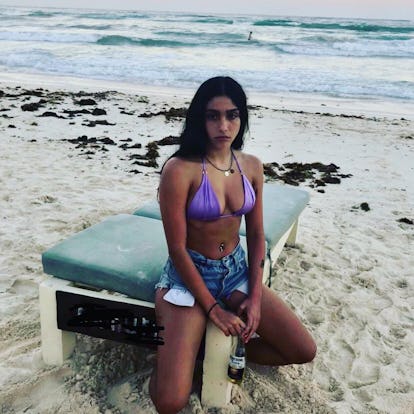 Courtesy of @madonna
Nearly 30 years after Madonna tapped Jean Paul Gaultier to design the costumes for her Blond Ambition tour in 1990—the highlight of which, of course, was a cone-bra bodice—her daughter Lourdes Leon is following suit. On Tuesday, the 22-year-old was revealed to be the face of Gaultier's return to that era, in honor of his new collaboration with Supreme.
In keeping with Leon's status as fashion's quietest It girl, so far her appearance in the campaign has been relatively low-key. (Just like Leon herself, for example, the official imagery of her photographed by Collier Schorr has yet to officially make it onto Instagram.) Around midnight on Tuesday, though, Supreme did share another image from the campaign, which features the artist (and past Supreme collaborator) Sancheeto outfitted in a blue and red coat covered in plaid mohair, and a mustard yellow ensemble patterned with motifs in halftone.
Leon, on the other hand, can be found in a pinstriped blazer, a ribbed tank top, and a beat-up pair of black combat boots. Her pants, also topped off with a plaque belt that reads "Gaultier Supreme," might be bright red, but for the most part, they match Sancheeto's—if only because they also feature two words in all caps: "FUCK RACISM." (You can see Leon's turn in the spotlight, via British Vogue, here.)
Thanks to the Kardashians, Gaultier's designs may seem like they've been everywhere as of late, but it takes a Gaultier devotee to know that his latest slogan is also a throwback—even if a bit more explicit than his original "fight racism" series in the late '90s. (Not that that stopped Miley Cyrus from wearing the original earlier this year.)
It's unclear how much the Supreme remake will cost—particularly since Gaultier's ready-to-wear has become even more desirable since he stopped producing it in 2014 in order to better concentrate on couture. Of course, Supreme's notorious resale rates will no doubt make retail prices irrelevant from the moment the collection rolls out on April 11. (If Supreme's recent high-fashion collaboration with Louis Vuitton is any indication, prepare for hysteria.)
Related: How Lourdes Leon, The Latest Miu Miu Girl, Became Fashion's Quietest It Girl
How Lourdes Leon, Madonna's 20-Year-Old Daughter, Went from Wearing Juicy Couture to Alexander Wang
Lourdes Leon looked prim in proper in a dark gray coat, navy skirt, and mary jane-style shoes while accompanying her mother to the Versace AT The V&A Party in 2002.

UK Press via Getty Images
While spending the day at the park with her family in 2003, Leon was adorable in a long sleeved pink Juicy Couture t-shirt, midi-length denim skirt, pink flower sandals and a coordinating top and headband.

UK Press via Getty Images
In 2004, Madonna and Lourdes wore coordinating flared jeans to the park.

UK Press via Getty Images
In 2005, Lourdes Leon wore a cute denim-on-denim ensemble paired with black leather boots and a silver chain belt.

Getty Images
In 2005, nine-year-old Leon attended the "Harry Potter and the Goblet of Fire" premiere in a double-breasted black coat with white accents and a sparkling pink mini handbag.

Getty Images
In 2006, Leon wore a bright turquoise t-shirt, denim capri pants, and a pair of wedge heels for an outing with her mother.

FilmMagic
At a 2008 Malawi Benefit in NYC, Madonna and Lourdes both wore simple, chic dresses. While Madonna wore a nude cowl-neck Gucci dress, Lourdes looked darling and modest in a black silk midi dress that she paired with black tights.

WireImage
Lourdes looked like an emerging pop star on the red carpet at the premiere of "Nine" in 2009, wearing a lace mini dress with Dr. Martens, a black leather jacket, motorcycle gloves and fishnet tights.

WireImage
In 2010, Leon attended the launch of Macy's 'Material Girl' collection in ripped tights, a mini dress, studded leather jacket, and plaid shirt.

Getty Images
Lourdes Leon looked confident on the red carpet at the 2011 Vanity Fair Oscar Party in an AllSaints Aztec print mini dress with black platform pumps and lots of arm candy.

FilmMagic
Celebrating Macy's Material Girls collection with Kelly Osbourne in 2011, Lourdes Leon wore a playful yellow dress with black platform pumps.

WireImage
In Ibiza in 2014, Lourdes Leon hit the beach in a grey tank top, mini skirt, sneakers and bright red sunglasses.

Europa Press via Getty Images