Lucy Hale on Her Beauty Insecurities and What Pretty Little Liars Taught Her About Makeup
The Pretty Little Liars star shares the secrets to her fastidious beauty routine.
---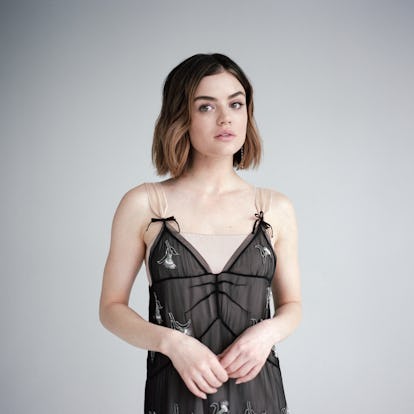 The moment Lucy Hale steps onto the sidewalk, outside of skincare guru Kate Somerville's West Hollywood clinic, the paparazzi's cameras hungrily click away. And inside, whenever Hale steps into a room, groups of people flood into it behind her. The scene is enough to make even a bystander anxious, but for the Pretty Little Liars alumni and star of Netflix's slept-on 4/20 film Dude, it's her normal. One of the ways Hale copes with it is by practicing self-care, sticking to a nourishing daily skincare routine. "For me, I become more beautiful on the outside when I'm working on the inside," she tells me, after we duck away into a backroom. "It wasn't always like that. I think it comes with age."
Hale has done most of her growing in the public eye, since landing her breakthrough role on PLL as Aria. The 29-year-old has done an admirable job of it, too, avoiding any tabloid fodder—all in front of an audience of, now, 21.5 million and counting followers on Instagram. Confidence is part of it, as she reveals to me. Below, Hale shares how she's learned to embrace her insecurities, where she learned to do her makeup (PLL fans know), and the beauty trends she can't get onboard with.
What's your morning routine? Anyone who knows me well knows that my skin is something I don't skip out on. There are a lot of steps. First, I double cleanse, then tone. I exfoliate a couple of times a week. I recently learned that you have to put your serums and toners in order from thinnest to thickest. That actually comes from Korean skincare—they teach you how to do it that way. It takes awhile, but it's worth it to me, because I struggled so much with my skin growing up and even as an adult. So now I have to do all of those things to make sure that my skin doesn't freak out.
How has your routine changed over the years? It's mainly about consistency. I used to do crazy masks—like the bubbly mask—all of the time, and change up my moisturizer. So for me it's about doing the same things all of the time and getting a good facial. With all of the makeup and traveling, I have to make sure to get everything out.
Skincare should be simple, but there's so many distractions like trendy masks. A lot of it's trendy, and a lot of it is packaging. But it's different for everyone; everyone's skin balance is different, and lifestyle really effects it, too. For me it's been trial and error to see what works. I wish I could be one of the people to do all the frou-frou stuff. Even when I get facials, it has to be all about hydration and light peels. There's an oxygen facial I love. I want to be able to do all the fun, crazy stuff but my skin doesn't react as well.
I'm here today because Kate Somerville has a new Vitamin C retinol product. People are always like, "What is your secret weapon?"—and for me, it's retinol because that makes your cell turnover happen so you're constantly getting rid of that first layer of skin that causes buildup and breakouts. And it's obviously good for anti-aging. My skin is super sensitive—I can't have stuff that has a lot of sh-t in it—so her products keep my skin in check.
What's a beauty trend you'd never try? If thin eyebrows came back in, I don't think I could do it. I had a recent audition where I had to because it was in the 20's, 30's era where they had pencil-thin eyebrows. So I had to conceal my eyebrows and it was not a good look for me. I think I'm going to stick with thick eyebrows.
What's the craziest thing you've done in the name of beauty? If you think about it, electrolysis for hair removal is crazy.
You were great in Dude. Have you ever experimented with cannabis beauty products? Funny you should ask, I have a CBD mask at home. I haven't used it yet but it's a facialist who's developing a CBD line and she's like, "Just use a little bit." It's not FDA-approved yet but I'm curious to try. It works with everything else, so why wouldn't it be beneficial for skincare?
What was your favorite beauty-related memory from being on set for Pretty Little Liars? Oh my. I grew up on that show. My whole twenties were on that show and I truly learned how to do my makeup from the makeup trailer. I started when I was 20 and didn't know what the hell I was doing. We got to have so much fun with beauty on that show. I learned how to put on fake eyelashes, and my skin was really bad so they helped me learn how to do makeup for my skin.
Does Aria wear any beauty looks that you weren't a fan of? One of the reasons I really liked playing her is because she didn't give a f—. She didn't follow the rules. She was cool but it was effortless. Maybe I wouldn't do the colored hair but I did do pink hair recently. She did the feather trend. She was actually someone I'd look up to because she did things not for anyone else but just for herself.
How do you deal with blocking out the noise? How have you overcome insecurities? It's hard. My industry doesn't make it easy, but, even in general, being a female is challenging. Especially with the world of social media, it's hard to block out negativity. We're always comparing ourselves to other people, even without realizing it. As I've gotten older, I've learned that I'm always going to have things that I feel weird about, but it's about embracing the things I love about myself and making good decisions. I feel my best when I'm eating healthy, working out, hanging out with cool people, and challenging myself to be better.
If you have a really bad day, how do you talk yourself out of that headspace? It's always just remembering that feelings and emotions are temporary. Nothing is permanent. If I felt upset, I used to get so down because I thought it would last forever. You just have to remember that life's a rollercoaster and having bad days only makes you appreciate the good days.
Over the past year, there has been more of a spotlight on the injustices women face in the TV and film industry. Do you think women have started to become judged less for looks? I think so. I think women are now being seen not just for their outward appearance. Voices are being heard, women are taking a stand. Cynthia Nixon is running for governor of New York. Women are getting more chances, not just in this industry but everywhere. I think it's really cool that powerful women have spoken up about things, because it trickles down into every other industry. It's giving people the courage to talk about what really matters and to call people out on their sh-t. I know, for me, I'm very timid—I'm a shy person—and I have a hard time speaking up for myself. But being around women that are putting their foot down is inspiring to me, and I've gotten better at it as well.