Lupita Nyong'o Wrote a Children's Book All About Empowerment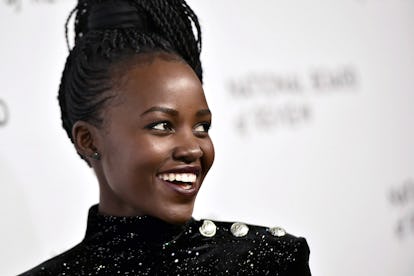 Steven Ferdman/Getty Images
Lupita Nyong'o is deviating slightly from the acting realm to publish her very first written work: a children's book.
Per The New York Times Nyong'o's literary debut, titled Sulwe*, which means "star" in her native Luo language, will be about a 5-year-old girl growing up in Kenya and her journey for nonaesthetic empowerment. "In the book, Sulwe has the darkest skin color in her family, a fact that makes her uncomfortable and determined to find a way to lighten her skin," the official description reads. "As the story unfolds, Sulwe embarks on a whimsical adventure in the night sky that, coupled with advice from her mother, helps her see beauty differently."
In an interview to coincide with the book's announcement, Nyong'o explained the importance of acceptance and self-love during the formative years of girls around the world—something she, too, struggled with while growing up in Kenya and being skeptical of her skin's true beauty. (With skin-lightening products still being a major player in the beauty industry, it's sadly unsurprising that she felt this way.) Specifically, she cites her mother as being her most important influence as she grew up, noting that "you learn all the things that you spend the rest of your life trying to unlearn" when you're a child.
While you'll have to wait until next January to get our hands on Sulwe (and there's a good chance that adults will appreciate it just as much as kids), Nyong'o will be increasingly busy in the upcoming months as her Black Panther and Little Monsters films get released. There's also a solid chance the bizarre Nyong'o and Rihanna film about a Twitter meme will actually be seeing the light of day, because, hey, we deserve nice things.
Watch Lupita Nyong'o confess her girl crush: