How Lyn Slater Became an "Accidental" Style Icon at the Age of 64
Lyn Slater started her fashion blog, Accidental Icon, three years ago and now has over 200,000 Instagram followers. Here's how she did it.
---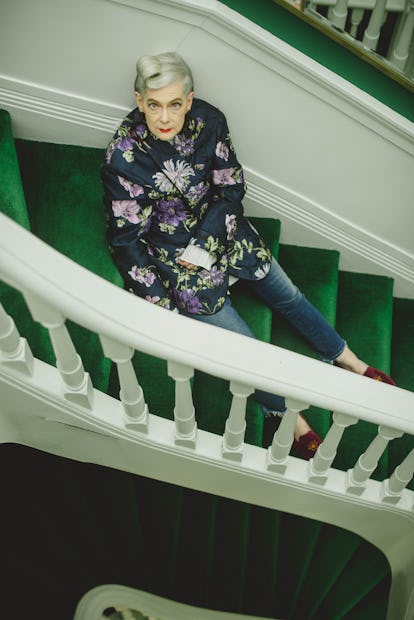 Maizhouyuan
It's not easy standing out in a fashion crowd, where everyone has made a career upstaging the person next to them. But Lyn Slater of the popular blog Accidental Icon has managed to do so time and time again, and for more reasons than one. Not only does she wear clothes well with her perfect posture, but she also has access to head-to-toe Issey Miyake outfits that the brand sets aside especially for her, say, or a closet of vintage kimonos that she pairs with oversized sunglasses and costume jewelry. By her side is usually her partner of 20 years, the Sloan Kettering scientist-turned-photographer Calvin Lom, not to mention an audience of 200,000 Instagram followers.
In addition to all this, Slater also happens to be a 64-year-old grandmother with a head of impeccably-coiffed gray hair that she refuses to dye. Even if, as she will tell you, "Age is not a variable."
Age is certainly in fashion, however. Starting in 2015, the then 80-year-old author Joan Didion became the face of Céline's ad campaign; Joni Mitchell was tapped for Saint Laurent; and a gaggle of Italian grandmothers modeled for Dolce & Gabbana. At Bottega Veneta's Spring 2017 runway show, the former supermodel Lauren Hutton walked hand-in-hand with her millennial doppelgänger, Gigi Hadid; actual daddies walked Balenciaga's most recent Spring 2018 show in Paris; and Elon Musk's 69-year-old mother, Maye Musk, has a modeling contract with IMG.
And while Slater saw this "trend" happening around three years ago when she started her own blog, she claims she didn't have an ageism-busting agenda—hence the name "accidental" icon—and continues to turn down age-specific work thrown her way. Her site, in fact, has no advertisers.
"I would rather pressure MAC Cosmetics to think of me as a consumer, than help promote a separate over-50 makeup brand," Slater declared on a summer afternoon in New York's Soho, adding she prefers designers like Alessandro Michele of Gucci, ("they made brainy women super cool"); Demna Gvasalia of Vetements and Balenciaga ("he's a sociologist"); and Jonathan Anderson of his namesake brand and Loewe—all of whom she believes have been progressive about everything from ageism to feminism from the get-go.
"This project is me saying: I'm not twenty, and I don't want to be twenty," Slater explained. "But I'm pretty cool, and here I am."
One glance at Slater today confirms she is, in fact, pretty cool. But ever since she was a young girl, she's embodied a rebellious style and attitude that defied conventions. Born in the suburbs of New York, Slater attended all-girl Catholic schools from kindergarten through college; she was forced to wear a uniform for much of her early life. "We were not allowed to have any adornment, or any way of making ourselves unique," she recalled. "But the one thing we could do was wear religious medals and rosaries. So, I had a collection of like, 200 medals of every saint and I would form them into designs on my uniform and hang multiple rosary beads from my belt." She smirked: "They couldn't say anything to me."
In college, Slater was a music-obsessed, self-described "hippie" who could be found wearing bell bottoms, platform shoes, and felt hats at Allman Brothers concerts in Van Cortlandt Park, in the Bronx, or milling about on Bleecker street in the East Village with long-haired boys. (Today, she prefers Dover Street Market.) At the same time, Slater was also getting her first masters degree in criminal justice, working with women and girls in areas of trauma, and would later go on to get a Ph.D. in social welfare.
Currently, Slater divides her time between teaching at Fordham University and posting on her fashion blog, but she sees everything that she does as connected. "Trauma is very much held in women's bodies," she said. "And because of that, I always understood the importance of clothing, even to women who society thinks don't care about clothes." For example, she'll advise women on dressing for court appearances beyond the simple suit that their lawyers ask them to put on.
It was a dissatisfaction with academia, though, as well as mainstream magazines and "middle America" fashion websites targeting women her age, that lead Slater to start a blog of her own. A researcher by trade, she surveyed what was out there, and decided she could succeed by doing the opposite. Within six months, she had a cover and editorial in Grey magazine.
"I want to engage people of all ages who want to think and talk about fashion, and not just consume it," said Slater of her blog today, which has an international audience of 35 to 65-year-olds online, and 18 to 35-year-olds on Instagram, with many fans in Asia. "The most exciting part for me has been connecting with young creatives," she added. "Whether they're photographers, hair and makeup artists, or emerging designers."
When Slater first started, brands like Issey Miyake weren't necessarily pounding down her door, so she had to reach out to younger, more emerging designers for pieces—and she discovered that they not only shared a similar taste but approach to fashion in general.
"What I've found in talking to young people all over the world is that my generation really twisted up about getting old, and the younger generation is not like that," she said. "They're feeling more empowered; they don't want people to tell them what to wear; they want to be okay being themselves; and they don't want to be against things. They don't want to be anti-aging; they want to create something new."
Slater's exchange with her younger followers is mutually beneficial; she's learned a lot from them not only about the industry and where it's headed, but also about creating content and engagement. "I take the skills I have as a professor and in my work before doing this blog—where I had to engage young people who didn't want to be engaged, or engage politicians about passing a law—and put all of that it into social media," she said.
Being a fashion and Instagram-obsessed millennial myself, one who is helplessly lost somewhere between empowered teenagers and rebellious 60-year-olds, I asked Slater to share some wisdom.
"The best thing I can tell you is: Attach to nothing," she said. "Take a risk, put yourself in a space, and see what happens."
In other words, be accidental.
Related: What Millennials Can Learn From Designer Norma Kamali
Model Adwoa Aboah Offers a Bit of Candid Advice to Young Women