What Is Going on With Macaulay Culkin's Instagram?
In a weird and wonderful turn of events, the child actor turned podcaster has joined Instagram.
---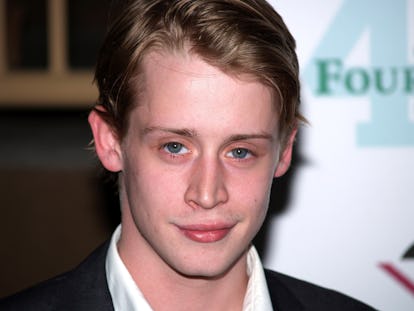 Bruce Gifford/Getty Images
Macaulay Culkin is often brought up in conversations about child stars plagued by unforgiving tabloid coverage, or celebrities who currently reject fame. While he's been known as an actor and a frontman of a Velvet Underground parody band called the Pizza Underground, the elusive Home Alone star seems to be no longer shirking the spotlight. Mack, as he is affectionately called by his friends and goddaughter Paris Jackson, has finally joined Instagram.
On March 2, Culkin made an appearance on The Tonight Show to speak to Jimmy Fallon about his upcoming projects and a major plot hole he discovered in Home Alone, the 1990 movie that made Culkin a household name. This late-night talk show interview also marked the debut of his Instagram, where he shared a couple of photos of himself in a spiffy suit and some bunny ears.
The getup is a nod to his podcast "Bunny Ears," which is a part of what Culkin calls his lifestyle brand of the same name. Culkin, who refered to himself as "TV's Devon Sawa" in a fireside chat video he made to introduce fans to his new website, hosts the podcast alongside a friend. The two discuss everything from Culkin's opinions on fame to all of the ways everyone always mispronounces his name to his favorite conspiracy theories, including those of the "flat earth" variety.
But on his Instagram, after reintroducing himself to the millennials, Culkin took on the unique challenge of sharing his journey of livetweeting the Oscars without actually watching them.
While he may have started out with a Star Wars storm trooper fashion show, some other activities Culkin did instead of watching the Oscars included, but were not limited to, making ramen, playing guitar, playing with action figures, painting his toenails, and playing video games, all while in a tuxedo. And, of course, none of these activities held him back from actually tweeting his cheeky opinions on the Academy Awards; in Culkin's opinion, The Post is the "best movie about social media this year," besides The Emoji Movie.
It's curious that someone who essentially vanished from the limelight for years after skyrocketing to fame in the '90s would join the most public of social media platforms, but he wants you to know he's committed to having fun on his own terms. And who could be mad at that?
Related: Queer Eye's New Fab 5: Meet the Lifestyle Experts Making Every Netflix Binge-Watcher Cry