Madonna and Diablo Cody Are Working on a Secret Screenplay
A preview of the project features Madonna and the 'Juno' writer discussing her iconic cone bra.
---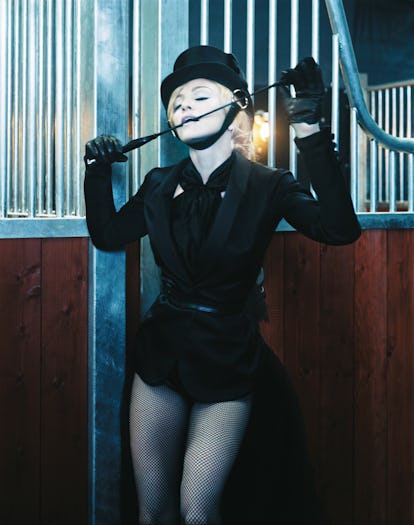 Steven Klein
Madonna's Instagram feed has seen better days. Since calling coronavirus "the great equalizer" at the start of the pandemic, she's gone on to promote the unconfirmed idea that positive COVID-19 antibody tests signify immunity, share a viral video endorsing hydroxychloroquine, and claimed that a COVID-19 vaccine has actually been available for months. (To be fair, she's also provided some perfectly enjoyable content, like a reworking of "Vogue" that's about fried fish.)
But over the weekend, Madonna posted something that anyone could get behind. "When you're stuck in a house with multiple injuries what do you do?," she asked in a video caption, before answering her own question: "write a Screenplay with Diablo Cody about…………..📖🎥🎬🎤🎼🖤?"
Despite Madonna's use of a question mark, she really does seem to have something substantial in the works with Cody, who made her screenwriting debut (and won an Oscar for) 2007's Juno. They might even be quarantining together, seeing as the minute-long video Madonna posted finds them seated seated less than six feet apart. "The music starts, what's the song?" Madonna asks Cody, who's typing on her laptop. "All these details are important!"
From the sound of their conversation about what Madonna calls an "iconic costume," which seems to be the Jean Paul Gaultier cone bra and garters she wore on her Blonde Ambition tour, suggesting that the screenplay will focus on Madonna herself. After helping Cody out with the details, Madonna pauses to stick a couple of cashews up her nostrils, remarking "you know, sometimes you just gotta eat a nut."
The notoriously prolific artist, who's also been collaborating with Dua Lipa and promoting an art sale to benefit Lebanon, has some experience with screenwriting herself; she both wrote and directed the British comedy Filth and Wisdom in 2008 and the period romance drama W.E. in 2012. As for Cody, since Juno, she's gone on to create the series One Mississippi and United States of Tara, and write the scripts for Jennifer's Body and the Jason Reitman films Tully and Young Adult.
It's also perhaps no surprise that Madonna wants input into her own story. Back in 2016, a script for a Madonna biopic was voted the hottest un-produced project in Hollywood, and Universal quickly stepped in to buy the rights. Madonna herself quickly got a hold of the script, and critiqued its accuracy on Instagram. "Nobody knows what I know and what I have seen," she wrote. "Only I can tell my story. Anyone else who tries is a charlatan and a fool."
Madonna seems much more hopeful about this project. Her choice of hashtags offer one final hint as to what's to come: If all goes as planned, the project will be a "#nuts" and "#iconic" "#serve."
Related: Madonna Tests Positive for Antibodies, Announces Plans to "Breathe in the COVID-19 Air"