Madonna Has "No Life" Now, According to Madonna
Being a soccer mom is a full-time job.
---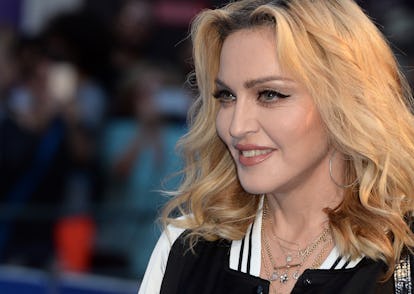 Anthony Harvey/Getty Images
In just a couple of weeks, Madonna will be hitting a major milestone and turning 60. She'll also be even further to the year in which she promised to return to music without, um, returning to music. Neither of these major topics, though, appears to be mentioned Madonna's upcoming Vogue Italia cover story; instead, according to People's preview of the issue, it's all about soccer moms—a subculture that Madonna officially joined last year, when she moved to Lisbon with the sole goal of supporting her 12-year-old son, David Banda's burgeoning career in soccer.
In case you're unfamiliar with her newfound lifestyle, allow Madonna to explain: "Any woman who is a soccer mom could say it kind of requires you to have no life in a way, because things change from week to week and games change from weekend to weekend—sometimes they're in the city, sometimes they're not, and we would never know until Thursday night whether they're on Saturday or Sunday, if at 12:00 or later," she told Vogue Italia. "It's impossible to make plans, and then you feel like you're not being fair to your other kids, or being fair to me!"
To make matters more complicated, Madonna has also been encouraging her 5-year-old twins, Estere and Stella, to get in on the game. Along with Banda and their 12-year-old sister, Mercy James, they live with Madge in Portugal, where the whole family has apparently "embraced all things, especially music, dance, soccer, and sports," while also learning how to speak Portuguese. (Madonna's other children, Lourdes Leon, 21, and Rocco Ritchie, 17, on the other hand, have not, having moved on from living with mom.)
From the sound of it, Madonna has forgotten about her previous promise to Anderson Cooper in December—that "2017 was soccer mom in Portugal, 2018 I'm coming back, baby, and I'm coming for you!" We can't blame her for not wanting to give up her new Count of Monte Cristo–inspired mansion, though to be fair it sounds like she's hasn't entirely forgotten about her 14th LP; she's apparently been working on it with "lots of really amazing musicians" she's recently met in Lisbon, in between soccer practices (and Migos concerts).
In true supportive soccer-mom form, however, she insisted she's not putting any pressure on her kids to match her productivity: "I just want them to be good human beings that treat other human beings with dignity and respect, regardless of skin color, religion, gender," she said. (And while she may have framed it as the "icing on the cake," she hasn't ruled out the possibility that they'll "happen to be the next Picasso or Cristiano Ronaldo.")
Related: Madonna Takes in a Migos Concert in Head-to-Toe Gucci
Celebrating Madonna's Most Show-Stopping, Jaw-Dropping Live Performances
June 10, 1985: American musician Madonna performs onstage during 'The Virgin Tour' at Madison Square Garden. Photo by Gary Gershoff/Getty Images.

Gary Gershoff
May 21, 1985: Madonna performs on the Virgin Tour at the St. Paul Civic Center. Photo by Jim Steinfeldt/Michael Ochs Archives/Getty Images.

Jim Steinfeldt
July 13, 1987: Madonna performing on stage during her Who's That Girl tour. Photo by Ebet Roberts/Redferns.

Ebet Roberts/Getty Images
July 29, 1987: Madonna performs on the Who's That Girl Tour at the St. Paul Civic Center in St. Paul, Minnesota. Photo by Jim Steinfeldt/Michael Ochs Archives/Getty Images.

Jim Steinfeldt
November 6, 1990: Madonna's Blond Ambition World Tour. Photo by Kevin Mazur Archive/WireImage.

Kevin.Mazur/INACTIVE
July 24, 1990: Madonna performs at the Feijenoord Stadium during her Blonde Ambition tour in Rotterdam, the Netherlands. Photo by Frans Schellekens/Redferns.

Frans Schellekens
October 14, 1993: Madonna performs during her Girlie Show Tour at Madison Square Garden. Photo by Ke.Mazur/WireImage.

Kevin.Mazur/INACTIVE
October 14, 1993: Madonna performs during her Girlie Show Tour at Madison Square Garden in New York City. Photo by Steve Eichner/WireImage.

Steve Eichner
September 2,1993: Madonna performs the Girlie Show at the 1993 MTV Video Music Awards in Los Angeles,California. Photo by Frank Micelotta/Getty Images.

Frank Micelotta Archive
July 21, 2001: Madonna performing during the first show in the North American leg of her 'Drowned World Tour 2001' at the First Union Center. Photo by Frank Micelotta/ImageDirect.

Frank Micelotta Archive
July 21, 2001: Madonna performs at the kickoff of the U.S. leg of her 'Drowned World Tour' at the First Union Center. Photo by Harry Hamburg/NY Daily News Archive via Getty Images.

New York Daily News Archive
August 28, 2003: Madonna, Britney Spears and Christina Aguilera perform the opening act at the 2003 MTV Video Music Awards. Photo by Kevin Kane/WireImage.

Kevin Kane
May 26, 2004: Madonna performs onstage during her 'Re-Invention' World Tour at The Great Western Forum in Inglewood, California. The outfit she is wearing is designed by Christian LaCroix. Photo by Frank Micelotta/Getty Images.

Frank Micelotta
June 2, 2004: Madonna performs onstage during her 'Re-Invention' World Tour 2004 at the Arrowhead Pond in Anaheim, California. Photo by Frank Micelotta/Getty Images.

Frank Micelotta
September 1, 2004: Madonna performs on stage at the Palais Omnisports de Bercy in Paris, during the France opening concert of her 'Re-Invention' World tour. Photo by Bertrand Guay/AFP/GettyImages.

BERTRAND GUAY
September 20, 2006: Madonna performs during her 'Confessions' Tour at th Tokyo Dome. Photo by Jun Sato/WireImage.

Jun Sato
August 1, 2006: Madonna performs onstage at the first London concert of her 'Confessions' World Tour at Wembley Arena. Photo by Dave Hogan/Getty Images.

Dave Hogan
September 1, 2009: Madonna performs on stage during her 'Sticky and Sweet' tour concert in Tel Aviv's Yarkon Park. Photo by Jack Guez/AFP/Getty Images.

JACK GUEZ
November 6, 2008: Britney Spears sings a song with Madonna on stage during the Sticky and Sweet tour at Dodger Stadium in Los Angeles, California. Photo by Joe Scarnici/WireImage.

Joe Scarnici
February 5, 2012: Madonna performs during the Bridgestone Super Bowl XLVI Halftime Show at Lucas Oil Stadium. Photo by Kevin Mazur/WireImage.

Kevin Mazur
February 5, 2012: Madonna performs with Nicki Minaj during the Bridgestone Super Bowl XLVI Halftime Show at Lucas Oil Stadium. Photo by Al Bello/Getty Images.

Al Bello
August 28, 2012: Madonna performs during the MDNA North America tour opener at the Wells Fargo Center. Photo by Kevin Mazur/WireImage.

Kevin Mazur
November 20, 2012: Madonna performs her final performance of her U.S. 'MDNA' tour at American Airlines Arena. Photo by Larry Marano/Getty Images.

Larry Marano
September 10, 2015: Madonna performs onstage during her 'Rebel Heart' tour at Bell Centre in Montreal, Canada. Photo by Kevin Mazur/Getty Images for Live Nation.

Kevin Mazur
January 27, 2016: Madonna performs during the "Rebel Heart Tour" at Coliseo Jose M. Agrelot in San Juan, Puerto Rico. Photo by GV Cruz/WireImage.

GV Cruz
November 7, 2016: Madonna holds a rally to support Hillary Clinton at Washington Square Park in New York City. Photo by Noam Galai/Getty Images.

Noam Galai