Madonna Takes in a Migos Concert in Head-to-Toe Gucci
Madonna and Migos go way back. At least a couple months.
---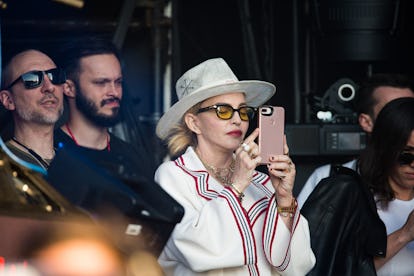 Joseph Okpako/Getty Images
On Sunday, DJ Khaled pulled out of London's Wireless Festival, the long-running three-day hip-hop festival, due to "travel issues," as explained on the festival's Twitter page. But never fear! For even though Khaled and his questionable views on gender and relationships won't be appearing in London, Madonna has graced the festival with her presence, slipping out of the studio (where she is reportedly working on her first album since 2015's Rebel Heart) in order to take in Migos's set on Saturday.
"Snuck out of the studio for a lil drip…" Madonna captioned an Instagram video taken from the wings of the stage Saturday. In the video, the three rappers are silhouetted against a setting sun while they perform their breakout single "Bad and Boujee." Fortunately, some intrepid paparazzi covering the event also captured photos of Madge on the sidelines, taking videos on her phone like an ultimate stage mom-slash-proud parent. (After all, we do know she is the quintessential soccer mom.)
For the festival, she wore an off-white two-piece set by Gucci, which featured a button-down top with blue and red stripes lining its wide collar, its cuffs, and the pockets on each breast. "#guccivictim," she captioned one of the photos, which she reposted to her Instagram stories on Saturday. She also wore a straw Panama hat to protect herself from the sun and also for fashion. Very responsible.
The whole thing, Madonna getting a place of honor on the side of the Migos stage, is not so random as it might initially seem. Madonna and Migos go way back! The three rappers shot the music video for their song "Narcos" at her former home in Miami last month, much to the singer's surprise. Madonna has taken selfies with them, and with Cardi B. And in a world where an Ariana Grande and Nicki Minaj collaborative album is possible, is a Migos-Madonna track so far off?