Malia Obama Makes Indie-Rock Music Video Debut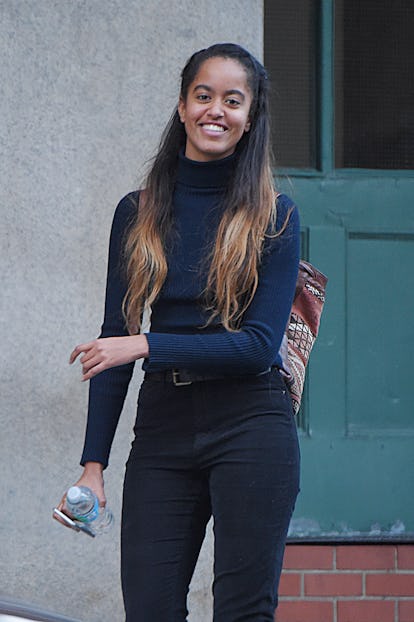 Josiah Kamau
College students usually go see bands, play in them, or hang out with them. It seems like Malia Obama is doing the latter. It turns out the 20-year-old has made her music video debut for her Harvard peers' indie-rock band the New Dakotas.
Judging by the music video, it certainly seems like the former first daughter is making the most of her college years.
The visual for the song "Walking on Air," pretty sleek by college band standards, chronicles the journey of the band as they hold auditions for a new member. In the clip, Obama sports a green sweatshirt and beanie while she "auditions" as a singer for the band. Later on, she shreds on the harmonica. The band goes with another musician at the end, but we don't get to see Obama's reaction. Likely, she's doing just fine.
With two years left at Harvard, Obama has a lot of time to figure out what she wants to do next. Maybe she's interested in music or film. She did intern for Lena Dunham on the HBO series Girls, and with Halle Berry on the sci-fi drama Extant. Her parents also happen to now be in the entertainment business as well, thanks to their recent pact with Netflix.
Perhaps Obama's latest journey into music video stardom will lead her to make some bigger cameos. She's hung out with Aminé and Bryson Tiller before, and it's no secret that her parents are close with the Carters. Maybe we'll see her in one of Beyoncé's future music videos, if we're lucky. In any case, it's good to see her enjoying her college years.
Related: Malia Obama Playfully Dissed David Letterman, Master of the Playful Dis