Marc Maron Was Daunted by All the Women On the Set of GLOW
The comedian, who stars in Netflix's new '80s wrestling series, talks podcasts, Twitter, and why the mostly-female cast of GLOW was so intimidating.
---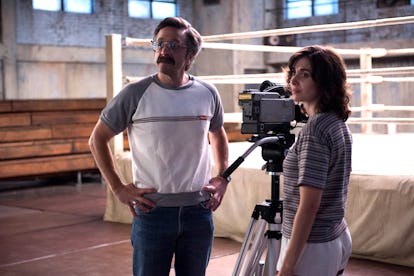 Erica Parise/Netflix
Marc Maron's extracurriculars over the past eight years have consisted of recording over 800 podcast interviews with everyone from a teary Louis C.K. to Barack Obama in his garage, so it's not too surprising that when the comedian was looking "to spend some downtime" after finishing up writing, producing, and starring in four seasons of his own show Maron, he ended up signing onto a new series instead. In Netflix's new series GLOW, which focuses on the Gorgeous Ladies of Wrestling in the '80s, Maron plays Sam Sylvia, a B-list filmmaker struggling to make it.
The hugely successful Maron has more in common with Sylvia than you might think. "I've had drinking and drugs and women problems in my life, and I just understood that this guy's swagger was sort of thinly veiled desperation in a way," Maron said. He felt he understood the character right from the start—enough to borrow a pair of aviators., throw on a Lacoste polo, and get a personal assistant to shoot the quick iPhone video that ended up getting him the part. Even Sylvia's chain-smoking and cocaine habits were familiar territory for Maron, who's been sober for nearly 18 years: "Man, that stuff's just like riding a bike, it comes right back," he said with a laugh. Here, Maron explains how he dealt with the Beguiled-like situation on-set and how he kept up with his podcast WTF with Marc Maron, plus what else he's been up to lately, in his culture diet.
What's the first thing you read in the morning?
In terms of news, I just go to the news app on my iPhone. I usually get stories from Vanity Fair, the New York Times, the Washington Post, the Guardian. I throw Fox News in there, too, to see what the other side's doing, or what both sides are doing. I just look at the feed, usually. Sometimes it's more difficult than others. I never know whether I should do it before or after I have coffee. When you wake up, you know, you're sort of afraid of your phone—of what he's done while you're sleeping.
What books are on your bedside table right now?
It's hard for me to find time to read, but Sam Quiñones's Dreamland, which is about the opioid epidemic in America, really blew my mind.
What TV shows have been keeping you up at night lately?
I just watched all the episodes of Atlanta, which I kind of waited on, but I found it to be highly original and brilliant. I've been really keeping up with Better Call Saul, and I've been watching a bit of Veep, though I'm not completely on top of it.
What's the last movie you saw in theaters?
I saw Sofia Coppola's The Beguiled twice. I liked it a lot. I watched the original by Don Siegel, too, and it was kind of great to watch both. They ran a double feature at [Quentin] Tarantino's theater here, New Beverley, and it was sort of fascinating to see this psycho-gothic horror movie versus her vision of the dynamic of these women and this one man. I guess I sort of related in that way.
Was it difficult often being the only man on the set of GLOW?
There would be like 12 to 14 women sitting in a circle in one area, and I would check in over there and say hi occasionally. But I needed to keep a certain distance just to keep a semblance of character together and to keep my own sanity together, because, you know, 12 to 14 women talking in a small community of their own can be a little daunting. So out of necessity, I kind of minded my own business and sat in my own little space on set a lot of the time.
What's the last piece of art you bought, or ogled?
I see art every day because I'm dating an abstract painter, Sarah Cain. So I'm very tapped in. I have studio visits every day—I think they're called studio visits—so I can watch the process of how four to eight paintings evolve and see how they come out.
What's the last museum exhibition that you loved?
I was in London recently and saw some photography at the Tate that was pretty mind-blowing. I love the Tate Modern—it's one of my favorite places, really, in that old strange industrial space they have there.
What release are you most eagerly anticipating?
I just got a screener of Ken Burns's new Vietnam doc, which is astounding and a really significant piece of work. As is all his stuff, but this is so recent, and on so much of the repercussions of the war and how it defined the country and will define the country. We're still in it, and there's so much I didn't know, so it's been really powerful.
What's the last song you had on repeat?
I've been going back to early Randy Newman, because I talked to him and I used to love his first few records. There's a song on Good Old Boys called "Mr. President (Have Pity on the Working Man)." I really like the sentiment of it. I've been listening to that record a lot.
What are your favorite podcasts to listen to?
I don't listen to any podcasts.
Do you ever listen back to yours?
No, not unless my producer has done something I can tell was a piece of genius.
So you don't listen back to your opening monologues?
No, I don't. The conversations I have with myself and with others happen in real time, and then they go away and out into the world.
Did you keep up with the podcast when you were filming GLOW?
Yeah, yeah. The podcast never stops. I was fortunate in that the sound stages we were working at are very close to my house. We shot at these stages right over in Atwater, which is like 10 minutes from my house. We've done this before, where we're able to find holes or talk to people on weekends or get a backlog that can make it through as much as possible. In terms of recording the intros and outros, I can usually find time to do that.
Do you have any favorite social media accounts to follow?
I don't really. I've never really been a Facebook guy, I don't really check my Instagram much, and I've sort of pulled away from Twitter. I'm not there on any of them really for entertainment. I've sort of managed to disengage, which is a tremendous relief. I still have my Twitter account and I'll use it for promo, and sometimes if I feel like it, I'll answer some questions. But I don't generate content for any of that anymore that's creative or political in nature. It just seems like a waste to me and the engagement seems like an unnecessary emotional rollercoaster that kind of diminishes.
Do you read your horoscope?
No. Sometimes if I've been with somebody in my life who reads them I will. Sometimes Sarah looks at hers, but she doesn't really tell me to read mine. But I never was a horoscope guy. Why hinge something that's happening in your life on some crackpot who found a hustle for themselves, you know?
What's the last thing you do before you go to bed?
Do we really need to talk about that?
See W's most popular videos: